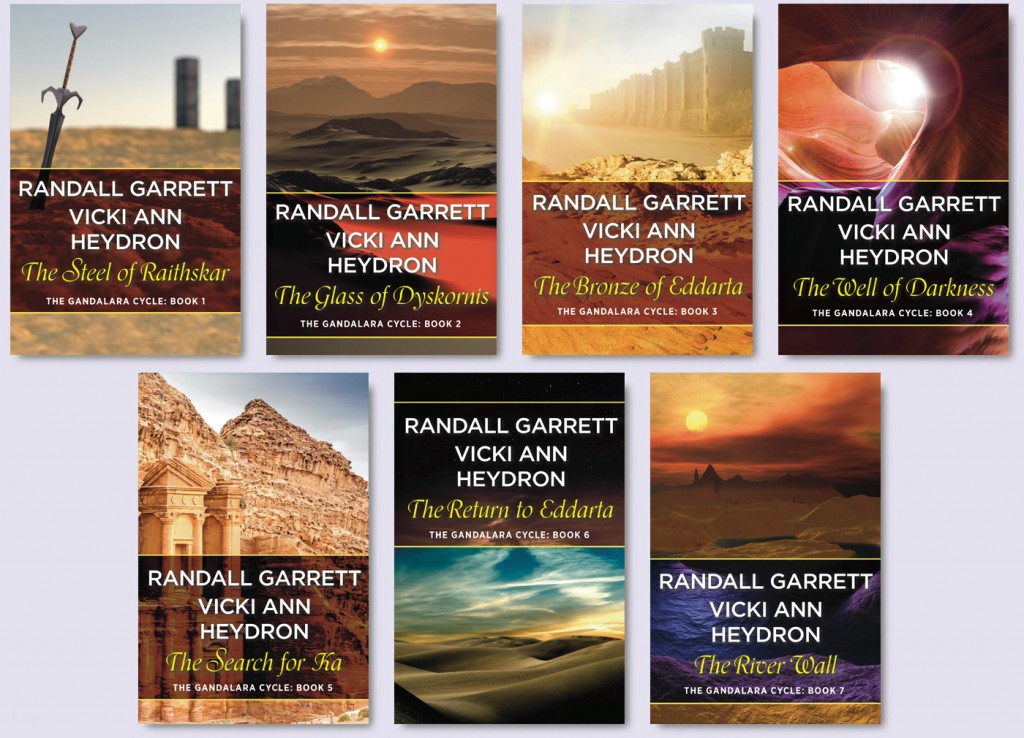 Tomorrow, the seven novels in Randall Garrett and Vicki Ann Heydron's Gandalara Cycle is published in eBook by Gollancz's SF Gateway.
The series includes: THE STEEL OF RAITHSKAR, THE GLASS OF DYSKORNIS, THE BRONZE OF EDDARTA, THE WELL OF DARKNESS, THE SEARCH FOR KA, THE RETURN TO EDDARTA* and THE RIVER WALL.
Here's the synopsis for THE STEEL OF RAITHSKAR…
When the fireball hit the cruise ship, Richard Carillo was already on his way out – a terminally ill language professor. He regained consciousness as a well man in the desert… only it wasn't a desert on Earth, and he was a man only because he was still male. More surprises awaited him in the exotic city of Raithskar – he was called Markasset, a master swordsman, son of a powerful leader, and a man on the run, accused of murder and the theft of a precious, sacred jewel. With the aid of Keeshah, a great war-cat with which he shared a telepathic link, he set out to clear his newfound name…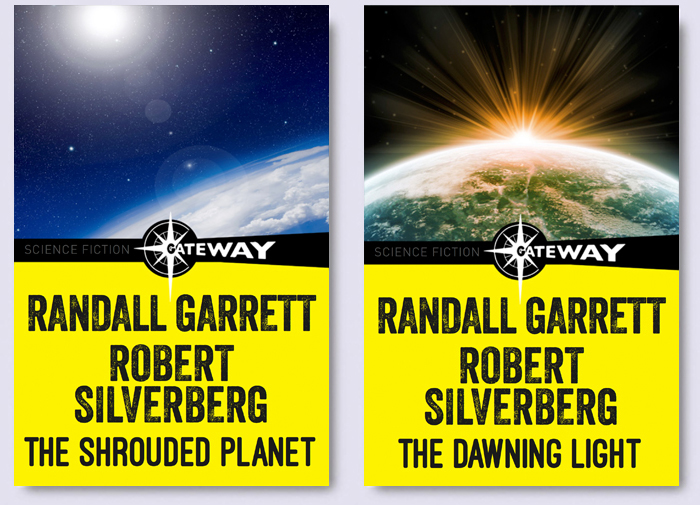 Tomorrow, the SF Gateway also publishes two science fiction novels Randall Garrett wrote with Robert Silverberg: THE SHROUDED PLANET (first published in 1959) and THE DAWNING LIGHT (first published in 1964). Here's the synopsis for THE SHROUDED PLANET…
Shrouded — perpetually shrouded — by a blanket of clouds, the planet of Nidor made its slow way through space. A year on Nidor was equal to 3000 Earth-years. To the Nidorians change was unthinkable. Until the Earthmen arrived. And then a change cataclysmic, and the first for many a millennium, hit Nidor. A change that was to split the planet against itself.
And the synopsis for THE DAWNING LIGHT…
The Earthmen came to Nidor and the most important thing they brought with them was — change.
Change in old-age ways of living. Change in a culture that had been static for centuries. But they were not unopposed for there was a strong underground reactionary movement which believed that the planet was destined to disappear completely into violent chaos — unless something was done about it.
Zeno represents Randall Garrett in the UK an Commonwealth, on behalf of the JABberwocky Literary Agency in New York.
* THE RETURN TO EDDARTA has been delayed until December 2015.