Lavie Tidhar continues the CANDY world domination! His first novel for young readers is out now in Germany! Published by Loewe as GEHEIMAGENTIN CANDY UND DIE SCHOKOLADEN-MAFIA, here's the synopsis…
Nelle lebt in einer Stadt, in der es seit drei Jahren keine Schokolade mehr gibt. Sie wurde verboten, doch es gibt Banden, die die illegale Ware für die Zucker-Junkies in die Stadt schmuggeln. Eines Tages steht der berüchtigte Gangster Eddie de Menthe in Nelles Detektivbüro. Und er hat einen Auftrag für sie. Was sie zu hören bekommt, gefällt ihr ganz und gar nicht.
Ohne es zu wollen, wird sie immer tiefer hineingezogen in die dunklen Machenschaften der Schokoladen-Mafia… Ihr Deckname lautet nun Candy – Geheimagentin Candy.
Eine starke Mädchenheldin ermittelt in einem spannenden Kriminalfall, rund um Intrigen,Schmuggelware und ein Geheimnis, das seit Jahrzehnten gut gehütet wird. Doch Candy taucht immer tiefer hinein in die Abgründe ihrer Stadt, in der Schokolade und Süßigkeiten ein Tabu sind. Ein Kinderbuch für Mädchen und Jungen ab 10 Jahren. Der Titel ist auf Antolin.de gelistet.
CANDY is published in the UK by Scholastic, and has also been published in France by Castelmore, and Czechia by Argo. Here's the English-language synopsis…
Guard your chocolate! Imagine living in a place where Mars bars are banned and sweeties are totally outlawed. Ugh – how depressing! In this miserable place, is it any wonder that gangsters trade in illegal sweeties? We can't even blame them. Nelle Faulkner is a twelve-year-old private detective looking for her next client. So when notorious candy gangster Eddie de Menthe walks in and asks her to find a missing teddy bear, Nelle takes the case. But as soon as the teddy turns up, Eddie himself goes missing. Can Nelle track him down before all of them come to a sticky end?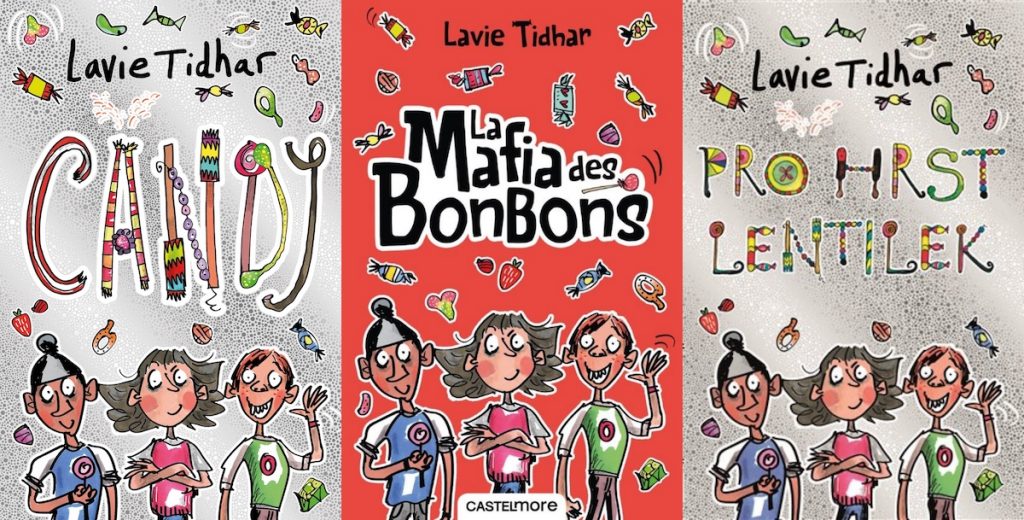 CANDY has already been collecting some great reviews since it was first published. Here are just a few of them…
'In his first book for younger readers, he creates perhaps his most chilling vision yet: a city where sweets are forbidden under a prohibition act… The tone is as hard-boiled as a cough drop. The jokes sizzle like Space Dust. CANDY is a treat, the kind of confection Roald Dahl and Raymond Chandler might have come up with after an all-night bonbon bender.' — Financial Times (also an FT Summer Books selection)
'A perfectly pitched noir take on Charlie and the Chocolate Factory… delightful premise… as with Tidhar's earlier work, his playful approach to genre is in service to the story's hidden depths…. wonderful character work and his excellent prose…' — Fantasy Faction
'… original, highly-enjoyable and tempting twist on what happens when the town suffers from the symptoms of sugar withdrawal… Mark Beech's joyful illustrations add tastes of humour, quirk and life to complement Lavie's brilliant and charismatic characters; infused with an infectious influence of the collaboration between Dahl and Blake. Like a mini Miss Marple meets Maynards… this mouthful of mystery will leave every reader feeling like a child in a sweetshop; just craving to read more from Lavie!' — The Reader Teacher
'Written in the style of the hard-boiled American detective fiction of the 1940s, this is a juggernaut of a tale with plenty of twists and turns. A challenging read for ages 10+ who enjoy suspense coupled with a dry sense of humour.' — West Sussex Schools Library Service