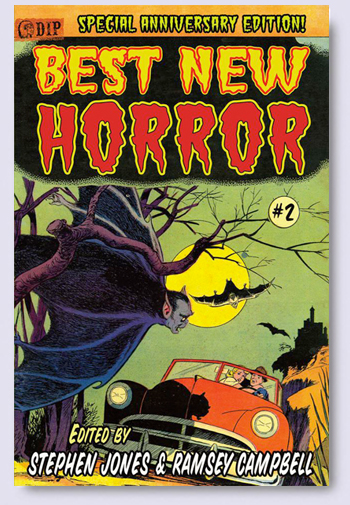 In this instalment of Short Fiction Watch, we wanted to draw your attention to the 25th Anniversary anthology of BEST NEW HORROR. Edited by Stephen Jones and Ramsey Campbell, and published by PS Publishing, the collection includes stories by Ian R. MacLeod (1/72nd Scale) and Elizabeth Hand (On the Town Route).
Ian R. MacLeod is the author of many critically-acclaimed novels and short stories, including THE LIGHT AGES, THE SUMMER ISLES and WAKE UP AND DREAM. His most recent novella was THE REPARATEUR OF STRASBOURG, published by PS Publishing. His next book is the anthology FROST ON GLASS, due to also be published by PS Publishing next year.
Elizabeth Hand is the critically-acclaimed author of a number of novels. In the UK, Constable & Robinson most recently published GENERATION LOSS and AVAILABLE DARK. Here's the synopsis for the former…
Cass Neary is on her way down, and almost out when an old acquaintance sends her on a mercy gig to interview a famously reclusive photographer. When she arrives Cass stumbles across a decades-old mystery that is still claiming victims, and she finds one final shot at redemption. Patricia Highsmith meets Patti Smith in this mesmerizing literary thriller.
The secrets of small-town life can be more deadly than fist fights and dead junkies . . .
Cass Neary is not afraid of living on the edge. A photographer whose shots of New York's punk scene in the seventies earned her fame, caché, and a cultish kind of cool, Cass has spent much of her life in the dark, watching and waiting. But thirty years later she is alone, adrift and falling rapidly into oblivion. So when an old acquaintance asks her to interview a fellow photographer – a notorious recluse who lives on an island off the Maine coast – she accepts.
There, she learns about a decades-old crime that is still claiming new victims – and comes to realise that her days of living dangerously are not over yet: amid this inhospitable hinterland, Cass comes to realise that her final shot might also be a shot at redemption.
Patricia Highsmith meets Patti Smith in this mesmerizing literary thriller.
Zeno represents Elizabeth Hand in the UK and Commonwealth, on behalf of the Martha Millard Literary Agency in New York.