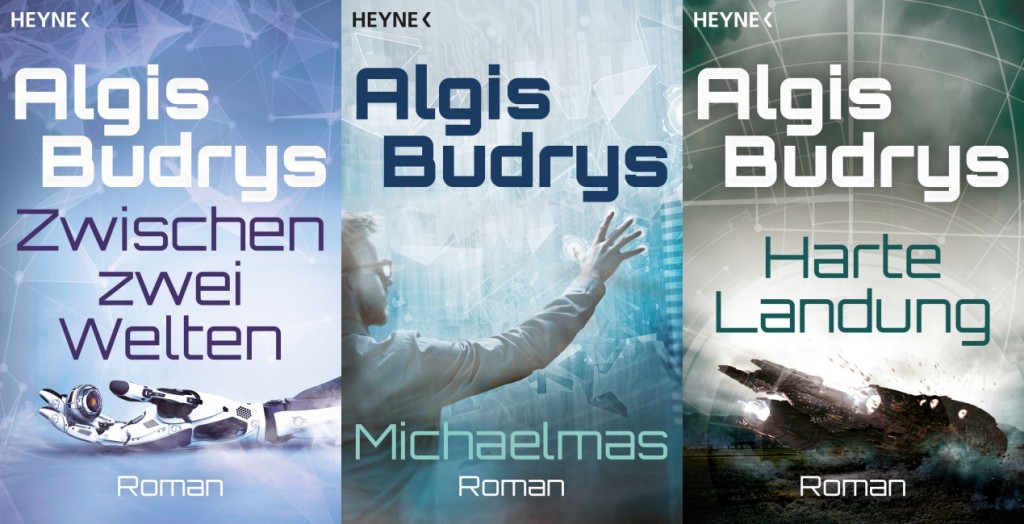 Heyne has published three more classic Algis Budrys novels in Germany in eBook format. Here are the details…
First up is ZWISCHEN ZWEI WELTEN, first published as the Hugo Award-nominated WHO? in 1958…
Der Mann aus Metall
Der amerikanische Astrophysiker Lucas Martino arbeitet irgendwo in Europa an einem militärischen Geheimprojekt der Alliierten Nationen. Sein Labor liegt in der Nähe jener Grenze, die den Westen vom Osten trennt. Als eines seiner Experimente schiefgeht und es zu einer Explosion kommt, sind die Rettungskräfte des Ostens als erste zur Stelle. Martino wird monatelang ärztlich behandelt – im anderen Teil der Welt. Als man ihn schließlich aus dem Krankenhaus entlässt und in den Westen zurückbringt, ist er nicht mehr wiederzuerkennen: Dort, wo einst sein Kopf war, befindet sich eine metallische Kugel, und sein linker Arm ist ein mechanisches Wunderwerk. Die amerikanische Spionageabwehr reagiert misstrauisch. Kann es einen unanfechtbaren Beweis dafür geben, dass Martino wirklich Martino ist?
Next up, MICHAELMAS (published in English with the same title, in 1977)…
Die Macht der Information
Lauent Michaelmas ist der mächtigste Mann der Welt, auch wenn er seine Macht nicht offen ausübt. Der Fernsehkommentator liefert stets perfekt recherchierte Berichte ab, die dem weltweiten Medienverbund die höchsten Einschaltquoten einbringen. Ein negativer Kommentar von ihm kann Milliardenprojekte ins Wanken bringen, ein positiver Beitrag Menschen über Nacht berühmt machen. Dass seine Berichte immer perfekt recherchiert sind, besorgt sein Computer Domino. Wo auch immer eine elektrische Leitung hinführt, Domino zapft sie für den Moderator an – bis in die intimste Privatsphäre hinein …
And finally, HARTE LANDUNG, first published as HARD LANDING in 1993…
Der Leichnam eines Mannes wird auf den Schienen einer aufgegebenen U-Bahn-Station gefunden. Der Tote wird als Neville Unruh Sealman identifiziert. Er arbeitete in einem Ingenieursbüro in Chicago und galt als fleißig, aber ungesellig. Seine Obduktion liefert ein unglaubliches Ergebnis: Sealman war kein Mensch. Der Alien musste sich jahrelang unerkannt auf der Erde durchgeschlagen und in einer primitiven, gewalttätigen Gesellschaft jeden Tag um sein Überleben gekämpft haben. Anscheinend gehörte er zur Crew eines abgestürzten Raumschiffes. Doch war er der einzige Überlebende?
Heyne has also published Budrys's ROGUE MOON, as PROJEKT LUNA (also a Hugo Award-nominee). These novels (and three additional books) are also available in English-language eBooks, published by Open Road Media.