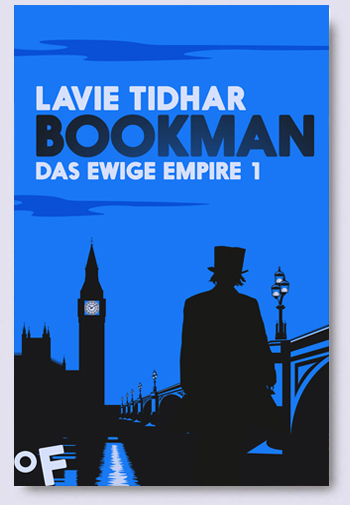 Continuing our coverage of our clients' foreign editions, today we have the German cover for Lavie Tidhar's THE BOOKMAN in eBook. Published by Fahrenheit Books, it is the first novel in Lavie's Bookman Histories, published in the UK and US by Angry Robot Books. Here's the German synopsis…
Als die Frau, die er liebt, in seinen Armen stirbt, beschließt Orphan, seine Lucy zu rächen und aus dem Reich der Toten zurückzuholen. Doch seine Reise in die viktorianische Unterwelt ist mehr als riskant: Dort herrscht der Bookman, der gefährlichste Terrorist Londons. Er ist schuld an Lucys Tod und steht kurz davor, das englische Königshaus zu stürzen und eine vernichtende Rebellion über das Reich zu bringen. Orphan beschließt, den Bookman aufzuhalten – und deckt dabei die unglaublichste Verschwörung auf, die das Ewige Empire je gesehen hat … Lavie Tidhar schöpft aus allem, was Literatur, Steampunk und Science-Fiction zu bieten haben, und schafft damit ein atemberaubendes phantastisches Abenteuer!
The eBook is also, currently, available for just €0.99!
Lavie's latest novel is THE VIOLENT CENTURY, published in the UK by Hodder Books. His next opus is A MAN LIES DREAMING, coming later this year also from Hodder Books.