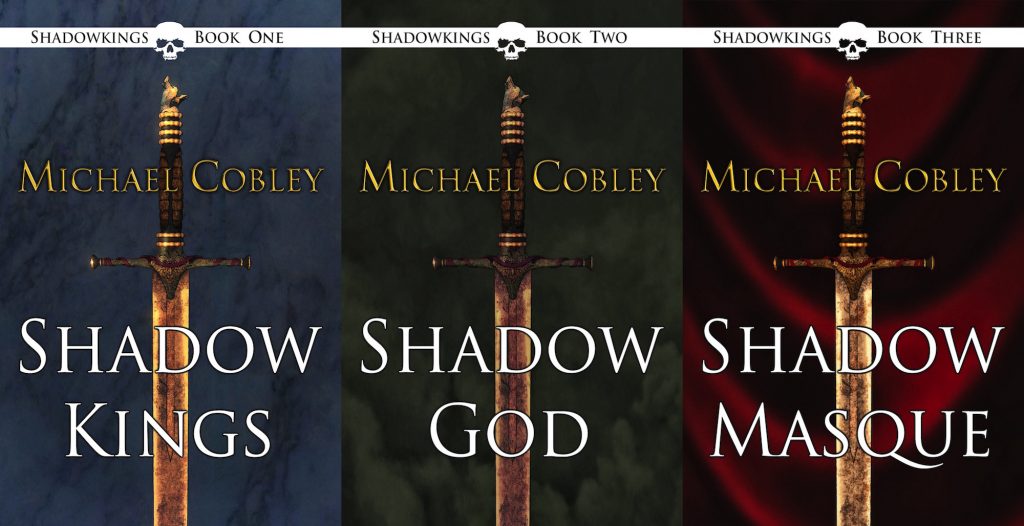 Today, we want to draw your attention to Michael Cobley's debut trilogy, the Shadowkings grimdark fantasy trilogy: SHADOWKINGS, SHADOWGOD and SHADOWMASQUE.
Originally published by Simon & Schuster between 2002-2005, the series is now available in eBook format via the JABberwocky eBook Program; and as audiobooks via Audible. Here's the synopsis for the first book…
For one thousand bright and fortunate years the Khatrimantine Empire had guaranteed peace and benevolence. Then came the vast hordes of the Mogaun, driven by an evil deity, the Lord of Twilight, corrupter and devourer. At the very pinnacle of his triumph, the Lord of Twilight made a fatal mistake, shattering his essence into five parts: five lost souls destined to become the Shadowkings. Now, sixteen years after the invasion, Mogaun warlords and petty despots squabble amid the ruins. Yet ancient powers are stirring and the Empire's last valiant defenders are gathering their strength, hoping that one decisive strike can reverse their long, bleak decline.
The trilogy is also available in Germany, published by Heyne, as SCHATTENKÖNIGE, SCHATTENGÖTTER and SCHATTENKRIEGER.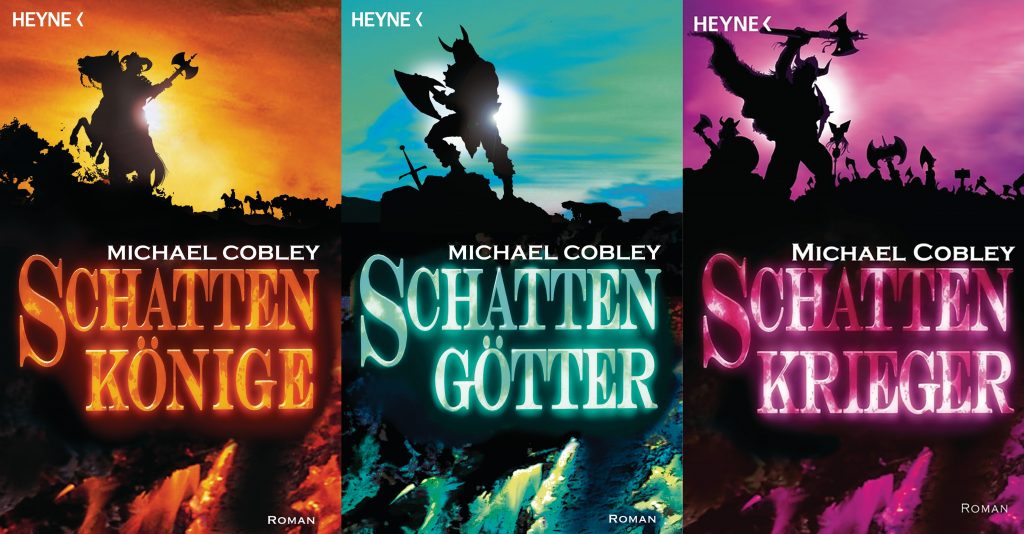 Here are just a few of the reviews the Shadowkings series has received…
'A pacey action and adventure story, packed with battles, rescues and political double-dealing… a refreshing and believable take on the Fight Against Insurmountable Evil Foes sub-genre, without dispensing with any of the familiar staples that make the genre what it is.' — Infinity Plus on SHADOWKINGS
'SHADOWKINGS, was brutal, cruel and realistic in a way genre usually avoids. SHADOWGOD, his second, is not only lighter, it is better written and makes good use of the world Cobley has created… writing to rival David Gemmell.' — Guardian (Jon Courtenay-Grimwood)
'Unconventional high fantasy trilogy… [Cobley] has taken traditional sword and sorcery to some new and perhaps uncomfortable places… Once again Mike has succeeded in producing an unusually dark and claustrophobic piece of work, though it is a lot less bleak than its predecessors. It is also a lot less convoluted with the battle lines more clearly drawn.' — Infinity Plus on SHADOWMASQUE
'[Cobley] drew the characters with verve and style, encouraging the reader to participate in the story he was unfolding. The plot was complex but clearly spun out, providing tantalising teasers at the end of each episode, which made me want to skip ahead to the next time that particular thread was picked up and woven. In my opinion, a clear winner for Michael Cobley.' — SF Crowsnest on SHADOWMASQUE
Michael is also the best-selling author of the Humanity's Fire sci-fi series, published in the UK and US by Orbit Books: SEEDS OF EARTH, THE ORPHANED WORLDS, THE ASCENDANT STARS, and the stand-alone ANCESTRAL MACHINES. The next novel in the series, SPLINTERED SUNS, is due out later this year. (We'll bring you the cover and more details as we have them.) The series has also been published in Germany by Heyne.