This month, Ian McDonald is going to be a Guest of Honour at WorldCon in Dublin. Last week, we highlighted some of Ian's series, and today we want to take a look at his stand-alone novels. You'll notice a theme in the short intros, below, in that most of Ian's novels have won and been nominated for a great many awards.
Let's start with THE DERVISH HOUSE (most recent covers at the top), first published in 2009. This novel racked up an impressive number of awards and nominations — including winning the John W. Campbell Memorial Award, BSFA Best Novel Award, and coming in 3rd for the Locus Award for Best SF Novel. Published in the UK by Gollancz, and in North America via the JABberwocky eBook Program, here's the synopsis…
Welcome to the world of The Dervish House — the great, ancient, paradoxical city of Istanbul, divided like a human brain, in the great, ancient, equally paradoxical nation of Turkey. With a population pushing one hundred million, and Istanbul alone swollen to fifteen million, Turkey is the largest, most populous, and most diverse nation in the new Europe, but also one of the poorest and most socially divided.
The Dervish House is seven days, six characters, and three interconnected story strands all woven around the common core of the old dervish house of Aden Dede. A terror attack, a vision of djinn, a commodities scam, a hunt for half a miniature Koran that holds the key to new technology, and a quest for a creature from Arabic legend — that may not be so legendary after all.
Here are just a few of the great reviews THE DERVISH HOUSE has received…
'A lush, complex and hugely entertaining novel.' — Guardian
'[A] writer with an unerring instinct for finding resonance between theme and location… a rich and assured novel that, like much of Ken MacLeod's recent work, revels in the shiny precision of the airport tech-thriller, yet insists on putting forward disquieting ideas rather than offering all-too-neat reassurances that you can somehow put escaped djinns back in bottles. This is as good as contemporary literary SF gets.' — SFX (5* Review)
'I know what to expect from Ian McDonald: broad vistas, intricately imagined futures, poetic language that transports and delights, a blend of mysticism and science that thrills and moves. But no matter how much foreknowledge I bring to a new Ian McDonald, I am always, always startled and thrilled by the exciting, moving epic story I find inside… To read McDonald is to fall in love with a place and to become drunk with it… I you've never read him, you're in for a treat. If you're a fan like me, you'll be delighted anew. What a wonderful, wonderful book.' — BoingBoing
'McDonald has written some of the best SF of the last fifteen years… a mosaic of a story that can be admired for its finely-wrought pieces but not fully appreciated until the book is finished and looked at again from some distance. The biggest part of the thrill is wondering how the characters will inevitably intersect… McDonald, who is a native of Scotland, has an uncanny ability to write about other cultures authentically. He is a painstaking researcher and while he cannot always write with absolute authority, his dedication to making settings and characters feel alive is incredibly impressive… Ian McDonald has crafted a gorgeously lush novel, oozing with exciting, relevant ideas, a love letter to the Queen of Cities, to all cities, really.' — Tor.com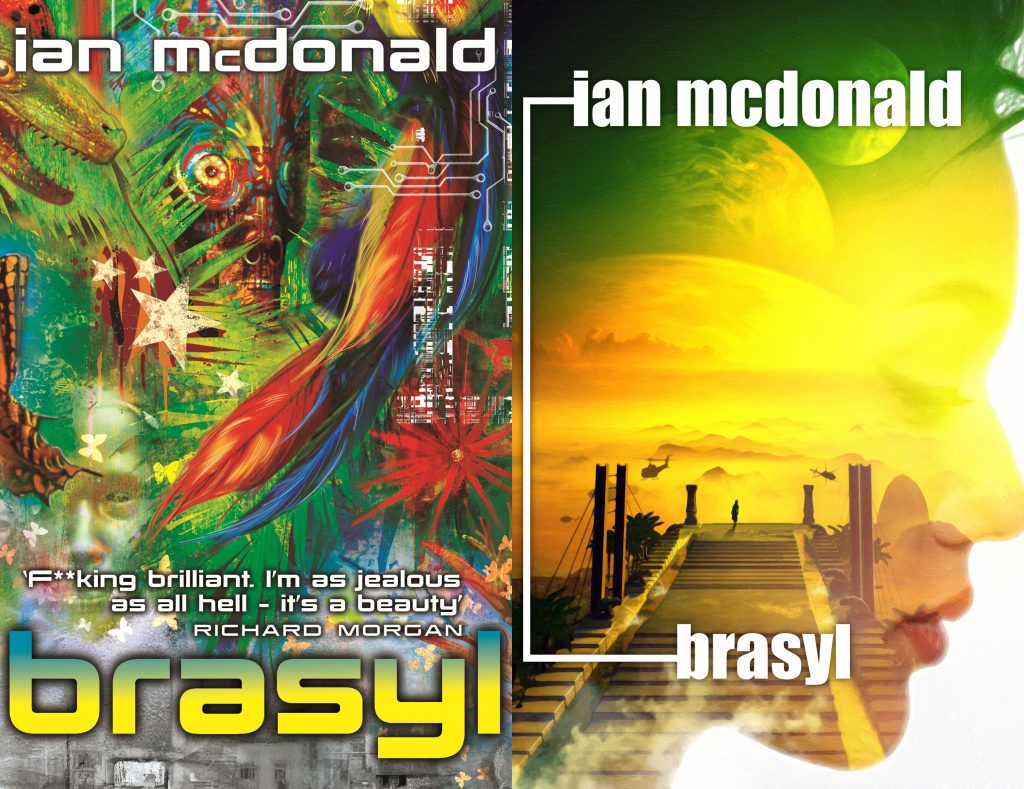 BRASYL, which also won the BSFA Award for Best Novel, was first published in 2007, did for Brazil what Ian's acclaimed RIVERS OF GODS and CYBERABAD DAYS did for India in British science fiction. Published in the UK by Gollancz, and in North America via JABberwocky, here's the synopsis…
Be seduced, amazed, and shocked by one of the world's greatest and strangest nations. Past, present, and future Brazil, with all its color, passion, and shifting realities, come together in a novel that is part SF, part history, part mystery, and entirely enthralling.
Sao Paulo 2031. Rio 2006. The Amazon 1732.
Three characters, three stories, three Brazils, linked across time, space, and reality in a hugely ambitious story that will challenge the way you think about everything.
Here's some of what critics have written about BRASYL since it was published…
'BRASYL is classic McDonald: a deep thinking, high-paced adventure story, exploring the quantum universe, combining sassy, believable characters with a captivating delight in language and storytelling. McDonald inhabits the Brazil – or rather, the Brazils – of this world and sweeps you along as no other writer in the field could manage.' — Guardian
'A beautiful story, one that cries out to be read again and again. McDonald's light is still shining brightly, and considering the consistent quality of his titles, we say long may it burn.' — SciFi Now
'British author McDonald's outstanding SF novel channels the vitality of South America's largest country into an edgy, post-cyberpunk free-for-all… RIVER OF GODS (2004), set in near-future India, established McDonald as a leading writer of intelligent, multicultural SF, and here he captures Latin America's mingled despair and hope. Chaotic, heartbreaking and joyous, this must-read teeters on the edge of melodrama, but somehow keeps its precarious balance.' — Publishers Weekly
'Ian McDonald's BRASYL, with its three storylines, is as close to perfect as any novel in recent memory. It works because of great characterization, but also because McDonald envisions Brazil as a dynamic, living place that is part postmodern trash pile, part trashy reality-TV-driven ethical abyss… and yet also somehow spiritual… McDonald's novel is always in motion. This movement extends through time and alternate realities in ways both wonderful and wise, as the three storylines interlock for a satisfying and often stunning conclusion. McDonald has found new myths for old places; in doing so, he has cemented his reputation as an amazing storyteller.' — Washington Post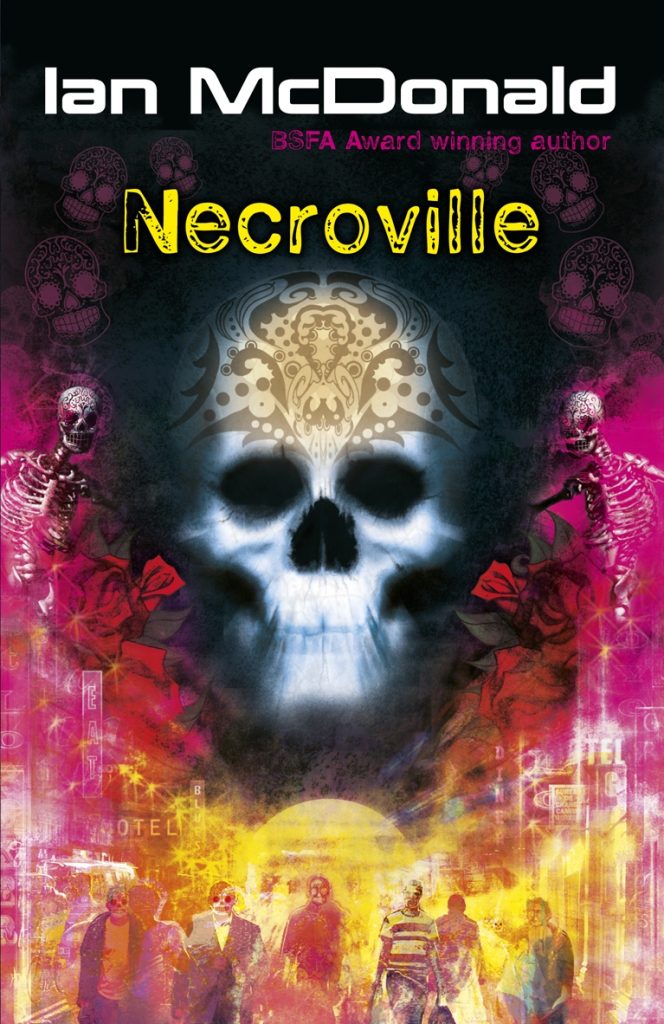 NECROVILLE, which was published in the US as TERMINAL CAFE, was first released in 1994. Currently published by Gollancz in the UK, here's the synopsis…
In the Los Angeles ghetto of Necroville, the yearly celebration of the Night of the Dead – where the dead are resurrected through the miracle of nanotechnology and live their second lives as non-citizens – becomes a journey of discovery and revelation for five individuals on the run from their pasts.
With his customary flair for making the bizarre both credible and fascinating, McDonald tosses aside the line of demarcation between living and dead in a story that confronts the central quandary of human existence: the essence of non-being.
'McDonald's lush prose paints a vivid and credible Armageddon. World-building SF that's punk, funky, and frightening: a fantastic acid trip to the end of the world.' — Kirkus
'McDonald, who won the Philip K. Dick Award for KING OF THE MORNING QUEEN OF THE DAY, reveals the workings of his bizarre society through the exploits of five friends as they search for the meaning of life in the Necroville at Los Angeles on the Night of the Dead. Sorting through five points of view requires some patience, but it is well rewarded. In the best science fiction tradition, McDonald provokes reexamination of current societal standards through the prism of another time and place.' — Publishers Weekly
'McDonald revels in the creation of brilliantly described near-futures and lushly exotic settings, and has more ideas in a book than most writers dream up in a lifetime… free-wheeling, mind-spinning novel… In NECROVILLE, decay sits next to fabulous invention, terrible privation next to limitless possibility… offers a graphic dystopian vision.' — Guardian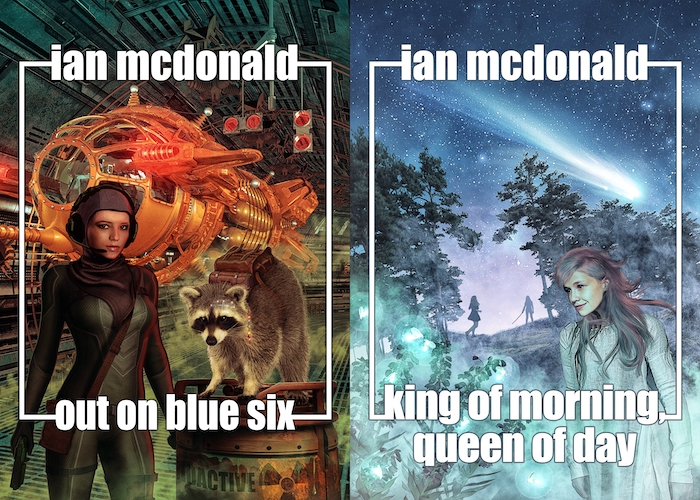 The next four novels we'll take a look at are all published via the JABberwocky eBook Program. Here are their details…
OUT ON BLUE SIX (1989)
Hundreds of years from now, the world is perfect. The Compassionate Society guarantees happiness, peace and total personal fulfillment to its citizens, and those less than satisfied are guilty of Paincrime.
Among them, count cartoonist Courtney Hall, who runs afoul of the Ministry of Pain when one of her cartoons hits a little too close to home. Pursued by the relentless Love Police, she drops down a rabbit hole into a counter-world of rebels, artists and enhanced raccoons.
Out on Blue Six is a fast, funny, bizarre story of an almost-Utopia–and almost-Utopias make the best dystopias.
KING OF MORNING, QUEEN OF DAY (1991)
In Ireland, three generations of young women fight to control the powers coursing through their blood: the power to bring the mystical Otherworld into our world, and change it.
Emily, Jessica and Enye must each face their dark side of human mythoconsciousness – and their own personal histories. But the forces of faerie are ever treacherous…
Filled with vivid, passionate characters you will never forget, King of Morning, Queen of Day is a spellbinding fantasy of the real Ireland.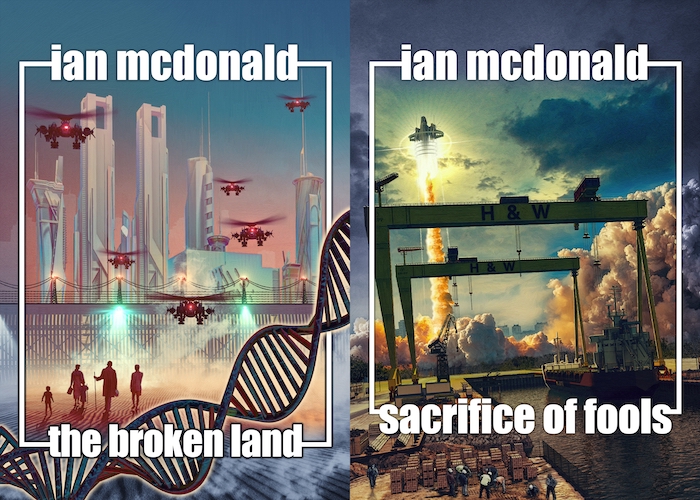 THE BROKEN LAND (1992)
Grandfather was a tree, Father grew trux, in fifteen colours. Mother could sing the double-helix song, sing it right into the hearts of living things and change them…
The Land is a living, breathing, sentient world, where careful skills and talent can manipulate its very substance into a myriad different shapes and forms.
This is the world in which Mathembe Fileli grows up, until the conflicts tearing her country apart shatter her village, her home and her family and scatter them to the four winds. Can Mathembe reunite her family in a world full of angels, talking trees, squalor and glory?
SACRIFICE OF FOOLS (1996)
They're ancient, power, enigmatic, and here.
Eight million alien Shian have come to Earth. Not as conquerors, or invaders, but as settlers. In exchange for their technology, they're given places to live.
One of those places in Northern Ireland, where eighty thousand Shian settlers disrupt the old, poisonous duality of Northern Irish life. The Shian remain aloof from the legacy of violence — until a Shian family is murdered down to the last child.
Humans and aliens seem on a collision course, unless Andy Gillespie, ex-con, now Shian translator, can hunt down the killer before they strike again. But that's not so easy in Northern Ireland…
In addition to these stand-alone novels, Ian is also the author of two collections, which are also available via the JABberwocky eBook Program: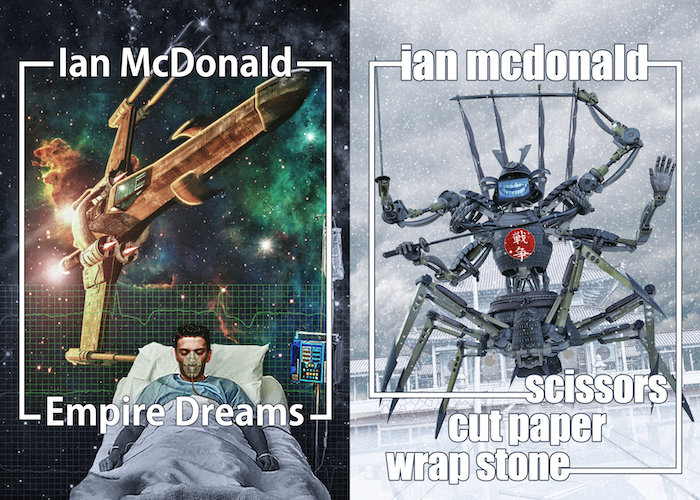 EMPIRE DREAMS, published in 1988…
Published simultaneously with Desolation Road, the Empire Dreams collection coincided with the author's nomination for the John W. Campbell Award for Best New Writer in 1985.
It collects seven stories in one anthology which is sure to delight fans of Ian McDonald's full length work.
First published in 1994, here's the synopsis for SCISSORS CUT PAPER WRAP STONE…
Words can control you, words can make you act against your own will… and words can kill.
Ethan Ring discovers computer graphics with profound effects on human minds — fracters. Dark political forces want his power, and Ethan must face the consequences of his creation, and his actions.
In search of redemption, he embarks on an ancient thousand-mile pilgrimage, but can he ever escape the forces that once controlled him, and can he resist the power of the deadly images tattooed onto his hands?
You can read an excerpt from EMPIRE DREAMS here.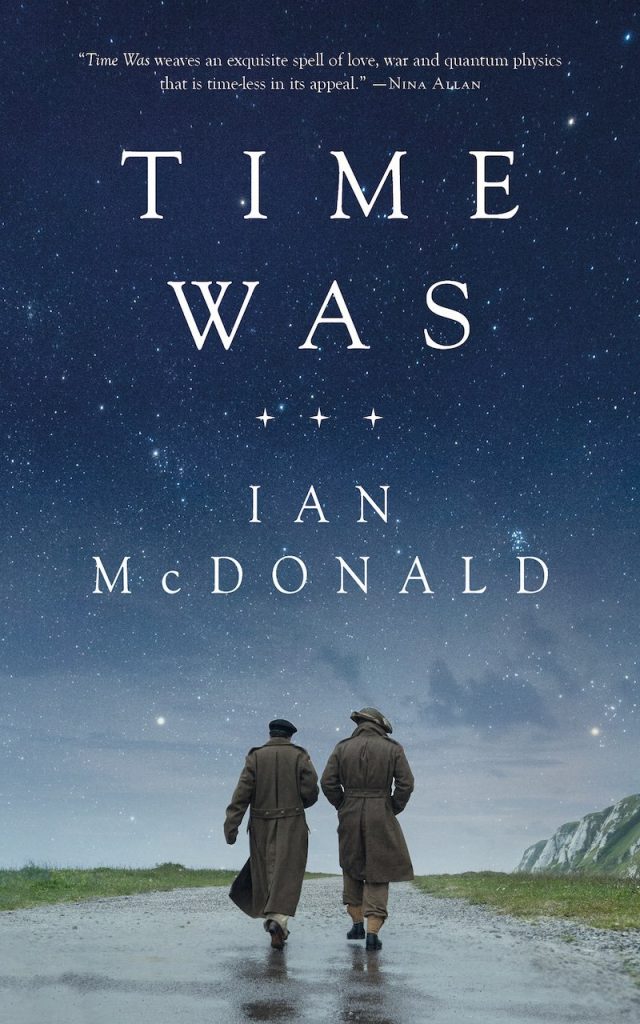 Ian's most recent stand-alone book is the BSFA Award-winning (Shorter Fiction) novella, TIME WAS, which was published recently by Tor.com…
A love story stitched across time and war, shaped by the power of books, and ultimately destroyed by it.
In the heart of World War II, Tom and Ben became lovers. Brought together by a secret project designed to hide British targets from German radar, the two founded a love that could not be revealed. When the project went wrong, Tom and Ben vanished into nothingness, presumed dead. Their bodies were never found.
Now the two are lost in time, hunting each other across decades, leaving clues in books of poetry and trying to make their desperate timelines overlap.
'[E]ntrances readers with this multigenerational novella of two time-crossed lovers who can only meet for brief moments separated by several years… beautiful writing… Fans of science fiction who enjoy a dash of history and legend will savor this tender story.' — Publishers Weekly
'This slender, poignant queer romance incorporates time travel and hints of hard science into a story as devastatingly sad—which isn't to say bleak—as anything you'll read this year.' — B&N Sci-Fi & Fantasy Blog (Best SFF Books of the Year So Far, 2018, Honourable Mention)