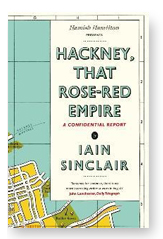 Congratulations to Iain Sinclair, whose book Hackney: That Rose-Red Empire has been announced as one of the short-listed titles for this year's Ondaatje Prize, hosted by The Royal Society of Literature.
The £10,000 award is given annually 'for a distinguished work of fiction, non-fiction or poetry, evoking the spirit of a place' and this year's ceremony will take place on May 24th in London.
The 2010 judges, Kathleen Jamie, Professor Steve Jones and Penelope Lively, commended 'compelling, individual voices, taut narrative and impressive research in six remarkable books from across a complete range of genres'.
Hackney: That Rose-Red Empire is now available in paperback from Hamish Hamilton.