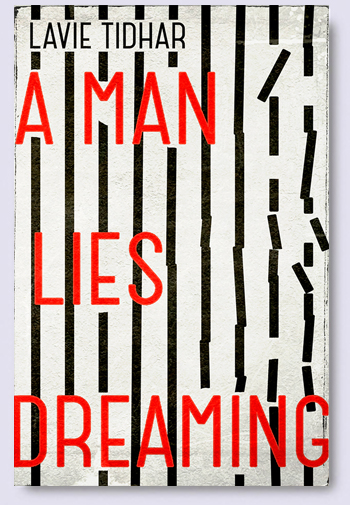 The paperback edition of Lavie Tidhar's critically-acclaimed A MAN LIES DREAMING is published today in the UK, by Hodder Books. Here's the synopsis…
Deep in the heart of history's most infamous concentration camp, a man lies dreaming. His name is Shomer, and before the war he was a pulp fiction author. Now, to escape the brutal reality of life in Auschwitz, Shomer spends his nights imagining another world – a world where a disgraced former dictator now known only as Wolf ekes out a miserable existence as a low-rent PI in London's grimiest streets. 
An extraordinary story of revenge and redemption, A Man Lies Dreaming is the unforgettable testament to the power of imagination.
Lavie is the author of many critically-acclaimed novels and novellas, including The Bookman Histories, published by Angry Robot; the World Fantasy Award-winning OSAMA, published by Solaris; and THE VIOLENT CENTURY published by Hodder in the UK and Thomas Dunne in the US.
'A twisted masterpiece.' — Guardian
'Savagely funny… Those who enjoy laughter in the dark will relish Tidhar's parade of mordant ironies… This novel is weird, upsetting, unmissable.'  5* —  Telegraph
'Tidhar is a masterful writer. More so even than James Smythe and Adam Roberts, he is perhaps the UK's most literary speculative fiction writer, and we should celebrate A MAN LIES DREAMING as more a masterful work of literary fiction than of speculative fiction. But it is exactly that: masterful.' — Strange Horizons
'No one can accuse Lavie Tidhar of being risk-averse… This is what makes him such an interesting writer, and what makes A MAN LIES DREAMING quite a bit more complex than it at first appears… the novel is not without a fair amount of humor, and that might well be the boldest risk Tidhar is taking here…' — Locus