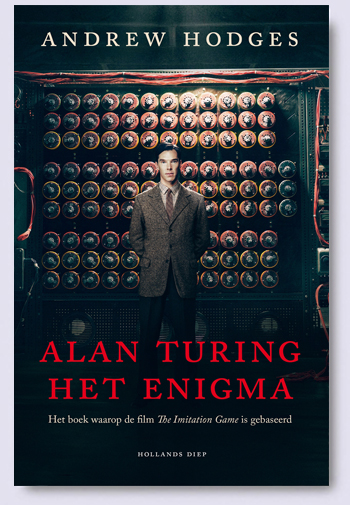 This month, Andrew Hodges's critically-acclaimed ALAN TURING: THE ENIGMA will be available in Dutch! Published by Hollands Diep as ALAN TURING, HET ENIGMA, here's the Dutch synopsis…
Er is niet veel overdreven aan de stelling dat de Britse wiskundige Alan Turing de geallieerden heeft gered in hun strijd tegen de Nazi's, dat hij de uitvinder was van de computer, de bedenker van kunstmatige intelligentie en een voorloper in de strijd om vrijheid voor homoseksuelen – en dat alles voordat hij, 41 jaar oud, zelfmoord pleegde.
Deze schitterende biografie vertelt het definitieve verhaal van een uitzonderlijk genie en een even uitzonderlijk leven.
Alan Turings grote kracht was zijn briljante analytische geest gecombineerd met zijn gave voor het ontwerpen van 'intelligente' machines. In 1940 wist hij met zijn vindingen de Duitse Enigma-code te kraken – de code waarmee de Duitse lucht- en zeemacht alle communicatie beveiligde. Hij bracht er het Duitse  oorlogscommando een slag mee toe die de oorlog bekortte en vele mensenlevens redde.
Het was niet Turings enige wapenfeit. Al voor de oorlog werkte de briljante wiskundige aan het concept van een universele machine, een idee dat hij in 1945 uitwerkte tot de allereerste digitale computer. In 1952 kwam een abrupt einde aan de glansrijke carrière van Alan Turing, toen hij door de autoriteiten werd opgepakt wegens homoseksualiteit, een strafbaar feit dat in die tijd nog actief werd vervolgd
In het land dat hij zes jaar lang in het belang van de vrijheid had gediend, volgde een veroordeling en een mensonterende behandeling. In 1954 pleegde Alan Turing, 41 jaar oud, zelfmoord.
Alan Turing, het Enigma verscheen voor het eerst in 1983 en kreeg een glorieuze ontvangst. Enkele jaren geleden volgde een herziene editie, ingeleid door Douglas Hofstadter.
The biography, which was the inspiration for the Oscar-winning movie THE IMITATION GAME starring Benedict Cumberbatch and Kiera Knightley, is published in the UK by Vintage and in the US by Princeton University Press. It has also been published widely in translation (with more editions to come). Here's the English-language synopsis…
The full story behind the persecuted genius of wartime codebreaking and the computer revolution.
A new edition to celebrate Alan Turing's centenary, includes a new foreword by the author and a preface by Douglas Hofstadter.
Alan Turing was the extraordinary Cambridge mathematician who masterminded the cracking of the German Enigma ciphers and transformed the Second World War. But his vision went far beyond this crucial achievement. Before the war he had formulated the concept of the universal machine, and in 1945 he turned this into the first design for a digital computer.
Turing's far-sighted plans for the digital era forged ahead into a vision for Artificial Intelligence. However, in 1952 his homosexuality rendered him a criminal and he was subjected to humiliating treatment. In 1954, aged 41, Alan Turing committed suicide and one of Britain's greatest scientific minds was lost.