Die Hobbit Presse, an imprint of Klett-Cotta, publishes today an omnibus eBook containing the first five books in Roger Zelazny's classic Chronicles of Amber fantasy series. Here's the synopsis…
Die Hobbit Presse Gold Edition umfasst alle fünf Teile der »Chroniken von Amber« von Roger Zelazny und gibt einen Einblick in die Machenschaften und Intrigen des Königshauses von Amber. Die Limited Edition mit mehr als 1300 Seiten ist nur für begrenzte Zeit lieferbar.
Als Corwin nach einem Autounfall in einer Klinik in New York aufwacht, kann er sich an nichts erinnern. Schnell findet er heraus, dass er eigentlich Mitglied der großen Königsfamilie von Amber ist. Corwin setzt alles daran, nach Amber zurückzukehren. Dabei lernt er, dass die Erde Teil der Schattenwelten ist und nur Nachfahren der Königsfamilie zwischen den Welten der Erde und Amber hin und her reisen können. In Amber selbst bereitet sich alles auf einen Krieg vor, denn König Oberon, Corwins Vater, ist verschwunden und der Thron verwaist. Corwins Bruder Eric will um jeden Preis die Macht über Amber erlangen, doch auch seine anderen Geschwister haben dasselbe Ziel. Der fesselnde Kampf um die Thronfolge, voller Intrigen und Hass, wird über die Zukunft von Amber und der Geschwister entscheiden.
Dieses E-Book enthält:
– Die neun Prinzen von Amber
– Die Gewehre von Avalon
– Im Zeichen des Einhorns
– Die Hand Oberons
– Die Burgen des Chaos
Die Hobbit Presse has also published the first five novels in the series individually in print and eBook.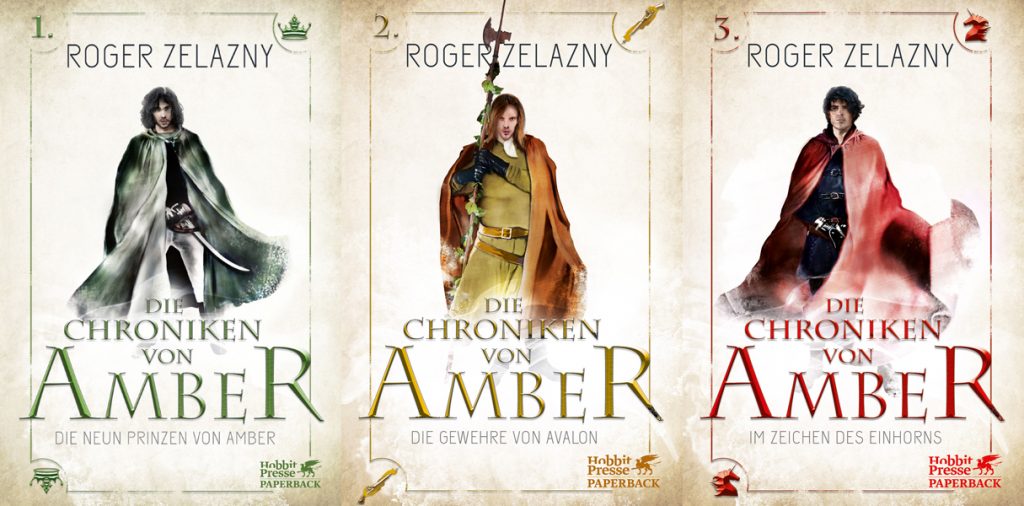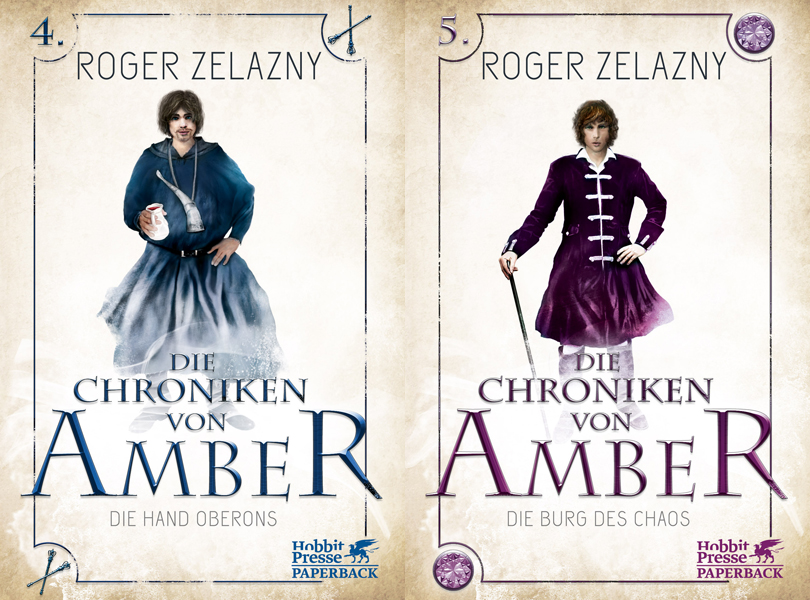 The first novel in the series, NINE PRINCES IN AMBER, was first published in 1970. Here's the English-language synopsis…
Awakening in an Earth hospital unable to remember who he is or where he came from, Corwin is amazed to learn that he is one of the sons of Oberon, King of Amber, and is the rightful successor to the crown in a parallel world.
Amber, the one real world, wherein all others, including our own Earth, are but Shadows. Amber burns in Corwin's blood. Exiled on Shadow Earth for centuries, the prince is about to return to Amber to make a mad and desperate rush upon the throne.
From Arden to the blood-slippery Stairway into the Sea, the air is electrified with the powers of Eric, Random, Bleys, Caine, and all the princes of Amber whom Corwin must overcome. Yet, his savage path is blocked and guarded by eerie structures beyond imagining; impossible realities forged by demonic assassins and staggering horrors to challenge the might of Corwin's superhuman fury.
Zeno represents Roger Zelazny in Translation, on behalf of the Zelazny Estate.