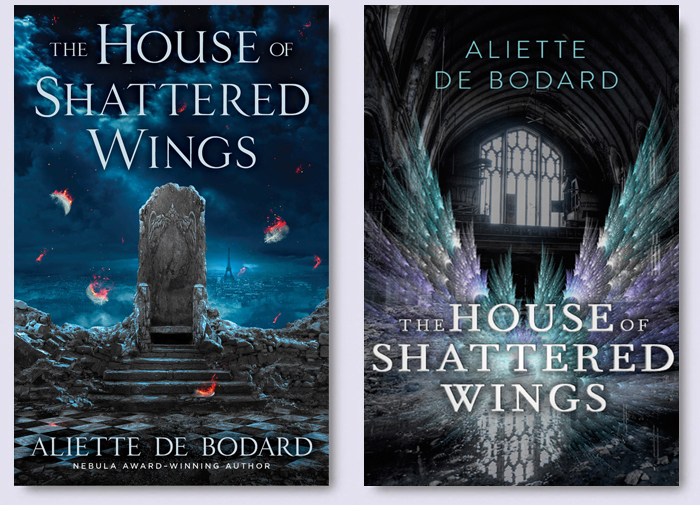 This week, the wait is finally over: Aliette de Bodard's highly-anticipated new novel, THE HOUSE OF SHATTERED WINGS is publish today in the US by Roc Books (left), and on Thursday in the UK by Gollancz (right). The first in a planned duology, the novel has already been generating some great buzz and early reviews. Here's the synopsis…
In the late twentieth century, the streets of Paris are lined with haunted ruins, the aftermath of a Great War between arcane powers. The Grand Magasins have been reduced to piles of debris, Notre-Dame is a burnt-out shell, and the Seine has turned black with ashes and rubble and the remnants of the spells that tore the city apart. But those that survived still retain their irrepressible appetite for novelty and distraction, and The Great Houses still vie for dominion over France's once grand capital.
Once the most powerful and formidable, House Silverspires now lies in disarray. Its magic is ailing; its founder, Morningstar, has been missing for decades; and now something from the shadows stalks its people inside their very own walls.
Within the House, three very different people must come together: a naive but powerful Fallen angel; an alchemist with a self-destructive addiction; and a resentful young man wielding spells of unknown origin. They may be Silverspires' salvation—or the architects of its last, irreversible fall. And if Silverspires falls, so may the city itself.
Here is just a small selection of the reviews the novel has already received…
'A gripping tragedy of forlorn individuals caught up in an angelic version of the Cold War… De Bodard aptly mixes moral conflicts and the desperate need to survive in a fantastical spy thriller that reads like a hybrid of le Carré and Milton, all tinged with the melancholy of golden ages lost.' — Publishers Weekly (Starred Review)
'Will grab readers and force them to pay attention to the amazing writing and the phenomenal characters. de Bodard will sweep you up into the dark and dirty world Paris has become. The characters are very vivid and will stay with you until long after the last page… It's a whirlwind, it's heartbreaking and it's one of the best fantasy novels of 2015.' — RT Book Reviews (Top Pick August 2015)
'A Gothic masterpiece of supernatural intrigues, loves and betrayals in a ruined and decadent future Paris — wildly imaginative and completely convincing, this novel will haunt you long after you've put it down.' — Tim Powers
'This is the perfect novel to read at night, so dark and brooding is the landscape. By turns mysterious, violent and full of suspense this book is a page turner of the best kind… the whole story flows so well… To get maximum effect, read this on a dark and stormy night tucked up in an arm chair. Ambience abounds in this novel.' — Geek Syndicate
Aliette de Bodard is the author of multiple award-winning and -nominated short stories and novellas, as well as the critically-acclaimed Obsidian & Blood Aztec fantasy trilogy (published by Angry Robot Books). Also, if you happen to pre-order THE HOUSE OF SHATTERED WINGS, Gollancz are offering a free, exclusive eBook, IN MORNINGSTAR'S SHADOW…