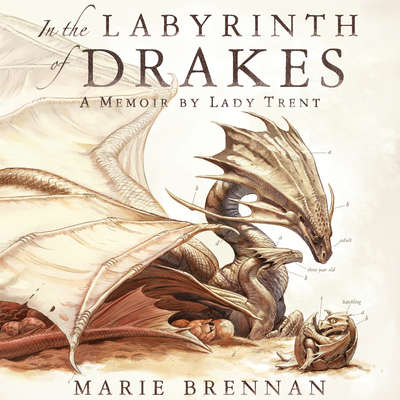 The audiobook edition of Marie Brennan's IN THE LABYRINTH OF DRAKES is out now! Published by W.F. Howes, here's the synopsis…
Even those who take no interest in the field of dragon naturalism have heard of Lady Trent's expedition to the inhospitable deserts of Akhia. Here Lady Trent relates how she acquired her position with the Royal Scirling Army, how foreign saboteurs imperilled both her work and her well-being and how her determined pursuit of knowledge took her into the deepest reaches of the Labyrinth of Drakes, where the chance actions of a dragon sets the stage for her greatest achievement yet…
IN THE LABYRINTH OF DRAKES is the fourth novel in Brennan's Memoirs of Lady Trent series. All of them are published in audio by W.F. Howes, and in print by Titan Books: A NATURAL HISTORY OF DRAGONS, THE TROPIC OF SERPENTS, THE VOYAGE OF THE BASILISK, IN THE LABYRINTH OF DRAKES and the upcoming, final novel WITHIN THE SANCTUARY OF WINGS.

Titan also publishes Brennan's Onyx Court series in the UK:

Zeno represents Marie Brennan in the UK and Commonwealth, on behalf of the JABberwocky Literary Agency in New York.