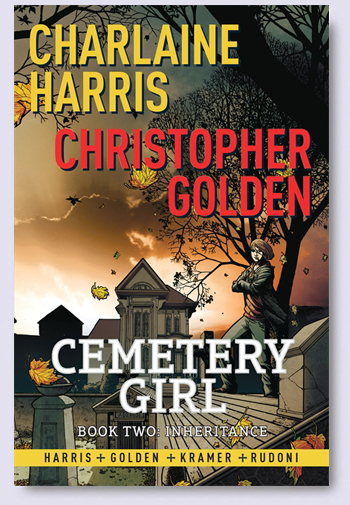 Today, Jo Fletcher Books publishes Charlaine Harris's and Christopher Golden's second graphic novel, CEMETERY GIRL: INHERITANCE. The sequel to THE PRETENDERS, here's the synopsis…
Calexa begins to understand her forgotten past
She calls herself Calexa Rose Dunhill. She has been living — hiding out — in Dunhill Cemetery ever since someone left her there to die. She has no idea who wants her dead or why, but she isn't about to hand around for her would-be-killer to finish the job.
Despite her self-imposed isolation among the deceased, Calexa's ability to see spirits and the memories she receives from them guarantees she'll never be alone. The only living people she interacts with are Kelner, the cemetery's cantankerous caretaker, and Lucinda Cameron, an elderly woman who lives in an old Victorian house across the street. With their friendship, Calexa has regained a link to the world beyond tombstones and mausoleums.
Until the night she witnesses a murder that shatters her life: a life now under a police microscope, as their investigation threatens to uncover Calexa's true identity…
The book is illustrated by Don Kramer.
Charlaine Harris's most recent novel is DAY SHIFT, published in the UK by Gollancz.
Zeno represents Charlaine Harris in the UK and Commonwealth, on behalf of the JABberwocky Literary Agency.