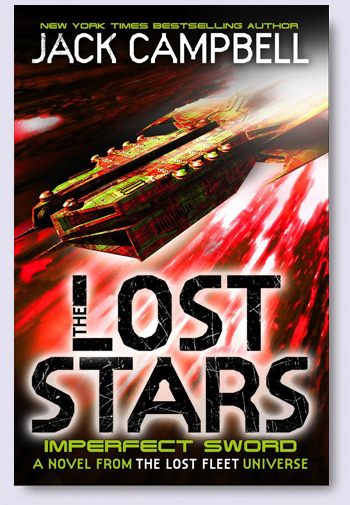 That eye-catching piece above will grace the cover of the UK edition of Jack Campbell's third Lost Stars novel, IMPERFECT SWORD. The novel is due to be published in October 2014, by Titan Books. Here's the synopsis…
President Gwen Iceni and General Artur Drakon have successfully liberated the Midway Star System — but the former rulers of the Syndicate Worlds won't surrender the region without a fight. The dictatorial regime has ordered the ex-Syndicate CEOs terminated with extreme prejudice and the system's citizens punished for their defiance.
Outnumbered and led by junior officers hastily promoted in the wake of the uprising, Midway's warships are no match for the fleet massing and preparing to strike. But the Syndicate isn't the only threat facing Iceni and Drakon. Another former CEO has taken control of the Ulindi Star System, the first calculated move toward establishing his own little empire.
With Drakon's ground forces dispatched to Ulindi, Midway erupts in violence as Syndicate agents and other, unknown enemies stoke a renewed revolt against Iceni's power — leaving both her and Drakon vulnerable to trusted officers just waiting for an opportune moment to betray them…
IMPERFECT SWORD follows TARNISHED KNIGHT and PERILOUS SHIELD. The series is published in the US by Ace Books (Penguin).
It's still a little early for reviews to be cropping up, but Publishers Weekly have managed to get their hands on a copy and had this to say: 'Campbell's third Lost Stars military SF adventure (after The Lost Stars: PERILOUS SHIELD) delivers all his signature attractions… Campbell's focus on the details of the Midway fleet and ground forces makes for a fast-paced thrill ride that leaps nimbly from harrowing to heartbreaking to heroic. The tentative steps of establishing a new society are no less intense. Both new and returning readers will dive right in.'
Zeno represents Jack Campbell in the UK and Commonwealth, on behalf of the JABberwocky Literary Agency in New York.