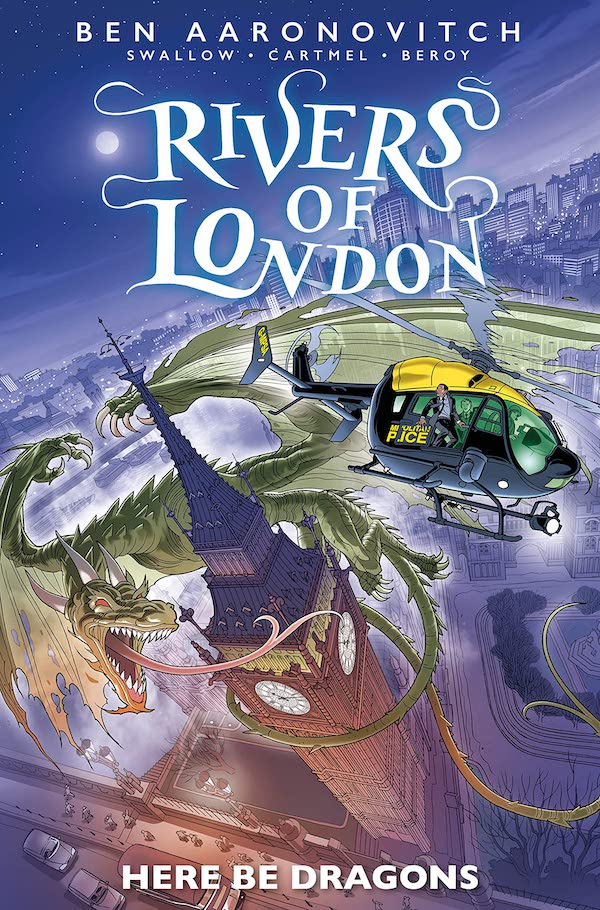 The collected paperback and digital editions of HERE BE DRAGONS is out in two weeks! The eleventh story-arc in Ben Aaronovitch and Andrew Cartmel's Rivers of London comic series, this one is also co-authored by James Swallow. Series artwork, and the cover by José María Beroy.
HERE BE DRAGONS is due to be published by Titan Comics, on December 12th. Here's the synopsis…
CSI meets Harry Potter in this graphic novel from Ben Aaronovitch – writer of the bestselling Rivers of London supernatural police procedural crime novel series, Andrew Cartmel author of the Vinyl Detective and New York Times best-selling author, James Swallow creator of the Marc Dane series, and writer of five best-selling Warhammer 40,000 novels. After a rash of strange UFO sightings above the capital, a Met Police helicopter night patrol is attacked by what can only be described as a dragon!
Wizard in training Peter Grant and his mentor, Thomas Nightingale, the Met's only sanctioned wizard, takes to the skies to investigate.
As the mystery deepens, Peter and Thomas find themselves caught between two groups of hunters – one human, one fae – and he uncovers the legacy of events that extend all the way back to the late '60s and one of London's most famous residents – a certain "Experienced" rock star – who made a pact with the Demimonde that was never fulfilled.
To save the skies of the city, Peter will have to face the enraged beast – but can he end things peacefully… Or will he be forced to destroy the last wyvern?
Collecting together the critically acclaimed original four-issue mini-series.
With exclusive bonus material, included a script to art comparison, covers gallery and a collection of the backup articles from the four comics.
The continuing comic-book adaptation of Ben Aaronovitch's hugely successful and award-winning 10-book novel series first published in 2011.
An all-new original adventure starring the Peter Grant the wizard-in-training hero of the first Rivers of London Novel, 'Rivers of London', also known as Midnight Riot in the US.
The first ten story-arcs in the Rivers of London comic series are also available in print and digital, published by Titan Comics. The comics feature characters created by Ben, and featuring in his internationally-bestselling Rivers of London/Peter Grant series of novels and novellas. To see how the comics and prose books fit together, check out the handy graphic, below…