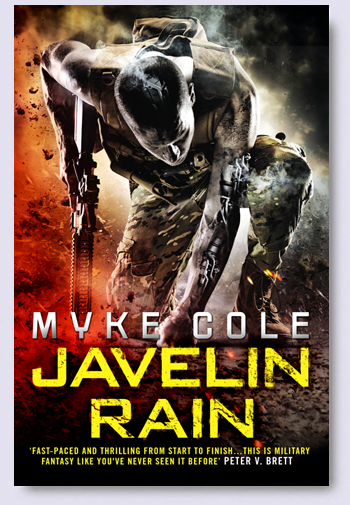 The wait is over! Myke Cole's latest novel in his Shadow Ops series is out now in the UK! JAVELIN RAIN is published by Headline. Here's the synopsis…
Javelin: the loss of a national security asset with strategic impact
Rain: a crisis of existential proportions
Javelin Rain incidents must be resolved immediately, by any means necessary, no matter the cost…
Being a US Navy SEAL was Jim Schweitzer's life until the day he was killed.
Now, his escape from the government that brought him back from the dead has been coded 'Javelin Rain'. Schweitzer and his family are on the run from his unit and, while he may be immortal, his wife and son are not.
It's up to Jim to keep his family safe and free from the clutches of his former masters, whose plans could spell disaster not only for him, but for the entire nation…
JAVELIN RAIN is the follow-up to GEMINI CELL. Both of these novels are set before the original Shadow Ops series, which was made up of CONTROL POINT, FORTRESS FRONTIER and BREACH ZONE.

Myke's series has received some great, glowing reviews since they first hit shelves. Here's just a selection…
'Myke Cole continues to explore the double-edged nature of magic… easily the darkest novel in the series so far. However, it's also one of Myke Cole's best novels so far… captivating… great, vital speculative fiction.' — Tor.com
'As always Cole's writing is taut and the pacing intense. This is Cole's most deeply emotional work. Having a window seat on Schweitzer's emotions and thoughts is devastating. Cole has deepened the history of the Gemini Cell program and there is still more to be revealed and more uncovered.' — Qwillery
'Cole keeps the pace nice and crisp, and GEMINI CELL is a another page-turner… With GEMINI CELL, Myke Cole proves that the Shadow Ops trilogy was no fluke. It's everything the first series was and then some! … military fantasy at its best!' — Pat's Fantasy Hotlist
'GEMINI CELL, like its siblings, demonstrates the complexity of the world in which Cole can tell numerous stories, each unique, thought-provoking and entertaining all at once.' — io9.com
'CONTROL POINT is Black Hawk Down meets the X-Men. Fast-paced and thrilling from start to fin­ish, CONTROL POINT is mil­i­tary fan­tasy like you've never seen it before. Cole's wartime expe­ri­ence really shows in the gritty real­ity of army life, and in the explo­ration of patri­o­tism as the pro­tag­o­nist wrestles with the line between the law and what he sees as right.' — Peter V. Brett
'FORTRESS FRONTIER is even better than CONTROL POINT… If you like superheroes, ancient mythology, military fantasy, comics, epic fantasy, TV shows like Stargate, Heroes, and The 4400, or really if you are geeky in any possible way at all, I cannot recommend Cole's Shadow Ops series to you highly enough. If you haven't picked it up yet, go get a copy of CONTROL POINT right now. You'll love it—I daresay that's a promise.' — Ranting Dragon
Zeno represents Myke Cole in the UK and Commonwealth, on behalf of the JABberwocky Literary Agency in New York.