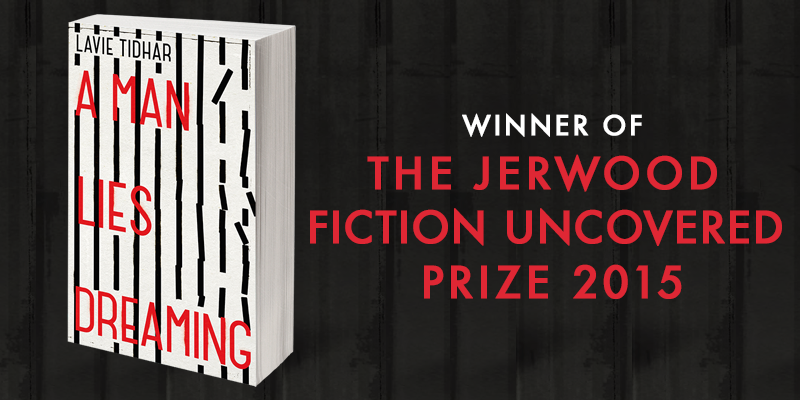 Announced yesterday, Lavie Tidhar's exceptional A MAN LIES DREAMING has won the prestigious Jerwood Fiction Uncovered prize!
Given to recognise the breadth and vibrancy of British writing today, this is its fifth year. Fifteen titles were nominated from across all genres, and of these, eight have won the prize.
Published in the UK by Hodder Books, here is the synopsis for A MAN LIES DREAMING…
Deep in the heart of history's most infamous concentration camp, a man lies dreaming. His name is Shomer, and before the war he was a pulp fiction author. Now, to escape the brutal reality of life in Auschwitz, Shomer spends his nights imagining another world — a world where a disgraced former dictator now known only as Wolf ekes out a miserable existence as a low-rent PI in London's grimiest streets.
An extraordinary story of revenge and redemption, A Man Lies Dreaming is the unforgettable testament to the power of imagination.
Lavie is no stranger to prestigious awards: OSAMA won the World Fantasy Award in 2012. Many congratulations to Lavie for another very-well-deserved win!
Hodder also published Lavie's previous, critically-acclaimed novel, THE VIOLENT CENTURY — which is also published in the US by Thomas Dunne Books. Lavie is also the author of The Bookman Histories (Angry Robot)
'Young, ambitious, skilled and original.' — Christopher Priest, author of The Prestige
'A shocking book as well as a rather brilliant one… A twisted masterpiece.' — Guardian
'Tidhar's voice itself — at times humorous, at times grim but never frivolous and always taught and controlled… As with his previous novels, Tidhar knows how to say a great deal in very little. There is eloquence and gravitas in the sparselness and brevity of noir fiction when it is good, and Tidhar's is quite incredible.' — Tor.com
'Savagely funny… Those who enjoy laughter in the dark will relish Tidhar's parade of mordant ironies… This novel is weird, upsetting, unmissable.' 5* — Telegraph