The new eBook edition of KILL BAXTER, the second novel in Charlie Human's acclaimed Baxter Zevcenko series, is available again in the UK! Published through the JABberwocky eBook Program, here's the synopsis…
The world been massively unappreciative of sixteen-year-old Baxter Zevcenko's efforts. His bloodline may be a combination of ancient Boer mystic and giant shape-shifting crow, and he may have won an inter-dimensional battle and saved the world, but does the world care? No.
Instead he's packed off to Hexpoort, a magical training school for MK6 agents. Part reformatory, part military school, and just like Hogwarts (except with more sex, drugs, and better internet access) Hexpoort is a much bigger game than your average high-school, and has much more dangerous players.
An attack on his new school by a dark figure called the Muti Man reunites Baxter with supernatural bounty hunter Jackson 'Jackie' Ronin and puts on them on the trail of the Obayifo, a tribe of supernatural media moguls and fashion designers. Together Baxter and Jackie are plunged into the most disgusting, terrifying and dangerous situation they've encountered yet: Cape Town Fashion Week.
APOCALYPSE NOW NOW, the first in the series, is also available in eBook via JABberwocky. The two novels are available in the US, published by Titan Books (covers at end).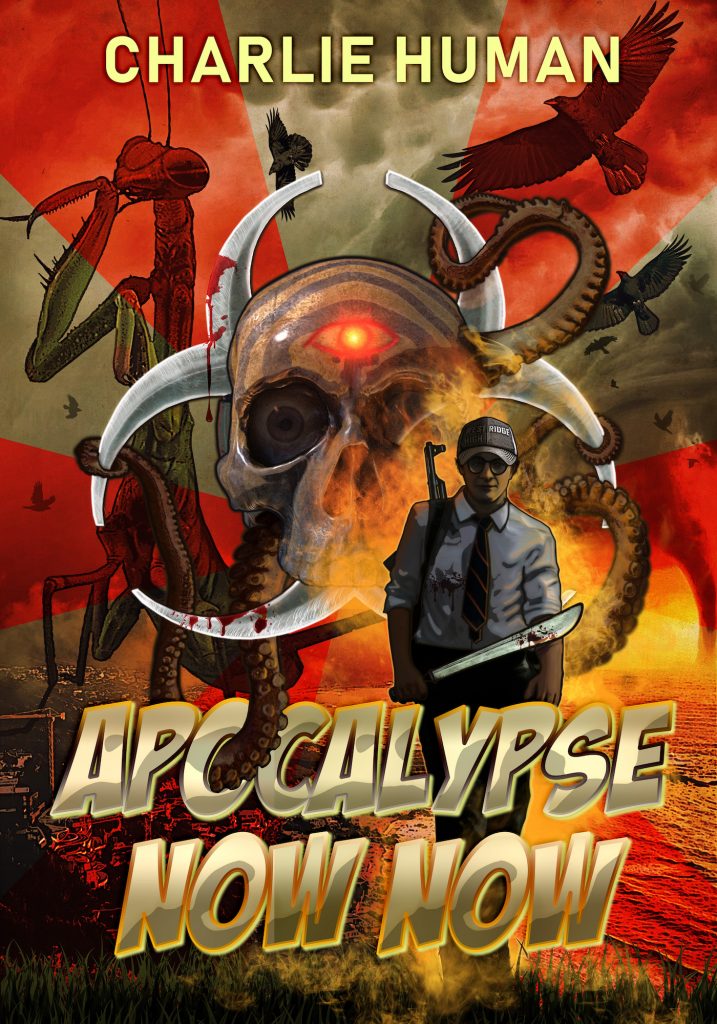 Here are just a few of the great reviews the series has received so far…
'Like its predecessor, KILL BAXTER is laugh out loud funny and fiendishly creative. The anti-Hogwarts of Hexpoort gives Human the opportunity to riff more directly on pop culture, but so do the porn addict support groups, pretentious fashion shows and possessed nerds. The further we delve into the supernatural world and its politics, with its psychotic fairies and violent luckdragons, the more engrossing the book becomes. Baxter himself is as entertaining a companion as ever, struggling with heartbreak and desperately trying to go against his own nature and be a good person, even as he travels through his own psyche with his psychosexual development funk band guides to fulfil his potential… tighter and more focused, and just as gloriously insane. Dark, mad, imaginative, and hilarious; KILL BAXTER is a joy.' — SciFiNow
'Just as the author punctures holes in the twee/charming class system of magical boarding schools, Human also goes after many of the other traditions of epic fantasy. The warrior-mages of KILL BAXTER struggle with PTSD. The "rescued" girlfriends don't feel particularly swoony or appreciative. The quest to master "the power within" involves a funk band. Baxter himself sees himself as the center of the universe (saviour for all, chosen one, etc. etc.) — but is also wise enough to seek out professional therapy for that sensation. APOCALYPSE NOW NOW was a very clever, extremely dark book with an underpinning of real insight into the teenage mind. KILL BAXTER is a step beyond – a viciously sharp adventure that combines explosive entertainment with cutting satire; the best traditions of contemporary fantasy with the truth of what it actually means to be contemporary. The odd book that should appeal to those who love fantasy and those that hate it. And I would heartily recommend it either way.' — Pornokitsch
'The antidote to Harry Potter is back in Charlie Human's bawdy new novel: a lively elaboration of the mad as pants brand of South African urban fantasy advanced in APOCALYPSE NOW NOW… everything Human's debut did well, KILL BAXTER does better… the setting, again, is superlative… the way in which South African folklore figures into the fiction is fantastic — the dreamwalking bits are abundantly brilliant — and KILL BAXTER is a markedly more brutal book… more than a match for Charlie Human's addictive debut. This, then, is urban fantasy on magical meth. You will want more.' — Tor.com
'The sequel to the jubilantly violent APOCALYPSE NOW NOW… Moments of glorious distaste come thicker and faster in KILL BAXTER, with goblin fights and hysterical trips into the protagonist's warped psyche filling the pages at every turn. The supporting characters are more memorable this time too, from Uzi-wielding conjoined twins, Faith and Chastity, to Baxter's own personal pet, Gigli, a snake-like dragon who possesses a stubborn attitude to match his conflicted partner. Even after brushing with the apocalypse, this emerging series hasn't lost its frenzied bite. KILL BAXTER is leaner, meaner and shows an unrestrained zest for dizzying, carnivalesque violence… this is an irresistible ride which has lost all control of the brakes. Either cling to the handrail or be splattered in the dust.' — Starburst
'It's mad, dark, irreverent and wonderfully twisted in all the right ways.' — Lauren Beukes, author of The Shining Girls
'I don't even know how to describe reading this book, so just look at my wide eyes and my silently mumbling mouth and take my shell-shock as a good sign that you need to read this book right now.' — Chuck Wendig, author of Blackbirds
'With a wild imagination and savage glee, Charlie Human throws us into a school yard battle zone that's part teenage wasteland, part Lovecraft fever dream. Rock and Roll High School meets the apocalypse.' — Richard Kadrey, author of Sandman Slim
'Think Lauren Beukes meets Neil Gaiman, with bounty hunters.' — Wired (UK)