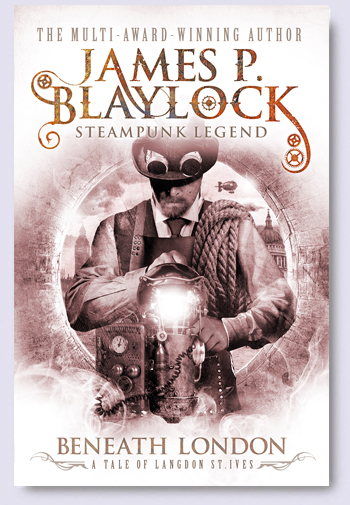 BENEATH LONDON, the fourth novel in James P. Blaylock's critically-acclaimed Langdon St. Ives steampunk series, is out this week in the US (today) and UK (Thursday). Published in both territories by Titan Books, here's the synopsis…
The collapse of the Victoria Embankment uncovers a passage to an unknown realm beneath the city. Langdon St. Ives sets out to explore it, not knowing that a brilliant and wealthy psychopathic murderer is working to keep the underworld's secrets hidden for reasons of his own.
St. Ives and his stalwart friends investigate a string of ghastly crimes: the gruesome death of a witch, the kidnapping of a blind, psychic girl, and the grim horrors of a secret hospital where experiments in medical electricity and the development of human, vampiric fungi, serve the strange, murderous ends of perhaps St. Ives's most dangerous nemesis yet.
You can read a short extract from the novel here. Widely considered one of the founding fathers of the Steampunk genre, Blaylock's work has been praised far and wide. For example…
'Blaylock is a true one-of-a-kind original.' — Neil Gaiman
'Blaylock is a singular American fabulist.' — William Gibson
'Blaylock allows us to see the mundane world through new eyes, to perceive the familiar as strange, and therefore exciting.' — Charles de Lint
'James P Blaylock has been underpublished on this side of the Atlantic, a state of affairs Titan are addressing with THE AYLESFORD SKULL (£7.99), the first of three titles by one of the founders of the steampunk genre… Blaylock throws in all the furniture of the genre: derring-do and cliffhangers, a vivid portrayal of Victorian London, a gallery of grotesque characters and the obligatory airship, but the strength of the novel is his rendering of St Ives caught between his love of the chase and his commitment to family.' — Guardian on THE AYLESFORD SKULL
'Packed with high adventure, mad science and derring do, THE AYLESFORD SKULL is a perfect place to start the Langdon St Ives books and, with Titan re-releasing the other books in the series, there's plenty to keep you and St Ives busy. Which is, I suspect, just how he likes it.' — SFX
'Populated by pirates, elves, and leviathans, the book is no mere battle of good versus evil; it's a triumph of imagination over greed.' — LA Magazine
Titan Books also publish the first three novels in the series: HOMUNCULUS, LORD KELVIN'S MACHINE, and THE AYLESFORD SKULL.