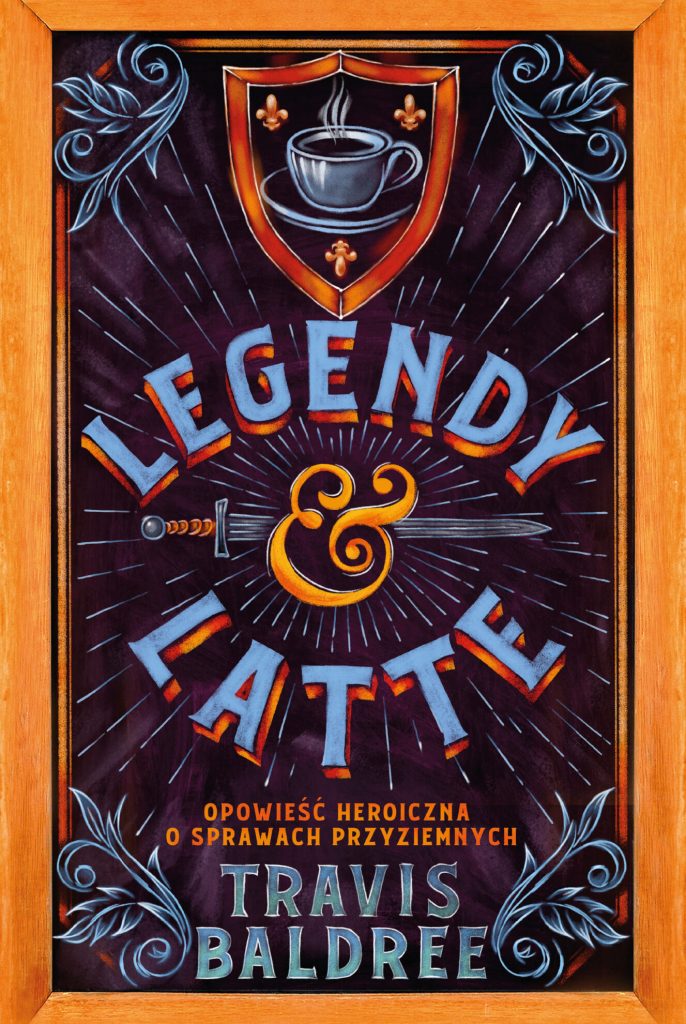 LEGENDY I LATTE, the Polish edition of Travis Baldree's acclaimed, best-selling cosy fantasy LEGENDS & LATTES, is out now! Published by Insignis, this edition was translated by Piotr Cholewa.
Check out the synopsis…
Tiktokowy fenomen i bestseller wykraczający poza ramy gatunku!
Wysoka fantasy, niskie stawki. Z podwójną porcją kawy!
Znużona dziesięcioleciami walk, krwawymi wyprawami i nieustannymi awanturami orczyca Viv uznaje, że nadeszła pora zawiesić miecz na kołku. Chce zrealizować swoje marzenie – zamierza otworzyć pierwszą kawiarnię w mieście Thune. Mimo że nikt tam nie ma bladego pojęcia, czym jest kawa…
Jednak na tym zupełnie nowym, nieznanym szlaku nawet najdzielniejsza z wojowniczek nie poradzi sobie sama. Na drodze do sukcesu Viv stają jej rywale – dawni i nowi. Mroczne podziemie Thune może sprawić, że orczycy łatwo będzie znów chwycić za miecz, a przecież obiecała sobie, że więcej tego nie zrobi.
Dlatego właśnie, jak mawia stare porzekadło, przed wyruszeniem w drogę należy zebrać drużynę. A jej członkowie mogą nadejść z najmniej oczekiwanych kierunków. Nieważne, czy ściągnie ich pradawna magia, smakowite słodkości czy też świeżo zaparzona kawa – staną się dla Viv bardziej nieodzowni, niż sobie wyobrażała. Bo prawdziwą nagrodą w wędrówce są ci, których spotykamy po drodze.
"Legendy i Latte" Travisa Baldree to ciepła, napawająca optymizmem, życiowa fantasy o nowych początkach i o rodzinie, którą wybieramy sobie sami.
The novel is out now in the UK and North America, published by Tor Books. Here's the English-language synopsis…
High fantasy, low stakes – with a double-shot of coffee.
After decades of adventuring, Viv the orc barbarian is finally hanging up her sword for good. Now she sets her sights on a new dream – for she plans to open the first coffee shop in the city of Thune. Even though no one there knows what coffee actually is.
If Viv wants to put the past behind her, she can't go it alone. And help might arrive from unexpected quarters. Yet old rivals and new stand in the way of success. And Thune's shady underbelly could make it all too easy for Viv to take up the blade once more.
But the true reward of the uncharted path is the travellers you meet along the way. Whether bound by ancient magic, delicious pastries or a freshly brewed cup, they may become something deeper than Viv ever could have imagined.
Legends & Lattes by Travis Baldree is a cosy, heartwarming slice-of-life fantasy about found families and fresh starts – perfect for fans of TJ Klune, Katherine Addison and T. Kingfisher.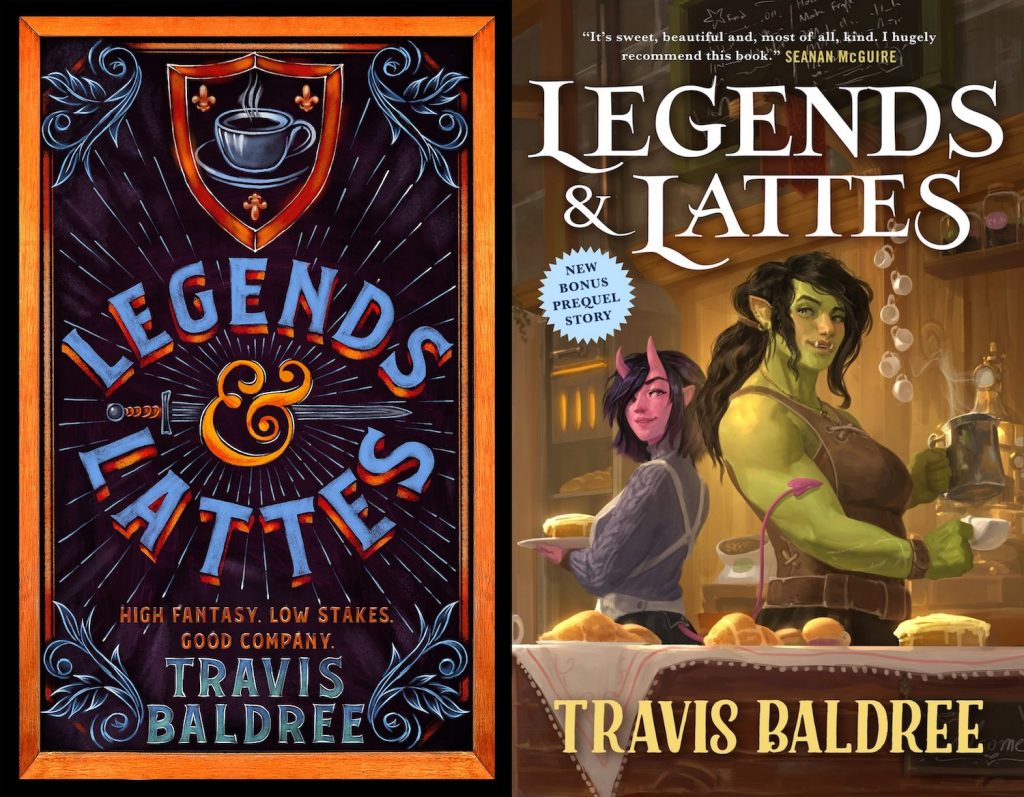 German, Hungarian, and Spanish editions of LEGENDS & LATTES are also all out now!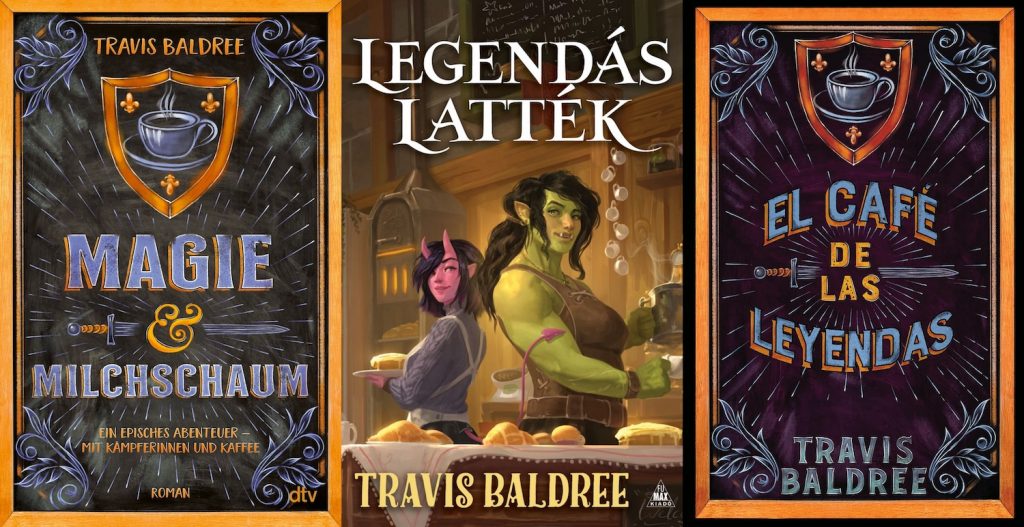 Here are just a few of the many great reviews/responses the novel has received so far…
'A gentle little cozy set against an epic fantasy backdrop… This charming outing will please anyone who's ever wished to spend time in a fantasy world without all the quests and battles.' — Publishers Weekly
'The most fun I've ever had in a coffee shop.' — Ben Aaronovitch, bestselling author of Rivers of London
'This slice-of-life cozy fantasy novel has everything you've been searching for.' — Buzzfeed
'This is a story about following your dreams, even when they take you away from who you thought you had to be. It's sweet, beautiful and, most of all, kind. I hugely recommend this book.' — Seanan McGuire, New York Times bestselling author of Every Heart A Doorway
'An orc retires from adventuring to start a fantasy city's very first coffee shop. This setup combined with the positive messages of defying societal stereotypes, letting go of violence to build peace, and trusting in your friends feels like a premise from Terry Pratchett's Discworld… LEGENDS & LATTES is a novel, and shop, that will delight anyone who enjoys coffee-shop alternate universes, slow-burn romances, and the vindication of friendship.' — Booklist, starred review
"Take a break from epic battles and saving the world. LEGENDS & LATTES is a low-stakes fantasy that delivers exactly what's advertised: a wholesome, cozy novel that feels like a warm hug. This is my new comfort read.' — Genevieve Gornichec, author of The Witch's Heart
'A stunningly-well done story at every level' — Fantasy Faction
'LEGENDS & LATTES is a big-hearted story about the small things in life. A lovingly written ode to the genre, it is a must-read for every D&D player who has ever wondered what happens after "happily ever after."' — Cassandra Khaw, USA Today bestselling author
'If you like fantasy but you're tired of reading about wars and general intensity, this is the book for you… Cozy fantasy at its best.' — Literary Hub
'LEGENDS & LATTES is a uniquely beautiful book. Its cast of endearing characters have no interest at all in killing one another. There is no Great Evil, no bloody battles, and yet the pillars of great fantasy — resilience, fellowship, and a desire to make the world a better place — are all here. It's wonderfully wholesome, and I hope heralds the rise of a 'slice-of-life' sub-genre in modern fantasy.' — Nicholas Eames, author of Kings of the Wyld