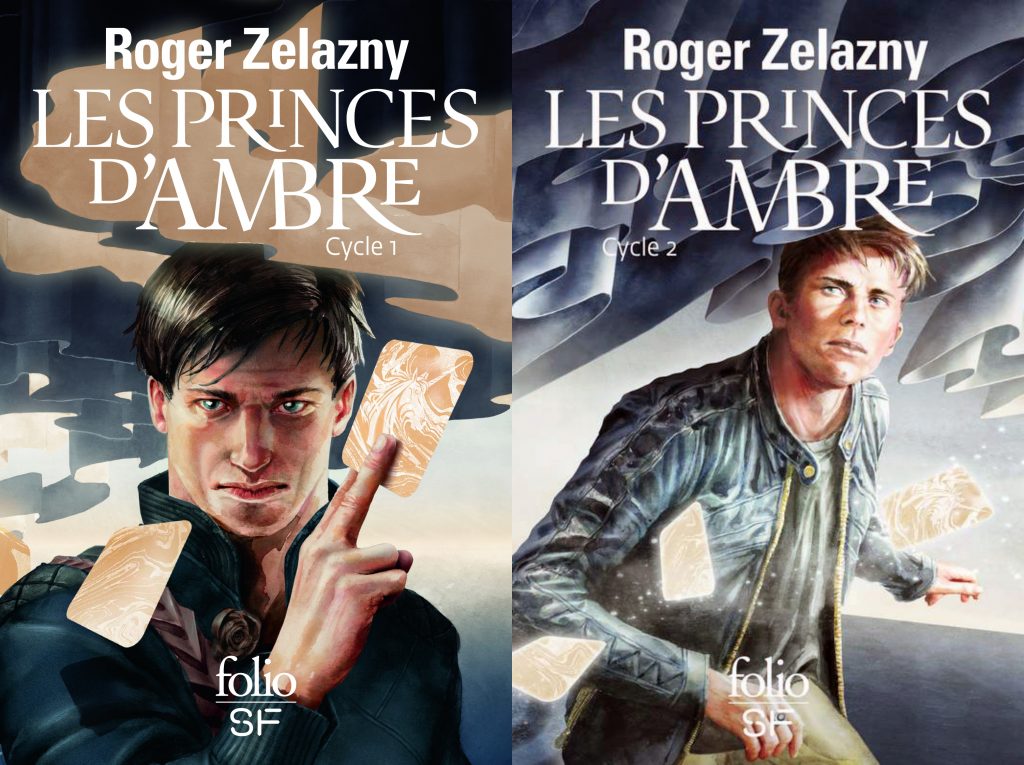 Roger Zelazny's classic Chronicles of Amber fantasy series is available in new French editions, collected into two volumes: LES PRINCES D'AMBRE Cycle 1 & Cycle 2. Published in France by Folio SF, here's the synopsis for the first collection…
Il est amnésique.
Il est l'un des neuf princes d'Ambre, ce monde dont tous les autres ne sont que des reflets.
Son nom est Corwin et il compte bien vaincre ses frères pour monter sur le trône vacant.
This collection includes LES NEUF PRINCES D'AMBRE, LES FUSILS D'AVALON, LE SIGNE DE LA LICORNE, LA MAIN D'OBERON, and LES COURS DU CHAOS.
The second collection includes LES ATOUTS DE LA VENGEANCE, LE SANG D'AMBRE, LE SIGNE DU CHAOS, CHEVALIER DES OMBRES, and PRINCE DU CHAOS. Here's the synopsis…
Des neuf enfants d'Oberon, c'est à présent Random qui règne sur Ambre. Corwin a disparu, on le croit mort ou privé de raison. Son fils Merlin mène depuis huit ans une existence apparemment paisible sur l'ombre Terre. Mais chaque année, à date fixe, un mystérieux personnage tente de l'assassiner.
Zeno represents Roger Zelazny in translation, on behalf of the Zelazny Estate.