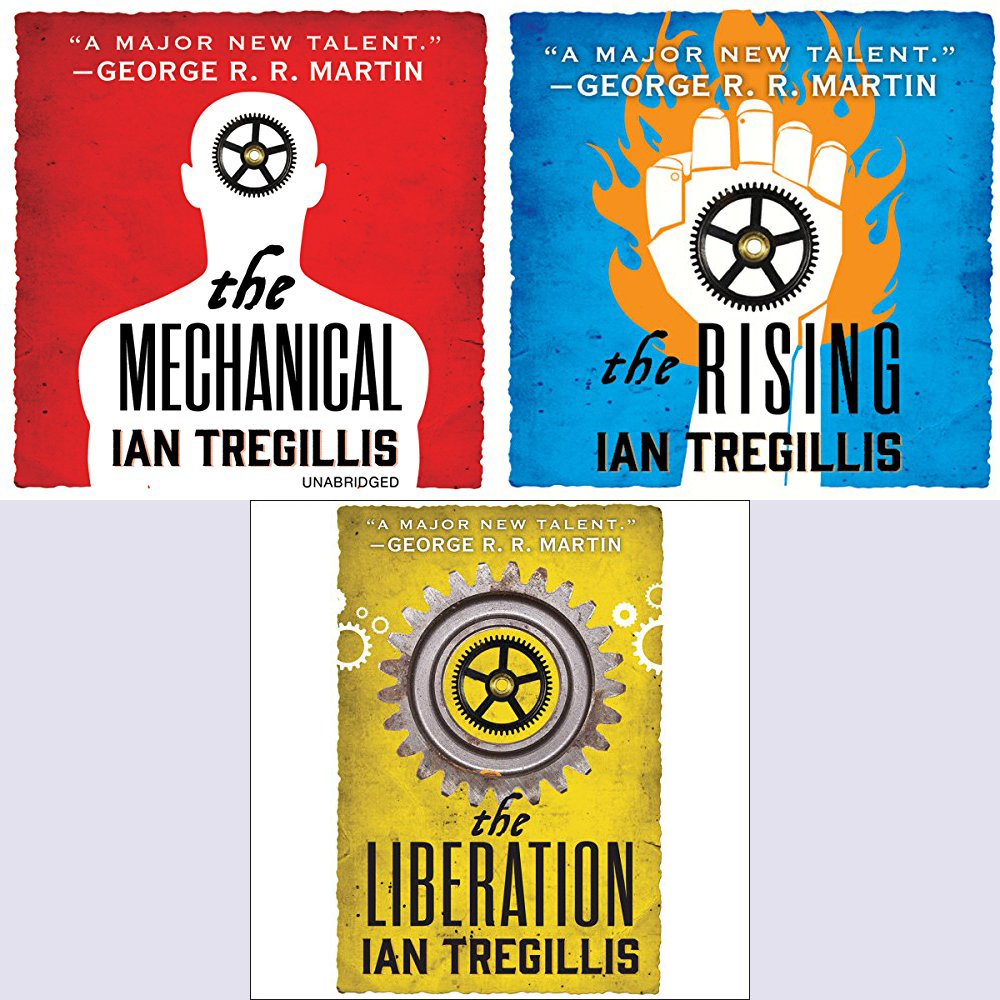 Today, we wanted to highlight the audio editions of the Alchemy Wars — Ian Tregillis's widely acclaimed fantasy trilogy. Published by Hachette in the UK and North America, all three novels are available as audiobooks, narrated by Chris Kayser: THE MECHANICAL, THE RISING, and THE LIBERATION.
Here's the synopsis for THE MECHANICAL…
My name is Jax.
That is the name granted to me by my human masters.
I am a slave.
But I shall be free.
Set in a world that might have been, of mechanical men and alchemical dreams, the new novel from Ian Tregillis confirms his place as one of the most original new voices in speculative fiction.
The print and eBook editions of the trilogy are published by Orbit Books in the UK and North America.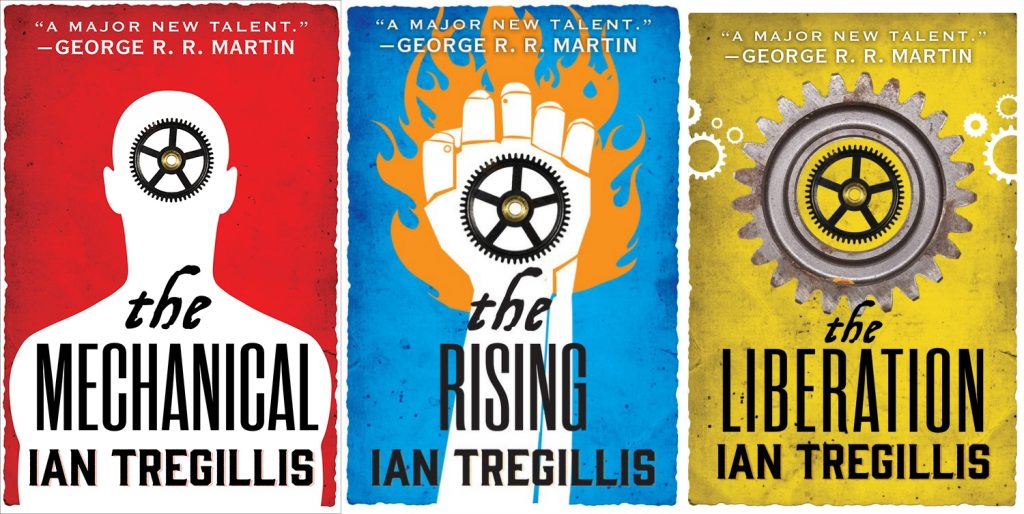 As already mentioned, the Alchemy Wars trilogy was met with incredible critical acclaim when each novel was published. Here is just a small sample of the reviews the series has received…
'The first thing readers will say after finishing this splendid book is: "Wow." The second thing will probably be: "When can I read the next one?" … This is a rousing SF/fantasy adventure, with a brilliantly imagined and beautifully rendered alternate world. Although he keeps the pace moving at a brisk clip, the author is able to work in some Big Ideas, asking us to think about what we mean when we speak about souls and free will. This isn't Tregillis' first venture into alternate history — the Milkweed Triptych is set during WWII and features an alternate time line — but, in terms of the quality of writing and cleverness of ideas, this new book constitutes a major leap forward.' — Booklist (Starred Review) on THE MECHANICAL
'… launches a series with this superb alternate history filled with clockwork men and ethical questions on the nature of free will… Tregillis's complex setting is elegantly delivered, and the rich characters and gripping story really make this tale soar.' — Publishers Weekly (Starred Review) on THE MECHANICAL
'An original approach to a well-known subject matter; human ethics and free will… a fascinating world… Tregillis is a capable sculptor of narrative. He rarely drags on in his descriptions, painting a complex picture of his world one section at a time. He imbues most characters with a specific internal voice, ably switching between points of view without it ever jarring. And the central character, a Clakker known as Jax, is the most engaging automaton you'll encounter in any recent book. This opener to the Alchemy Wars trilogy delivers a mostly fresh breath of sci-fi fantasy.' — SciFi Now on THE MECHANICAL
'This is the kind of novel you're reading on the bus or train and you actually resent reaching your destination because it means you have to pause your reading … One of the sharpest, most intelligent, hugely compelling works I've read this year, and I cannot wake to see where Tregillis takes this series next.' — Forbidden Planet Blog on THE MECHANICAL
'An excellent novel. Truly excellent: I have rarely found myself this gripped by a book … At the climactic points, I had to pause and walk away for moments at a time, because the intensity of the tension became nerve-wrackingly hard to bear. Tregillis has an excellent eye for characterisation, and a master's grasp of how to build tension to a breaking point: the sheer narrative drive here, the way in which the storylines of the three point-of-view characters support and reinforce the tension in each other, is a thing of beauty. I can't escape the feeling that it's shaping up as a long arc tragedy – in the classic sense of tragedy – for all of its protagonists, but it is immensely well done. I'm very much on board to see what happens next. Even though it's probably going to horrify me more.' — Locus on THE MECHANICAL
'The chases, the battles, the brutal violence, and the scheming are nonstop. As always, Tregillis offers richly textured and genuinely likable personalities with shades-of-gray morality; it's clearly no accident that the most purely good person in the novel is the mechanical Jax, although even his sterling qualities are severely tested by the terrible situations he faces. Middle volumes are always tricky; they can often read as an obstacle to overcome on the way to the forgone conclusion of the third installment. Tregillis commendably avoids this trap, deepening his story and keeping it moving along toward an unknown horizon. Part 3 can't come too soon.' — Kirkus (Starred Review) on THE RISING
'Tregillis's splendid sequel to THE MECHANICAL is a vivid alternate history tale filled with action sequences, fascinating characters, and great worldbuilding… engrossing, with plenty of mid-story twists, and it's well worth the ride.' — Publishers Weekly on THE RISING
'The thoughtful, blood-soaked conclusion to an alternate-history trilogy… A frighteningly frank and brutal consideration of slavery, post-slavery, and colonialism in metallic garb.' — Kirkus on THE LIBERATION
'Action-packed and harrowing…' — RT Book Reviews on THE LIBERATION
'THE LIBERATION brings to a violent, triumphant conclusion Ian Tregillis's epic Alchemy Wars Trilogy: one of the most entertaining, original, and thought-provoking series of recent years… It's a wonderfully realized world, packed with fascinating characters, and Tregillis uses alternative history brilliantly to explore concerns we still have over new technologies and their potential effect, for good and ill, on our freedom.' — Toronto Star
'THE LIBERATION is part philosophical debate over human nature and choice, part contemplation on colonialism and slavery, and part action-y alternate history. It brings the trilogy to a raucous, blood-soaked end where no one gets everything they want, but everyone gets exactly what they deserve… evocative and exciting… Every moment builds to half a dozen more. Each action scene both tightens the noose on the protagonists and ramps up the heart rate of the plot… 10/10…' — Tor.com
Ian's first trilogy, the Milkweed Triptych, is also available — published by Orbit Books in the UK and Tor Books in North America: BITTER SEEDS, THE COLDEST WAR, and NECESSARY EVIL. The audiobook editions are published by Audible, and narrated by Kevin Pariseau.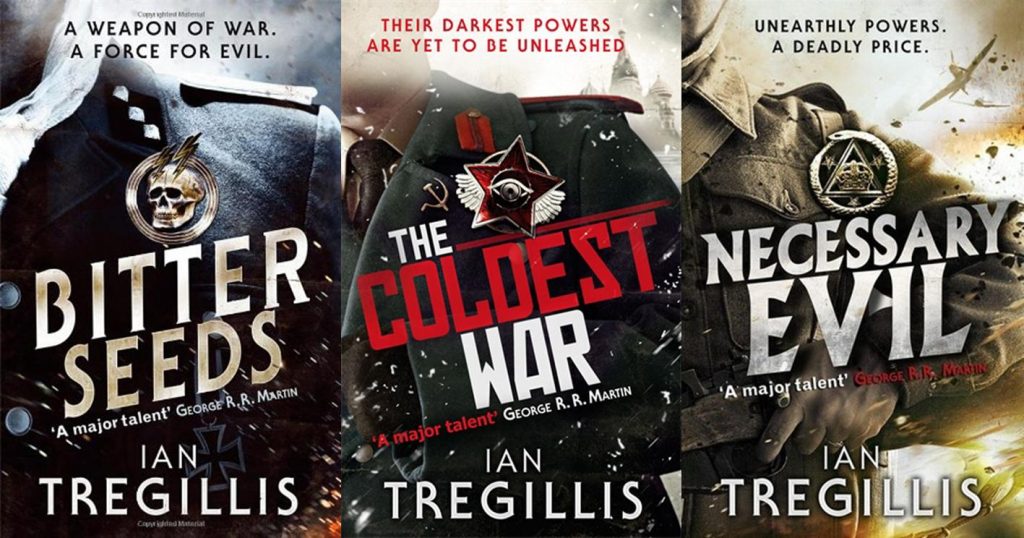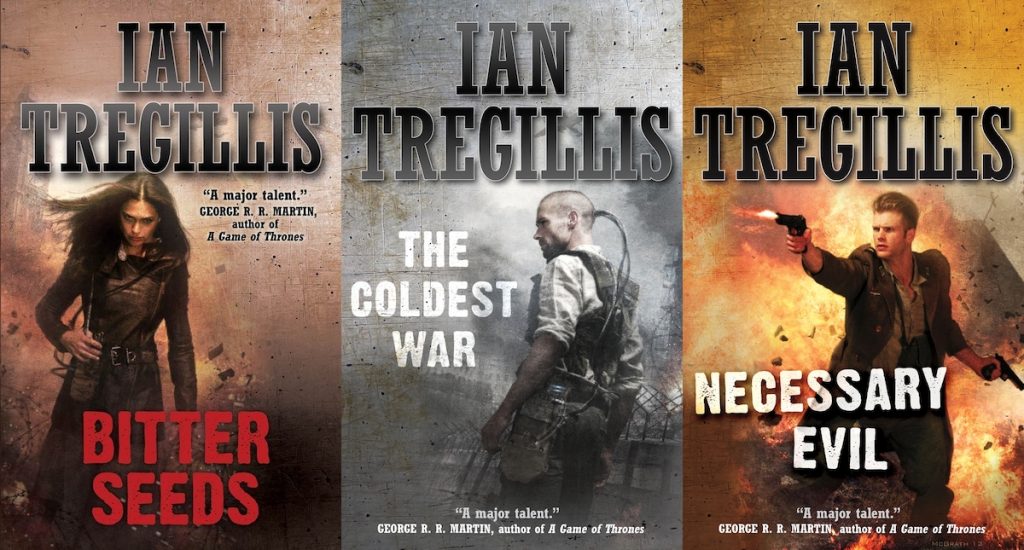 Here's the synopsis for BITTER SEEDS…
The year is 1939. Raybould Marsh and other members of British Intelligence have gathered to watch a damaged reel of film in a darkened room. It appears to show German troops walking through walls, bursting into flames and hurling tanks into the air from afar.
If the British are to believe their eyes, a twisted Nazi scientist has been endowing German troops with unnatural, unstoppable powers. And Raybould will be forced to resort to dark methods to hold the impending invasion at bay.
But dealing with the occult exacts a price. And that price must be paid in blood.
Ian Tregillis' Bitter Seeds is a chilling masterpiece – a tale of a twentieth century like our own and also profoundly different.