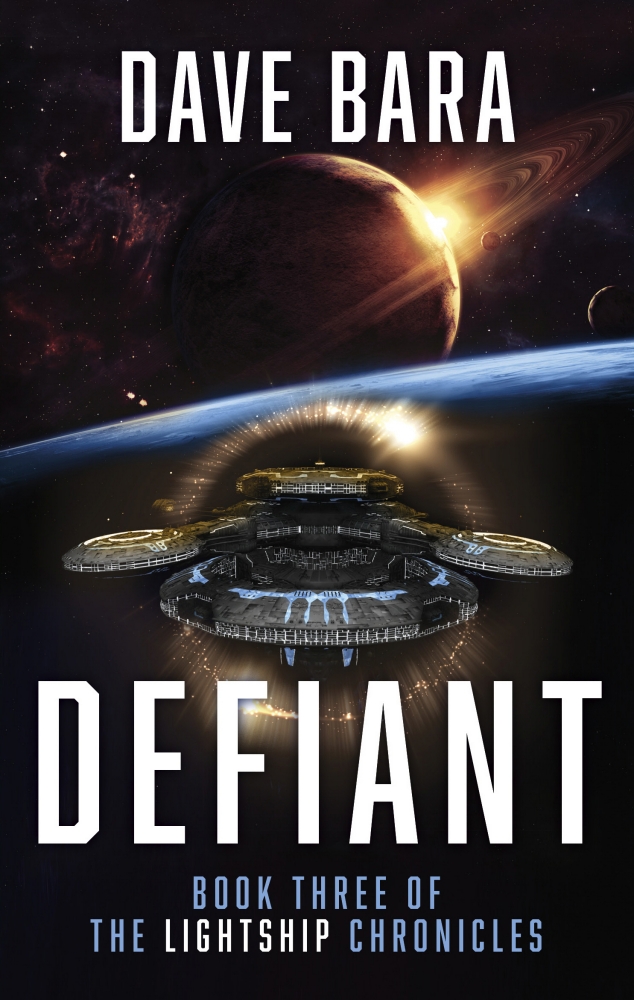 Dave Bara's latest novel, DEFIANT, is out now in the UK! Published by Del Rey, it is the third instalment in the author's Lightship Chronicles science fiction series. Here's the synopsis…
Lt. Peter Cochrane and his new wife, Karina, are under attack.
When Peter and Karina escape an assault by a hostile government on his new command, Defiant, he travels with his wife to fend off an Empire attack on Skondar – which just so happens to be where his ex-lover, Dorbina, is stationed.
Worse still, the attack is led by Prince Arin, the Butcher of Carinthia. As dark secrets that could change everything are revealed, Peter must face the battle of his life – one that could save the human race, or doom it…
Del Rey has also published the first two novels in the series: IMPULSE and STARBOUND.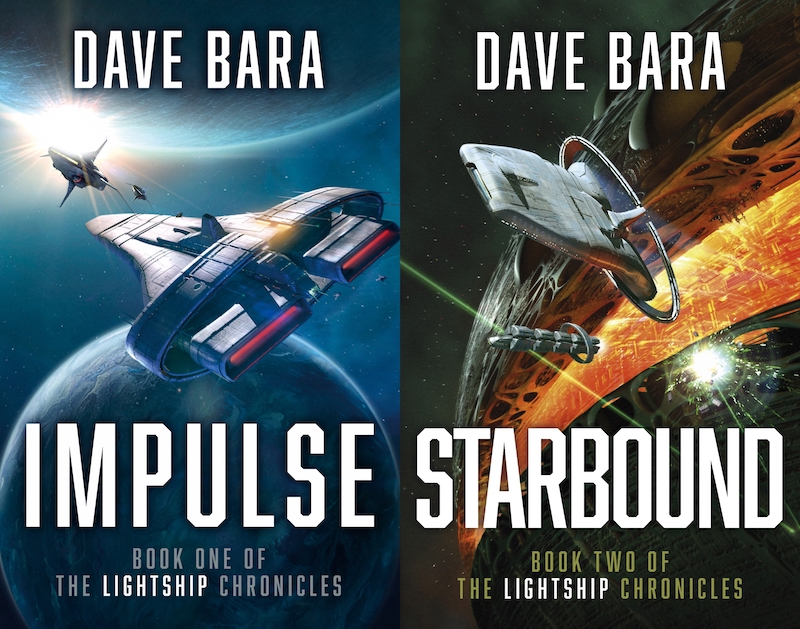 Here are a few reviews the series has received so far…
'If you liked Star Trek Into Darkness, you'll like Dave Bara's IMPULSE.' — Jack Campbell, bestselling author of the Lost Fleet series
'This energetic mélange of tried-and-true elements—futuristic jargon, military and romantic tactics, and multiple levels of skullduggery—easily grabs the reader's attention; more impressive is that Bara's story holds that attention all the way to the end.' — Publishers Weekly on IMPULSE
'Jack Campbell's Lost Fleet plus James S.A. Corey's Expanse with a slight dash of Fringe thrown into the mix. I like the future Bara has mapped out for this one and look forward to where the story goes and what Dave reveals about this future history.' — Rob Bedford on IMPULSE
'In STARBOUND, Bara manages to ramp up the depth and complexity of his world while retaining that sense of excitement, suspense, and adventure… STARBOUND confirms what we suspected when Impulse hit the shelves: Bara has created one of the most thought-provoking visions of the far, far future we've seen lately, taking the best elements of military sci-fi, space opera, and good old-fashioned adventure stories, and fashioning them into something both familiar and unique.' — Barnes & Noble
'STARBOUND ultimately presents a deep, complex and engaging universe, but it never forgets to have some old fashioned fun once in a while… solidly entertaining and an engaging read. Space opera fans should most definitely give this one a look.' — Starburst
'This series has been a solid space opera in the vein of some of the genre's classics, such as Clarke and Heinlein.' — The Verge on DEFIANT
'Bara continues to spin a complex and well-constructed military SF series that stands proudly alongside well-decorated examples of the subgenre.' — B&N Scifi Fantasy Blog on DEFIANT
Zeno represents Dave Bara in the UK and Commonwealth, on behalf of the JABberwocky Literary Agency in New York.