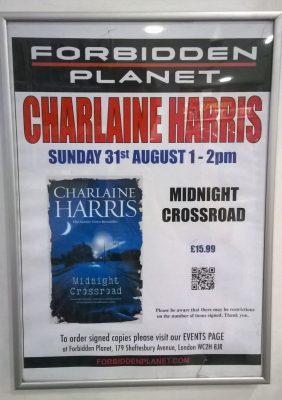 The great Charlaine Harris is coming to the UK! The New York Times-bestselling author of the True Blood series, is coming to the UK to promote her latest novel, MIDNIGHT CROSSING – the first in a new supernatural thriller series – which was published by Gollancz earlier this year.
Charlaine's tour kicks off with a signing at Forbidden Planet this Sunday, from 1-2pm (poster above). Here is the full tour schedule…
Charlaine Harris is the author of MIDNIGHT CROSSING, the True Blood series, the Harper Connelly Series, the Lily Bard Mysteries, the Aurora Teagarden Mysteries, and many others published in the UK by Gollancz and Orion. Charlaine is also the co-author of the CEMETERY GIRL graphic novel series, with Christopher Golden (published in the UK by Jo Fletcher Books).
Zeno represents Charlaine Harris in the UK and Commonwealth, on behalf of the JABberwocky Literary Agency in New York.