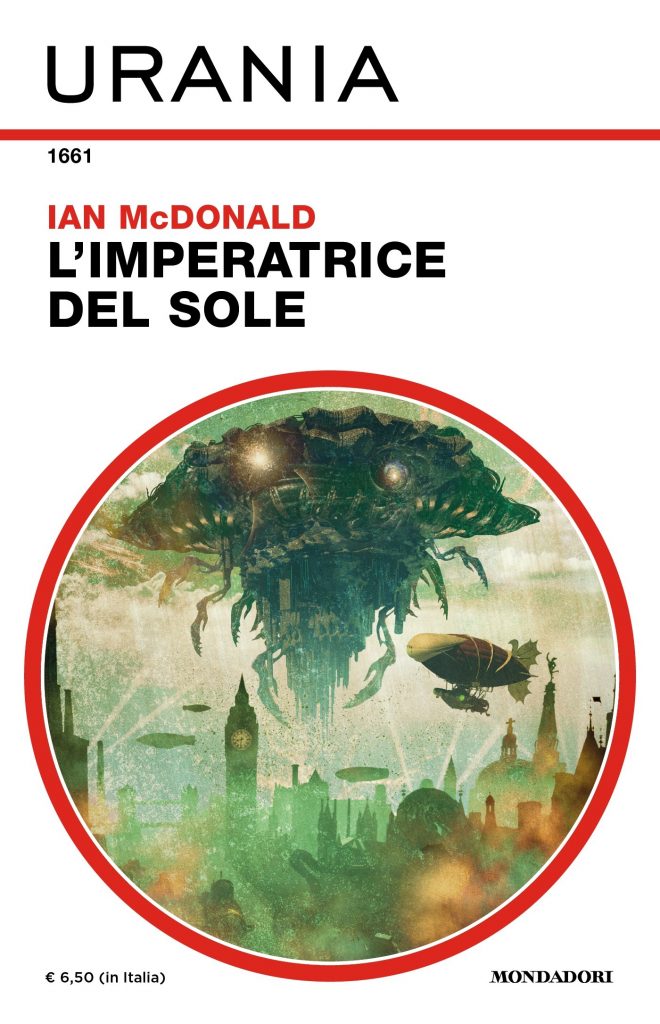 Urania/Mondadori has published the Italian edition of EMPRESS OF THE SUN, the concluding novel in Ian McDonald's Everness series! Published as L'IMPERATRICE DEL SOLE, here's the synopsis…
Il salto di Heisenberg ha portato la Everness su una Terra alternativa, diversa da qualsiasi luogo l'equipaggio dell'astronave abbia mai visto. Everett Singh, Sen e gli altri si trovano su una pianura sconfinata, in un mondo in cui i dinosauri non si sono estinti ma si sono evoluti acquisendo un vantaggio tecnologico di venticinque milioni di anni sull'umanità, e nel bel mezzo dello scontro tra nazioni rivali. L'equipaggio della Everness deve affrontare un mondo che sta andando rapidamente verso l'apocalisse. Per sopravvivere, e per capire quali nuovi scenari si aprono per l'umanità…
Urania has now published all three novels in the series, the other two being TERRA INCOGNITA (PLANESRUNNER) and PIANETA PARALLELO (BE MY ENEMY). Urania has also published the first novel in Ian's latest series, Luna: LUNA NUOVA (NEW MOON).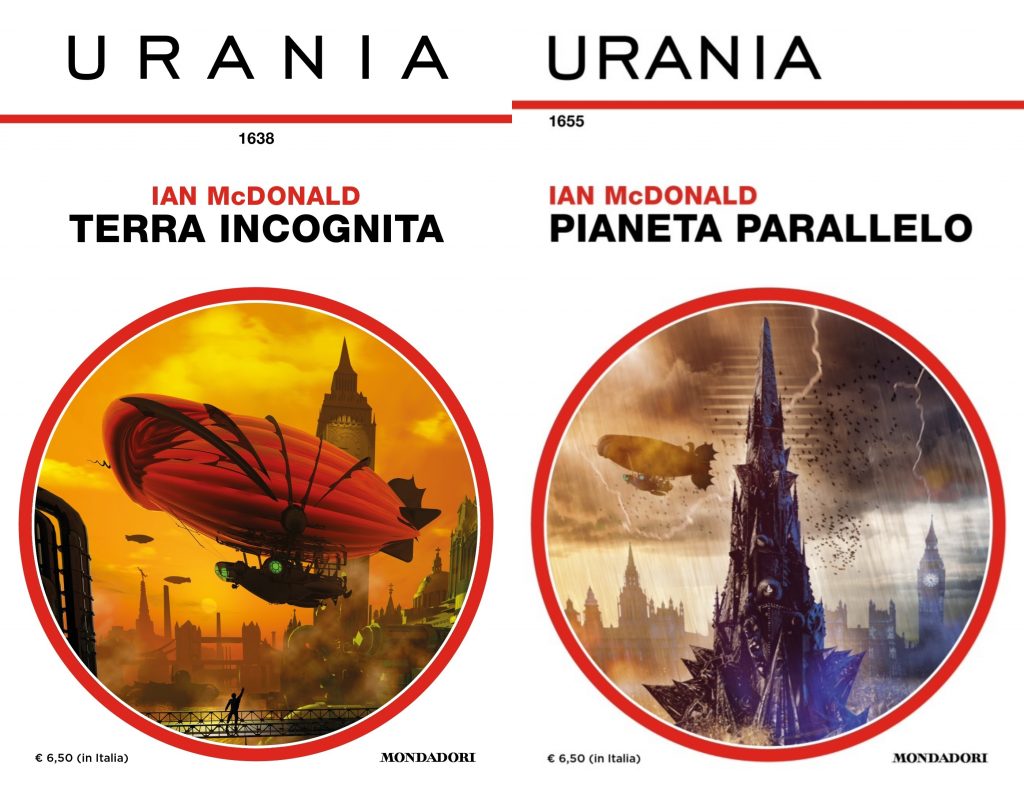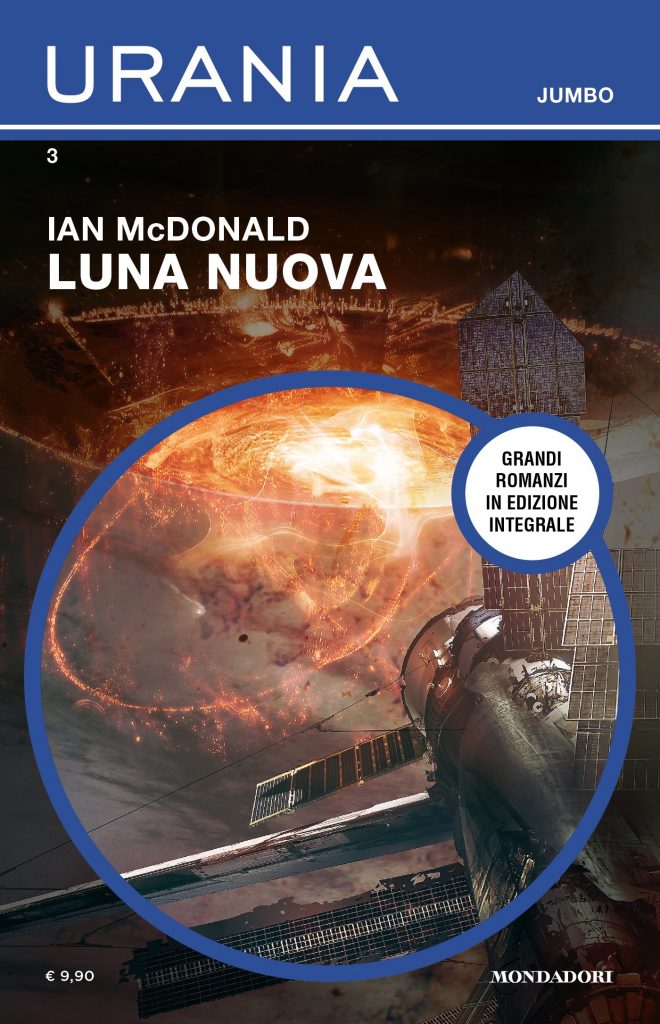 The Everness series was first published in the UK by Jo Fletcher Books and in North America by Pyr Books. The series is now available in eBook via the JAbberwocky eBook Program, and in many other territories. Here's the English-language synopsis for EMPRESS OF THE SUN…
World-hopping, high-action adventure starring a smart boy with computer skills and a tough girl who pilots a blimp
The airship Everness makes a Heisenberg Jump to an alternate Earth unlike any her crew has ever seen. Everett, Sen, and the crew find themselves above a plain that goes on forever in every direction without any horizon. There they find an Alderson Disc, an astronomical megastructure of incredibly strong material reaching from the orbit of Mercury to the orbit of Jupiter. 
Then they meet the Jiju, the dominant species on a plane where the dinosaurs didn't die out. They evolved, diversified, and have a twenty-five million year technology head-start on humanity. War between their kingdoms is inevitable, total and terrible. 
Everness has jumped right into the midst of a faction fight between rival nations, the Fabreen and Dityu empires. The airship is attacked, but then defended by the forces of the Fabreen, who offers theEvernesscrew protection. But what is the true motive behind Empress Aswiu's aid? What is her price?
The crew of the Everness is divided in a very alien world, a world fast approaching the point of apocalypse.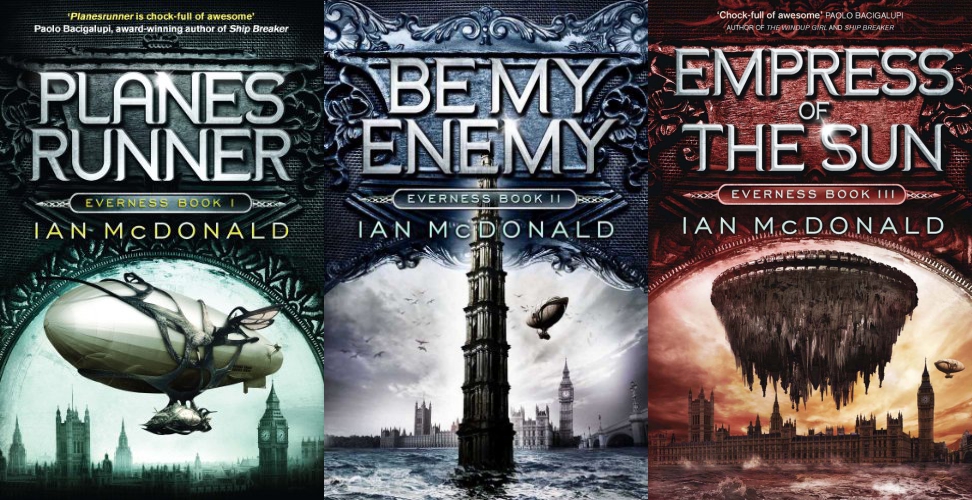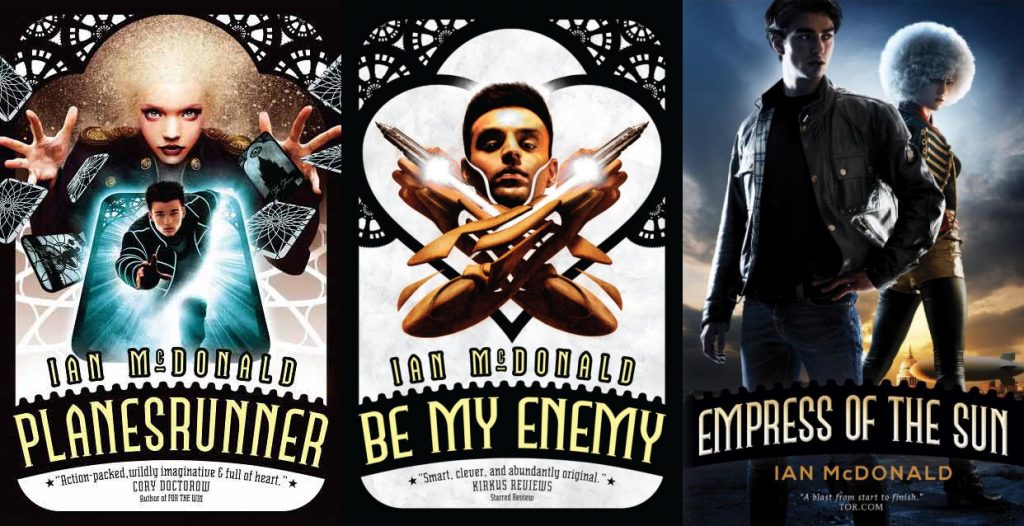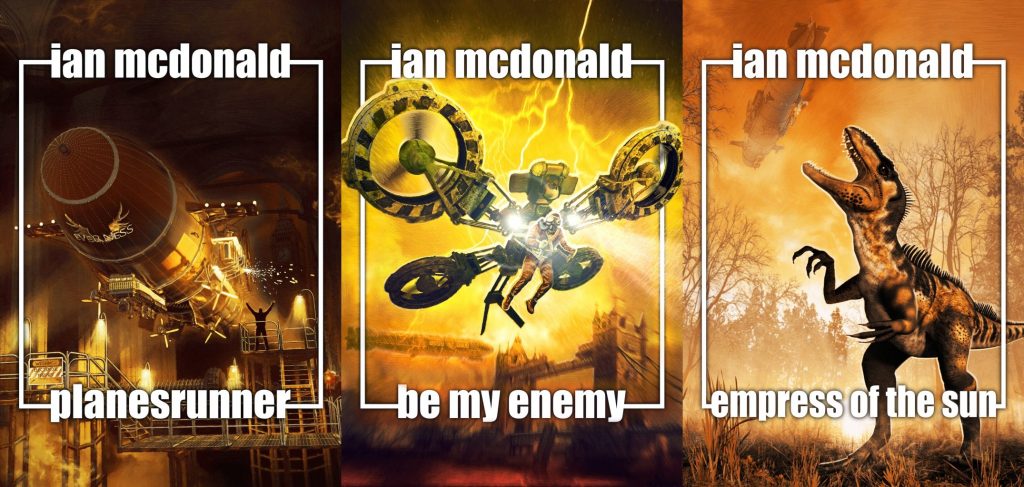 Here's what reviewers have said about the Everness series…
'The marvelous Everness series takes readers to a world with highly evolved dinosaurs in this third voyage through parallel universes… McDonald lets his imagination run rampant without abandoning credibility, tackling real scientific concepts such as confirmation bias, a feature lacking in far too much science fiction. Fans might wish for more focus on the original Everett, but eventually, the three storylines weave themselves together nicely, setting up another sequel with hints of forthcoming romance. Endlessly fascinating and fun.' — Kirkus (Starred Review) on EMPRESS OF THE SUN
'I've rarely had as much fun with a Young Adult SF series as I have with Ian McDonald's Everness — now up to three books with the brand new, shiny addition of EMPRESS OF THE SUN, possibly the best book of the bunch so far… this latest installment, with its sentient space dinosaurs, will delight folks who occasionally yearn for a good old-fashioned pulp adventure… through all of it, the characters continue to shine… I confess that I initially wasn't too crazy about the whole Doppelgänger plot, but in this novel, it turns into a wonderful part of the overall picture… It was simply a treat to get back into the crazy palari and strange fashions of the Everness books. It may sound bizarre, but this is the first time I've read a novel that actually made me feel like writing fan-fic about its characters, just because they're so utterly fresh and surprising. The Everness series is technically Young Adult, but I believe any science fiction fan, young or old, would get sucked into these adventures.' — Tor.com on EMPRESS OF THE SUN
'EMPRESS OF THE SUN revels in its pulp adventure milieu… McDonald has created an incredibly "storyable" universe for his characters to have their adventures in, and he keeps those adventures coming fast and furious… Between the adventures, the pacing, the characters, and the narrative arcs, there's a lot to enjoy about this book and the overall series.' — Strange Horizons on EMPRESS OF THE SUN
'McDonald proves the concept of his world of the Infundibulum has legs, and provides some intriguing new ideas amid an entertaining adventure… Lots of ideas thrown out and explored; good development of main characters… Malevolent Nanotech. More world hopping. A solidly entertaining second volume to the series… With all of these ideas, concepts and worldbuilding, McDonald, in terms of his core characters, provides us with meaty development and growth… I was more than satisfied with the book and anyone, young adult or otherwise, who has read the first book will find much to love here, and will likely be as eager as I for the next volume in the series.' — SF Signal on BE MY ENEMY
'… absolutely triumphant sequel to Ian McDonald's pulse-pounding young-adult science fiction novel PLANESRUNNER. PLANESRUNNER — a rollicking, multidimensional tale of a young boy who holds the key to infinite universes, seeking to rescue his physicist father from sinister powers — finished on a brutal cliffhanger, leaving its readers gasping and cursing for more. Now we have it. In BE MY ENEMY, there's a lot more of what made PLANESRUNNER great — tremendous action scenes, cunning escapes, genius attacks on the ways that multidimensional travel might be weaponized, horrific glimpses of shadowy powers and sinister technologies. But BE MY ENEMY also has more of what makes McDonald's adult fiction some of the best work I've ever read: a gifted ear for poesie that makes the English language sing, the unapologetic presumption of the reader's ability to understand what's going on without a lot of hand-holding, and a technological mysticism that never explicitly says when the literal stops and the fantasy starts… If you held off on reading PLANESRUNNER because you didn't want to commit to a series without knowing if the author could keep up the quality, have no fear. McDonald has proven himself handily.' — BoingBoing
'Also appropriating airships, larger‑than-life characters and breakneck action is Ian McDonald's PLANESRUNNER…, the opening volume in the Everness series and his first foray into Young Adult fiction. This is vintage McDonald, with beautifully drawn settings, complex characters and deft plotting. When Everett Singh's scientist father is kidnapped, Everett's investigations lead him to discover that his father was working to open portals between multiple worlds. Everett finds a map linking the worlds, which various sinister organisations desire – and the thrilling chase is on.' — Guardian on PLANESRUNNER
'The book begins with its young and likeably geeky protagonist, Everett Singh (named for physicist Hugh Everett, who came up with the many-worlds interpretation of quantum mechanics back in the '50s) witnessing the kidnapping of his scientist father. But why would anyone want to drag an apparently unimportant academic off the street in London? Because, it turns out, Singh Sr has created the Infundibulum, a map of all known parallel Earths. Soon, Everett heads through a gateway and into a steampunk-tinged adventure. And yes, an airship is involved. But don't hold that against McDonald, because this is a novel that's knowing in the way it uses SF tropes without ever coming close to being condescending towards its intended audience. Science nerds of all ages may balk at the amount of exposition in the early chapters (arguably necessary, considering we're talking quantum here), but most will be too busy getting lost in a cracking adventure story.' — SFX on PLANESRUNNER