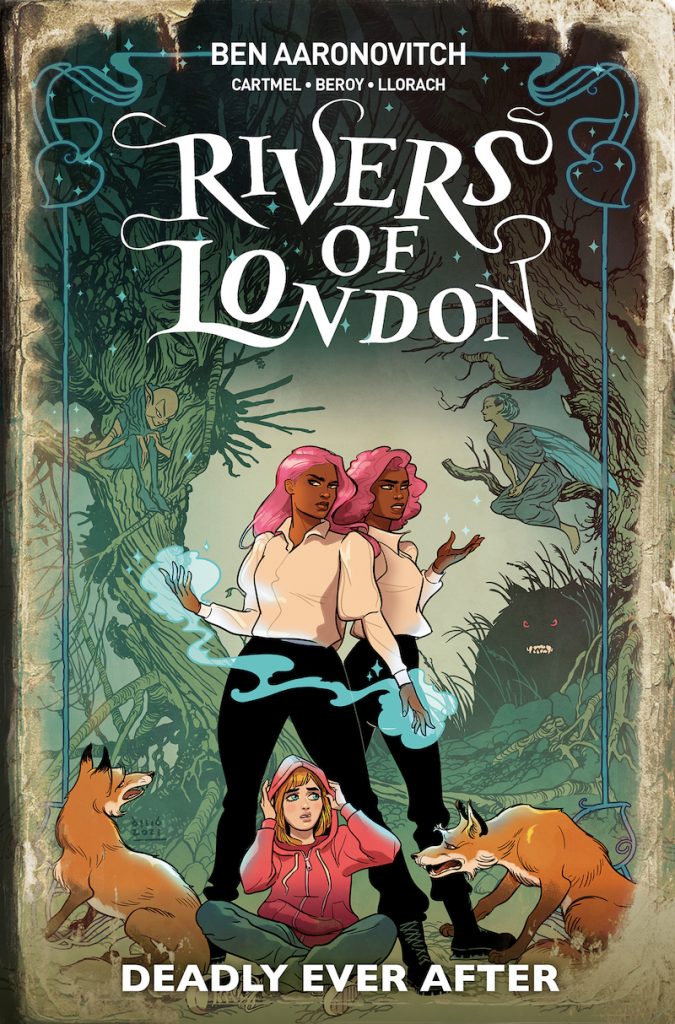 The collected edition of the latest Rivers of London comic arc, DEADLY EVER AFTER, is out this week! Officially published by Titan Comics on November 25th, it is the tenth comic series set in the Rivers of London world. Written by Ben Aaronovitch, Andrew Cartmel, and Celeste Bronfman, here's the synopsis:
Illustrations from a mysterious book of fairy tales drawn in the late 1800s are coming to life in the 21st Century and causing havoc. The illustrations were originally painted by a Victorian artist called Jeter Day who disappeared one night in an enchanted forest when he was spirited away by tree nymphs never to be seen again…
Now, with the enchantment accidentally broken by Olympia and Chelsea, daughters of the river goddess Mama Thames, Jeter, twisted by his time spent with the nymphs, has returned to our world bitter and resentful. It is a world he neither recognises nor likes. All he wants is his life returned to him and woe betide any man who stands in his way.
With Peter and Nightingale busy on another case, it falls to sisters Olympia and Chelsea with the help of the Foxes to stop Jeter and save the day.
Series artwork is by José María Beroy.
Titan Comics has published all of the Rivers of London comic series to date: BODY WORK, NIGHT WITCH, BLACK MOULD, DETECTIVE STORIES, CRY FOX, WATER WEED, ACTION AT A DISTANCE, THE FEY AND THE FURIOUS and MONDAY, MONDAY.
The Rivers of London comics are set in the same world as Ben's best-selling and critically acclaimed Peter Grant/Rivers of London novels and novellas. The latest book in the series is AMONGST OUR WEAPONS, which is out now in the UK (Orion), North America (DAW Books), and Germany (DTV)!