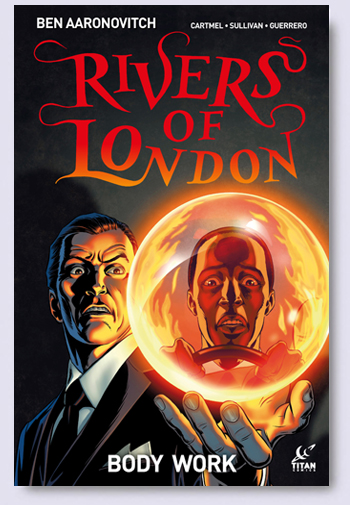 The fourth issue of Ben Aaronovitch and Andrew Cartmel's comic series RIVERS OF LONDON: BODY WORK is out now. Published by Titan Comics, it is a story set between the fourth and fifth books in the novel series — BROKEN HOMES and FOXGLOVE SUMMER. Here's the synopsis…
What's the link between a circle of wizards killed in the Second World War, a homicidal car and an ancient ducking stool used to torture young girls? London cops Peter Grant and his boss, Inspector Nightingale, are in a race to find out before more people die!
The series is illustrated by Lee Sullivan, and coloured by Luis Guerrero.
In related news, readers of The Londonist have voted Ben's Peter Grant series as the Best London Novels — the 'runaway winner' in the poll, in fact: '… the author is particularly good at setting key scenes in real London locations. Throw in a family of water nymphs representing the lost rivers of London, and you have the perfect fiction for London geeks…' We wholeheartedly agree!
The series is published in the UK by Gollancz. The next novel in the series, THE HANGING TREE, is due to be published mid-2016.