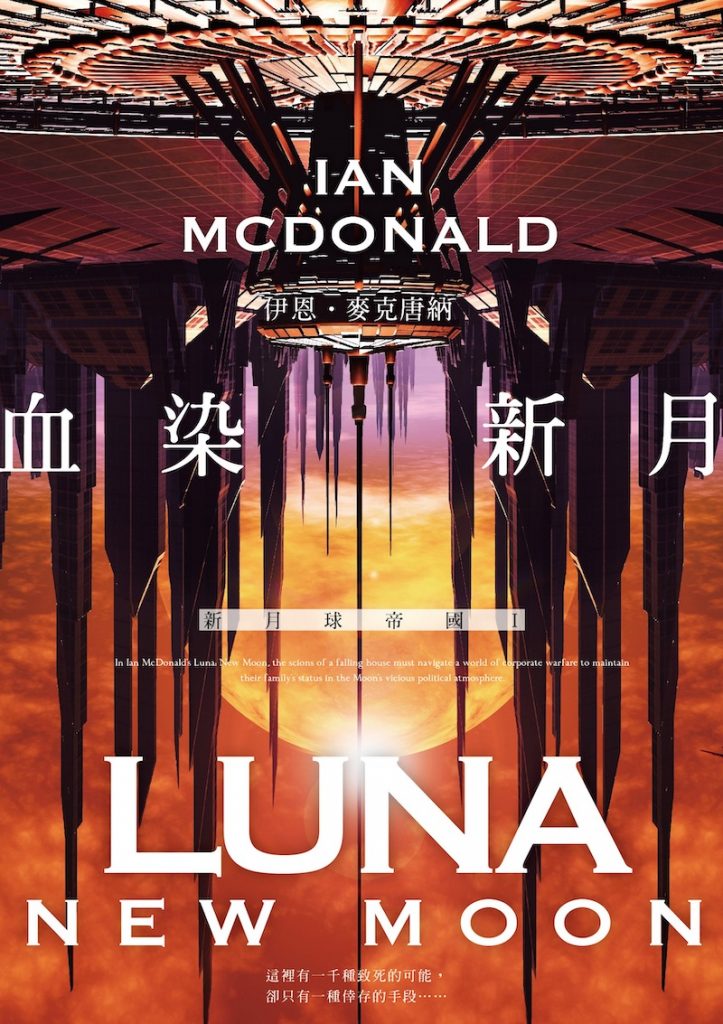 The Complex Chinese editions of Ian McDonald's highly-acclaimed, award-nominated Luna series are out now! Published by 麥田出版 (Rye Field Publications in Taiwan, Hong Kong and Macau, the whole trilogy is now available: 血染 新月 (NEW MOON), 狼嚎 時分 (WOLF MOON), and 王者 之戰 (MOON RISING).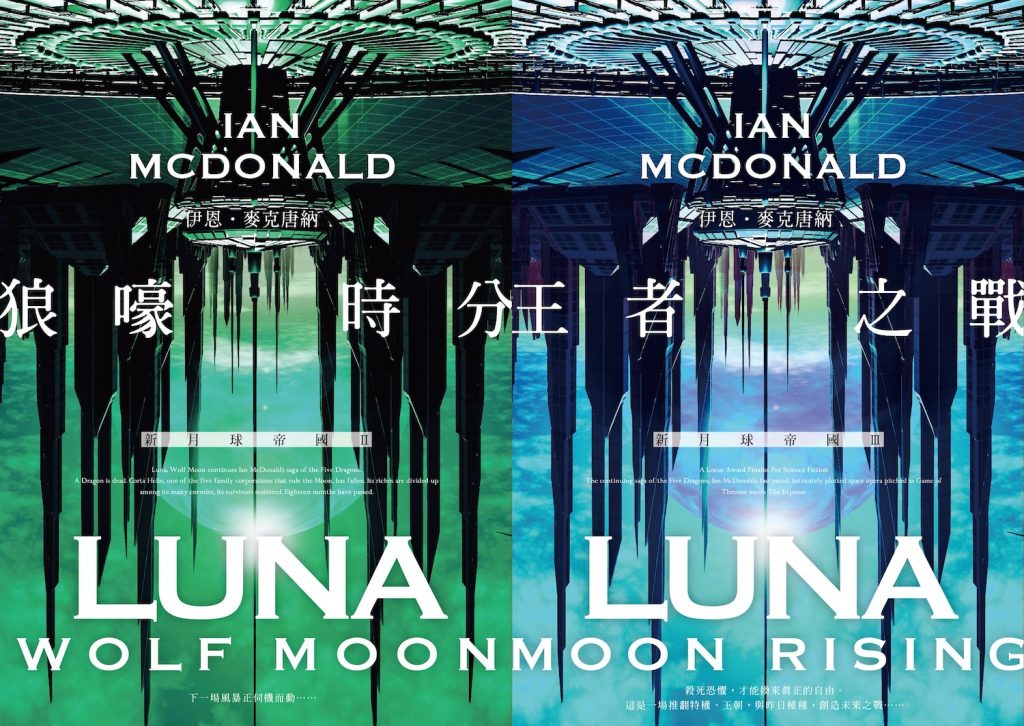 The series is published in the UK by Gollancz, in North America by Tor Books, and in a growing number of translated editions around the world.
In case you haven't yet had the chance to read the series, here's the synopsis for NEW MOON…
The scions of a falling house must navigate a world of corporate warfare to maintain their family's status in the Moon's vicious political atmosphere.
The Moon wants to kill you.
Maybe it will kill you when the per diem for your allotted food, water, and air runs out, just before you hit pay-dirt. Maybe it will kill you when you are trapped between the reigning corporations-the Five Dragons-in a foolish gamble against a futuristic feudal society. On the Moon, you must fight for every inch you want to gain. And that is just what Adriana Corta did.
As the leader of the Moon's newest "dragon," Adriana has wrested control of the Moon's Helium-3 industry from the Mackenzie Metal corporation and fought to earn her family's new status. Now, in the twilight of her life, Adriana finds her corporation — Corta Helio — confronted by the many enemies she made during her meteoric rise. If the Corta family is to survive, Adriana's five children must defend their mother's empire from her many enemies… and each other.
There is also a prequel novella, THE MENACE FROM FARSIDE, published by Tor.com.
Here are just a few of the great reviews the series has received so far…
'McDonald… begins his superb near-future series… scintillating, violent, and decadent world. McDonald creates a complex and fascinating civilization featuring believable technology, and the characters are fully developed, with individually gripping stories. Watch for this brilliantly constructed family saga on next year's award ballots.' — Publishers Weekly (Starred Review) on NEW MOON
'No one writes like Ian McDonald, and no one's Moon is nearly so beautiful and terrible… Ian McDonald's never written a bad novel, but this is a great Ian McDonald novel… McDonald has ten details for every detail proffered by other sf writers. Not gratuitous details, either: gracious ones. The fashion sense of William Gibson, the design sense of Bruce Sterling, the eye for family drama of Connie Willis, the poesie of Bradbury, and the dirty sex of Kathe Koja and Samuel Delany… McDonald's moon is omnisexual, kinky, violent, passionate, beautiful, awful, vibrant and crushing. As the family saga of the Cortas unravels, we meet a self-sexual ninja lawyer, a werewolf who loses his mind in the Full Earth, a family tyrant whose ruthlessness is matched only by his crepulance, and a panoply of great passions and low desires. LUNA: NEW MOON is the first book of a two-book cycle. Now I'm all a-quiver for the next one.' — BoingBoing
'Smart, funny, passionate and at times quite dark, McDonald brings the touch we've seen in RIVER OF GODS and DERVISH HOUSE to an entirely new culture as it evolves in a distant hostile place where business or family rules all… it's terrific. My only complaint: it leaves you wanting the second book right now!' — Jonathan Strahan on NEW MOON
'Mafia-style mining families clash in a compelling fantasy that offers up all the pleasures of a cut-throat soap opera in space…That McDonald is able to spin a compelling story from this unforgiving set-up is testament to his skill as a writer… One thing Luna does exceptionally well is to puncture Old Heinlein's assumption that a frontier society based on the primacy of the family and a disregard of conventional laws would end up like idealised smalltown America. Luna argues that any realistic future colonisation of the moon will be much more The Sopranos than The Waltons. LUNA is as gripping as it is colourful, and as colourful as it is nasty.' — Guardian on NEW MOON
'Luna: NEW MOON was a "magnificent bastard of a book," as I put it in my review. Part two, it's my pleasure to tell you, is just as awesome, and just as masterfully nasty.' — Tor.com on WOLF MOON
'… powerful sequel… compelling throughout. Each of McDonald's viewpoint characters is made human in fascinating and occasionally disturbing detail, and the solar system of the 22nd century is wonderfully delineated. Fans of the first volume will love this one and eagerly look forward to the next.' — Publishers Weekly on WOLF MOON
'A Howling Good Read… No one builds a world like Ian McDonald does. Piece by piece and brick by brick. Spare, simple, elegant when he needs to be…, deep and meaty when he wants to be…, he does his work like an artisan pulling a sculpture from stone. There are no wasted moves, nothing that isn't vital because, in the end, everything is vital. Everything matters… it is fascinating, all of it. Because McDonald has made a world that is ruthless in its consistency and living, breathing reality, and then made characters who are not just living in it, but wholly and fully of it… McDonald's corporate war is a gorgeous thing, fought with every tool available… McDonald is able to wrap the biggest events in constellations of the smallest so that a cocktail party here, a discussion of '80s retro fashion (all mall-hair and WHAM! T-shirts), a love story and a day at work for a guy who cleans solar panels all build and coalesce to form the background radiation of life in this unstable future. Every moment with his characters makes them precious, real and alive.' — NPR on WOLF MOON
'NEW MOON was one of the most interesting sci-fi novels of 2015, with smart ideas on humanity and economies matched by street smarts, political brawls and murder in the streets. LUNA: WOLF MOON turns that up to eleven – it's a fascinating story, which is also a tense, enthralling read.' — Sci-Fi & Fantasy Review
'… cinematic set-pieces… so much fun to read… these entertaining, and intelligent novels, capped off by the very satisfying Luna: MOON RISING, have been about establishing a society, a community, a family that looks to the future, that lives and prospers in an environment that must always be treated with respect.' — Locus (Ian Mond)
'McDonald concludes his Luna space opera trilogy in triumphant style… The political intrigue never feels too abstract or removed from 21st-century Earth. Readers will appreciate the care McDonald takes with both worldbuilding and characterization, and will enjoy little touches such as giving an assassin the job title of Corporate Conflict Resolution Officer… fans of the prior books will find this wrap-up rewarding.' — Publishers Weekly on MOON RISING
'McDonald's richly imagined Lunar culture and interplanetary poleconomy make for a superb backdrop for literally dozens of richly realized human dramas, and it's hard to say which is more fascinating. McDonald's wildly imaginative worldbuilding (present since his debut novel, the utterly wonderful standout OUT ON BLUE SIX) and his ability to spin out intrigues are both in full flight in this final volume.' — Boing Boing on MOON RISING