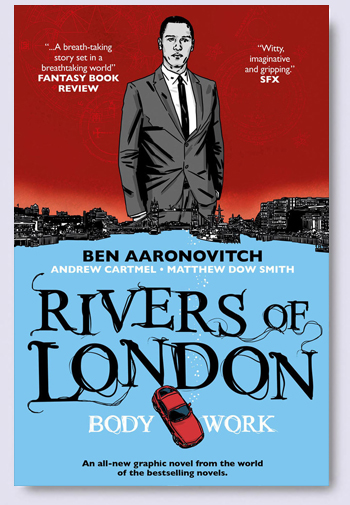 Ben Aaronovitch's Peter Grant series has been a huge success, and only becomes more popular with the release of each new novel. FOXGLOVE SUMMER, the fifth book, was released last month in the UK by Gollancz, and will be published in the US by DAW Books in January. The series has also been optioned for television.
Today, we share with you the cover for the first graphic novel set in the RIVERS OF LONDON universe, BODY WORK! Adapted for the medium by Ben himself and Andrew Cartmel, the book will be published by Titan Comics in 2015. Details are still a little thin on the ground, but we'll be sure to share them with you as soon as we have them.
The Peter Grant series includes: RIVERS OF LONDON, MOON OVER SOHO, WHISPERS UNDERGROUND, BROKEN HOMES and FOXGLOVE SUMMER. Ben is currently at work on the next book in the series.