Published in North America a couple of weeks ago, Ari Marmell's IN TRUTH AND CLAW is now available in the UK! The fourth novel in the author's Mick Oberon series of urban fantasy mysteries, it is published by Titan Books in both territories. Here's the synopsis…
Mick Oberon may look like just another 1930s private detective, but beneath the fedora and the overcoat, he's got pointy ears and he's packing a wand. A series of brutal murders is sweeping Chicago, baffling both the local police and the Seelie Court, who sense an aura of corruption and death has touched Mick himself. When Mick's associates become targets, and a vampire appears in his office, Mick is drawn into his most dangerous hunt yet.
The first three novels in the series are also published in the UK and US by Titan: HOT LEAD, COLD IRON, HALLOW POINT and DEAD TO RITES. Here are some of the reviews the series has received so far…
'HOT LEAD, COLD IRON is as hard boiled a detective drama as anything written by Dashiell Hammett, Raymond Chandler or Mickey Spillane, and Marmell captures the vernacular of the period wonderfully… HOT LEAD, COLD IRON could easily have been published in any one of the popular pulp detective magazines of the '30s and yet it's pace and characterizations are undoubtedly contemporary… Ari Marmell will soon be crowned the foremost purveyor of Macabre Noir.' — Starburst 
'In this gripping fantastical investigation, Marmell (The Goblin Corps) creates an engaging world and an unlikely hero…The potent mix of gangsters, magic, Fae politics, and a strega on the warpath makes for a ride that never touches the brakes. Marmell expertly maximizes the thrills, leaving the reader with a lingering desire for a magic wand and a glass of warm milk.' — Publishers Weekly (Starred Review) on HOT LEAD, COLD IRON
'It's a fascinating concept, and a solid foundation for yet another gripping story… a highly enjoyable ride; the writing takes its reader into the heart of every scene…It's a great read, reinvigorating the tropes of two genres to enable them to rise above cliché status. With final revelations that imply a larger conspiracy, it seems Marmell has plenty more up his sleeve for his hero, and we can't wait to see what's in store for Mick Oberon in the future.' — Starburst on HALLOW POINT
'Irresistibly entertaining… It's among the best urban fantasy novels I've ever read.' — Rising Shadow on HALLOW POINT
'The third entry… in the inventive series about a 1930s private eye who also happens to be one of the Fae mixes supernatural investigations and Al Capone's Chicago for an irresistible combo.' — Library Journal on DEAD TO RITES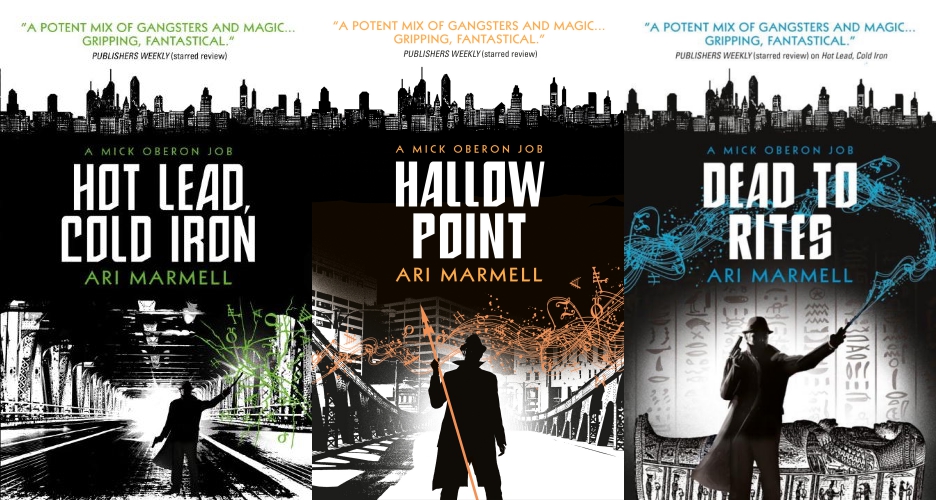 Zeno represents Ari Marmell in the UK and Commonwealth, on behalf of the JABberwocky Literary Agency in New York.