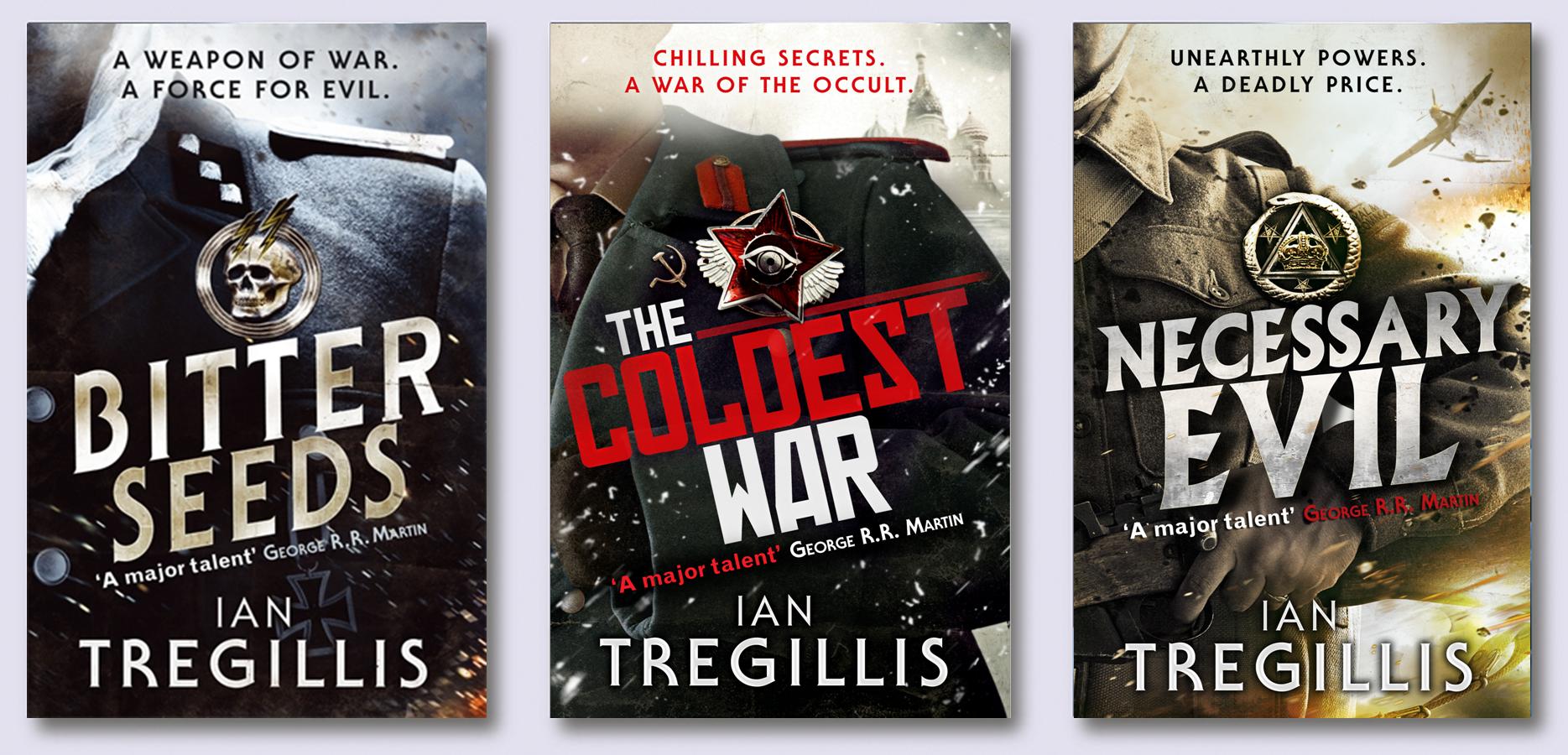 We are delighted to announce that Festa Verlag has acquired German rights for Ian Tregillis's superb Milkweed Triptych – BITTER SEEDS, THE COLDEST WAR, and NECESSARY EVIL! The trilogy has been published in the UK by Orbit Books, the US by Tor Books, and in Spain by DeBolsillo.
Here's the synopsis for BITTER SEEDS…
The year is 1939. Raybould Marsh and other members of British Intelligence have gathered to watch a damaged reel of film in a darkened room. It appears to show German troops walking through walls, bursting into flames and hurling tanks into the air from afar.
If the British are to believe their eyes, a twisted Nazi scientist has been endowing German troops with unnatural, unstoppable powers. And Raybould will be forced to resort to dark methods to hold the impending invasion at bay.
But dealing with the occult exacts a price. And that price must be paid in blood.
The Milkweed novels have been a huge critical hit on both sides of the Atlantic. Here is just a small taste of the praise…
'Tregillis… has created a unique, unsettling, and deeply atmospheric setting; populated it with a diversity of grimly fascinating characters; and turned up the heat with the sort of plot that requires those characters to keep shoveling frantically if they are ever to stay in advance of the needs of the firebox… These are the book's strengths – its atmosphere, its setting, the vividly imagined consequences of immoral and desperate actions… All in all, this is an excellent first book…'  —  Tor.Com

'You should read BITTER SEEDS because of the brutal effect of this concocted mix of science, magic and grey characters. If you are looking for a new and exciting voice in fantasy and science-fiction or a voice that rings true on the tolls of war, then look no further than Ian Tregillis.'  —  Ranting Dragon
'… engrossing… Tregillis ably mixes cold war paranoia with his mythology, also nicely expanding characters (particularly Gretel)… The monstrous, extra-dimensional Eidolons add a genuinely convincing menace that transcends the more banal evil motivations of the political game players, although Gretel's more complicated motivations really drive the action. A few nice twists keep things interesting, and the cliffhanger ending sets up the concluding volume quite well…'  —  Publishers Weekly on THE COLDEST WAR
'… something like a cross between the devious, character-driven spy fiction of early John le Carré and the mad science fantasy of the X-Men… Despite the jaw-dropping backdrop and oblique plotting, the narrative is driven by character and personal circumstance, the only possible drawback being certain important developments that annoyingly take place offstage. Grim indeed, yet eloquent and utterly compelling.'  —  Kirkus (Starred Review, "Best of 2012") on THE COLDEST WAR
'With NECESSARY EVIL… Ian Tregillis triumphantly concludes his astonishing, brilliant, pulse-pounding debut trilogy… This is a book that veers precipitously from unexpected and chilling ruminations on the inherent evil of precognition; to the questions of loyalty and betrayal so thorny that they need a time-travel loop to really be explored; to spy-thriller action sequences that will keep you up under the covers with a flashlight, turning pages and unable to sleep. This is a remarkable set of books, and with all three in hand, would make a fabulous spring read.'  —  BoingBoing
Zeno represents Ian Tregillis in the UK/Commonwealth and in Translation, on behalf of Kay McCauley at Aurous, Inc.