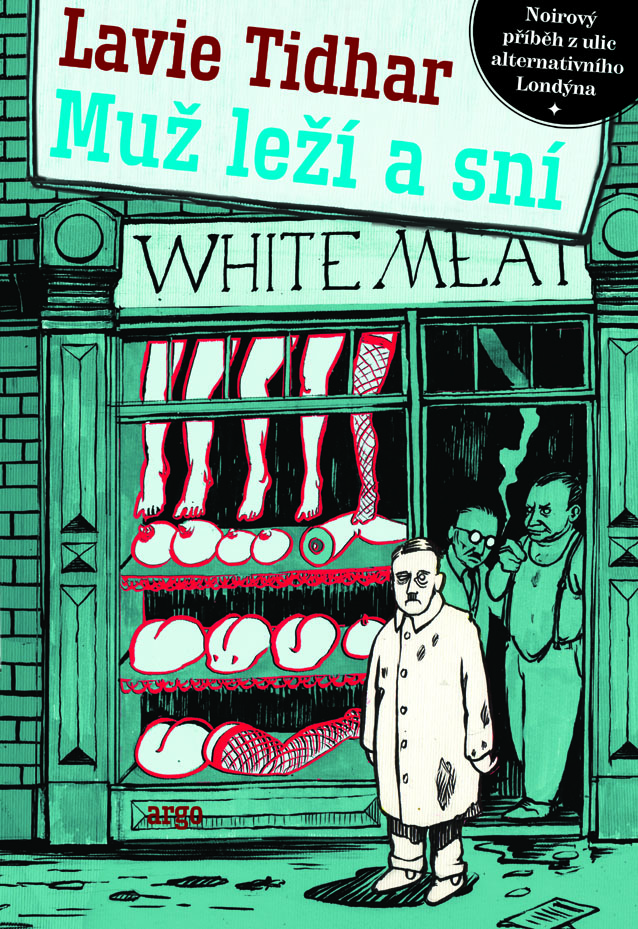 The Czech edition of Lavie Tidhar's award-winning A MAN LIES DREAMING is out today! Published by Argo as MUŽ LEŽÍ A SNÍ, here's the synopsis…
Druhá polovina 30. let 20. století. Evropa je v krizi a Velká Británie se potýká s přílivem uprchlíků. V Německu totiž došlo k Pádu, moci se chopili komunisté, a tak boháči i fašisté, nechtějí-li skončit v trestaneckém táboře, musí utéct za hranice. Většinou se rychle vzpamatují a dál se věnují tomu, na co mají talent, třeba obchodu nebo organizovanému zločinu, ale jistý pan Wolf je muž s ideály, hnusí se mu všeobecný morální úpadek, a zatímco živoří v zaměstnání soukromého detektiva, sní o tom, že už brzy vydá další část svého životního díla, knihy nazvané Můj boj.
Pravda, mezitím si ještě bude muset vytrpět něco sexuálního ponížení v rukou zdegenerovaných prostitutek či špinavé Židovky a párkrát dostane pořádnou nakládačku, ale to muže jeho formátu nezlomí. Zatím v jiném čase a na jiném místě leží muž a sní…
The novel is published in the UK by Hodder, in the US by Melville House, and in Italy by Frassinelli. Here's the English-language synopsis…
Deep in the heart of history's most infamous concentration camp, a man lies dreaming. His name is Shomer, and before the war he was a pulp fiction author. Now, to escape the brutal reality of life in Auschwitz, Shomer spends his nights imagining another world — a world where a disgraced former dictator now known only as Wolf ekes out a miserable existence as a low-rent PI in London's grimiest streets.
An extraordinary story of revenge and redemption, A Man Lies Dreaming is the unforgettable testament to the power of imagination.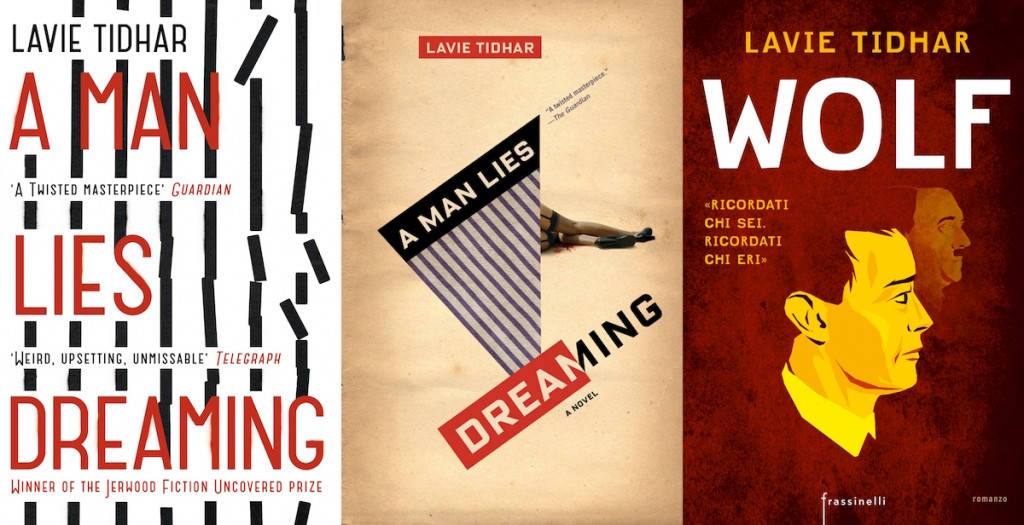 Here is just a handful of great reviews, taken from the many the novel has enjoyed…
'Comes crashing through the door of literature like Sam Spade with a .38 in his hand. This is a shocking book as well as a rather brilliant one… Tidhar's novel treats its grim theme not as a comedy, although there is plenty of caustic humour, but instead as a pulp-noir tale of seamy city streets, gumshoes and lowlifes… Tidhar gets the outre tone just right… Tidhar, who cut his teeth in the world of genre SF, understands how eloquent pulp can be… [OSAMA] won the World Fantasy award. I wouldn't be surprised to see A MAN LIES DREAMING repeat that achievement… Like Tarantino, Tidhar may find that some people don't take him seriously. But the joke's on them. Seriousness is the least of it: A MAN LIES DREAMING is a twisted masterpiece.' — Guardian
'Wild, noir-infused alternative history from genre-bender Tidhar… A wholly original Holocaust story: as outlandish as it is poignant.' — Kirkus (Starred Review)
'…savagely funny… A MAN LIES DREAMING, by the Israeli-born novelist Lavie Tidhar, has not been published with the fanfare bestowed on Martin Amis's The Zone of Interest or Howard Jacobson's J, but it is their equal for savage humour… Those who enjoy laughter in the dark will relish Tidhar's parade of mordant ironies… This novel is weird, upsetting, unmissable.' 5* — Telegraph
'No one can accuse Lavie Tidhar of being risk-averse… Tidhar reveals – as he did earlier in OSAMA and to some extent in THE VIOLENT CENTURY – that he's really less interested in the mechanistic ''what-ifs'' of conventional alternate history than he is in the interpenetration of real and in­vented histories, or perhaps more grandiosely in the interpenetration of art and life – even the often-demeaned art of sensational fiction or (as in the case of THE VIOLENT CENTURY) comic books. This is what makes him such an interesting writer, and what makes A MAN LIES DREAMING quite a bit more complex than it at first appears… the novel is not without a fair amount of humor, and that might well be the boldest risk Tidhar is taking here…' — Locus
'Everything in this genre-bender works; intriguing historical characters are worked into expertly managed plots, and the visceral noir atmosphere is juxtaposed nicely against the drawing-room world of London's political scene.' — Booklist (Starred Review)
'A Chandler-esque mystery… a jarring tale of a grim, gray alternative world… Seldom will readers come across fantasy as well conceived and well written as this exceptional novel.' — Library Journal (Starred Review)
Lavie's latest book, CENTRAL STATION, is published by Tachyon Publications. His previous work includes the critically-acclaimed novels THE VIOLENT CENTURY (Hodder/Thomas Dunne), the Bookman Histories trilogy (Angry Robot), and multiple short stories and novellas.