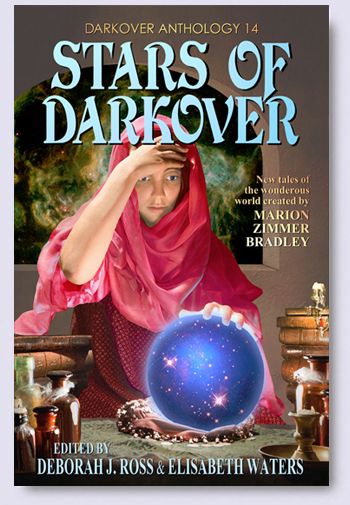 In our continuing series of posts highlighting our clients' shorter fiction, today we can share with you the information about Kari Sperring's latest piece: HOUSE OF FIFTEEN WINDOWS, which will be included in the STARS OF DARKOVER anthology, the fourteenth in the Darkover anthology series.
The book is a collection as a tribute to the work of Marion Zimmer Bradley, and is due to be published by MZB Literary Works Trust, on June 3rd 2014 – this would have been Bradley's 84th birthday.
Sperring is the author of the two fantasy novels, LIVING WITH GHOSTS and THE GRASS KING'S CONCUBINE – both published by DAW Books. Here's some praise for her novels…
'… worth picking up. The characterization in particular is well above what I normally expect from SF&F. The magic is interesting too: very subtly done… overall it is a very impressive debut. Here's hoping there are more books to come.' — Cheryl Morgan on LIVING WITH GHOSTS
'Readers who are looking for a beautiful and original work of fantasy should pick up THE GRASS KING'S CONCUBINE. Sperring has said on her blog that she has plans for a sequel. I'm glad to hear it, and I will be interested to see what she does with the plots that are left hanging at the end of the first book. Overall, I found it to be an enjoyable read, and I think that fans of thoughtful fantasy should give THE GRASS KING'S CONCUBINE a try.'  —  Strange Horizons
Kari is currently at work on her new novel, alongside other projects.