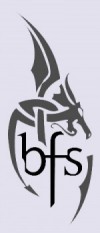 Anne Lyle has been nominated in the Best Newcomer category in the recently announced shortlist for the 2013 British Fantasy Award. Anne receives this nomination in recognition for her excellent debut novel, THE ALCHEMIST OF SOULS, published by Angry Robot. THE ALCHEMIST OF SOULS is the first novel in Anne's Night's Masque trilogy, and is followed by THE MERCHANT OF DREAMS and THE PRINCE OF LIES – the latter is due for publication in November 2013.
Also nominated in the same category is E.C. Myers, whom we represent on behalf of our associate agency in New York, JABberwocky. Eugene's debut novel FAIR COIN also scooped this year's Andre Norton Award. FAIR COIN and its sequel QUANTUM COIN are published in the US by Pyr Books. UK rights are still available.
The award winners will be announced at the Awards Banquet at the World Fantasy Convention in Brighton on Sunday, November 3, 2013.
Huge congratulations to both Anne and Eugene!