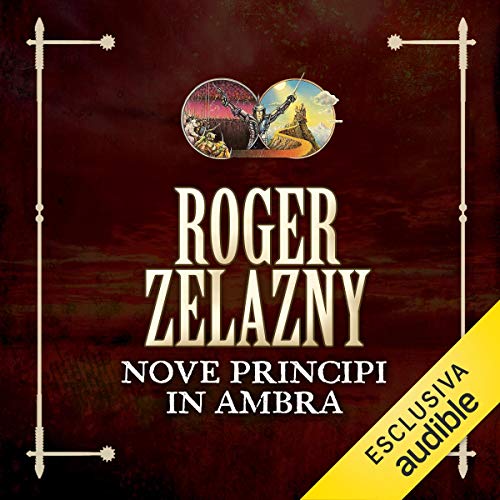 We are very happy to report that all ten of Roger Zelazny's Chronicles of Amber novels are available as audiobooks in Italy! Published by Audible, here's the synopsis for the first book, NOVE PRINCIPI IN AMBRA…
Ambra è il mondo perfetto, l'universo dal quale tutti gli altri sono stati generati. Luogo celestiale e al contempo demoniaco, Ambra si trova adesso nel mezzo dello scontro tra le forze del bene e del male. Pur coesistendo con tutti gli altri mondi, Ambra può divenire una mèta irraggiungibile, niente più che il ricordo di un sogno per chi ne è stato allontanato: Corwin, Signore d'Ambra, si risveglia in un ospedale della Terra, confuso e privo di certezze sulle proprie origini e sulla propria identità. Chi lo ha separato dalla sua casa, relegandolo in quel lontano esilio? Qual è la vera natura di Ambra? A cosa ambiscono i principi e le principesse che lottano per raggiungere il trono più desiderato tra quelli su cui si possa sedere negli universi conosciuti?
Mentre oscure forze del male avanzano, terribili armate al comando dei Principi delle Tenebre, Corwin inizierà un viaggio fantastico ed eroico, verso la riconquista del proprio mondo e della propria eredità. Le sorti di Ambra non sono mai state così incerte e da esse può dipendere il destino di tutti gli universi.
Here's the English-language synopsis…
Awakening in an Earth hospital unable to remember who he is or where he came from, Corwin is amazed to learn that he is one of the sons of Oberon, King of Amber, and is the rightful successor to the crown in a parallel world.
Amber, the one real world, wherein all others, including our own Earth, are but Shadows. Amber burns in Corwin's blood. Exiled on Shadow Earth for centuries, the prince is about to return to Amber to make a mad and desperate rush upon the throne. From Arden to the blood-slippery Stairway into the Sea, the air is electrified with the powers of Eric, Random, Bleys, Caine, and all the princes of Amber whom Corwin must overcome. Yet, his savage path is blocked and guarded by eerie structures beyond imagining; impossible realities forged by demonic assassins and staggering horrors to challenge the might of Corwin's superhuman fury.
Here's the series list…
NINE PRINCES IN AMBER — NOVE PRINCIPI IN AMBRA
THE GUNS OF AVALON — LE ARMI DI AVALON
SIGN OF THE UNICORN — IL SEGNO DELL'UNICORNO
THE HAND OF OBERON — LA MANO DI OBERON
THE COURTS OF CHAOS — LE CORTI DEL CAOS
TRUMPS OF DOOM — RITORNO AD AMBRA
BLOOD OF AMBER — IL SANGUE DI AMBRA
SIGN OF CHAOS — IL SEGNO DEL CAOS
KNIGHT OF SHADOWS — IL CAVALIERE DELLE OMBRA
PRINCE OF CHAOS — IL PRINCIPE DEL CAOS
The novels are published in print and eBook in Italy by Mondadori.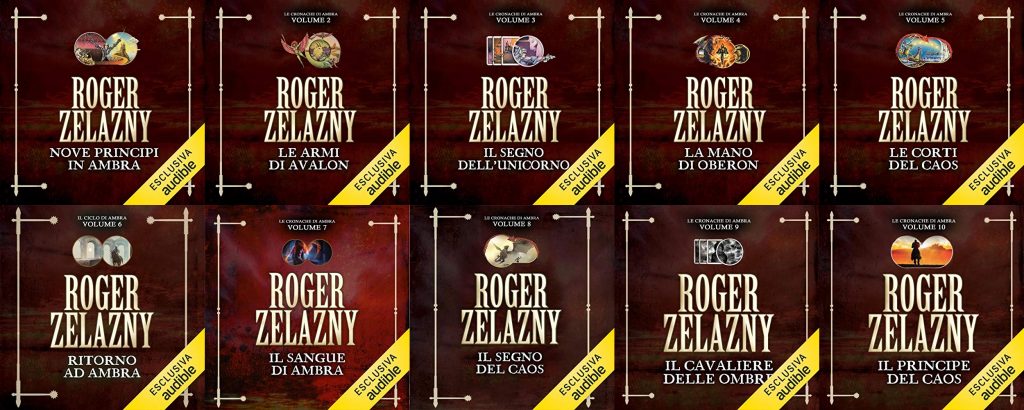 Zeno represents Roger Zelazny in Translation, on behalf of the Zelazny Estate.