January marks the tenth anniversary of Aliette de Bodard's acclaimed debut, SERVANT OF THE UNDERWORLD! The acclaimed first novel in the author's Obsidian & Blood trilogy, it was followed by HARBINGER OF THE STORM and MASTER OF THE HOUSE OF DARTS.
Congratulations, Aliette!
Originally published by Angry Robot Books in 2009, the novel is now available as an eBook via the JABberwocky's eBook Program. Here's the synopsis…
Year One-Knife, Tenochtitlan the capital of the Aztecs. Human sacrifice and the magic of the living blood are the only things keeping the sun in the sky and the earth fertile.
A Priestess disappears from an empty room drenched in blood. It should be a usual investigation for Acatl, High Priest of the Dead – except that his estranged brother is involved, and the the more he digs, the deeper he is drawn into the political and magical intrigues of noblemen, soldiers, and priests-and of the gods themselves…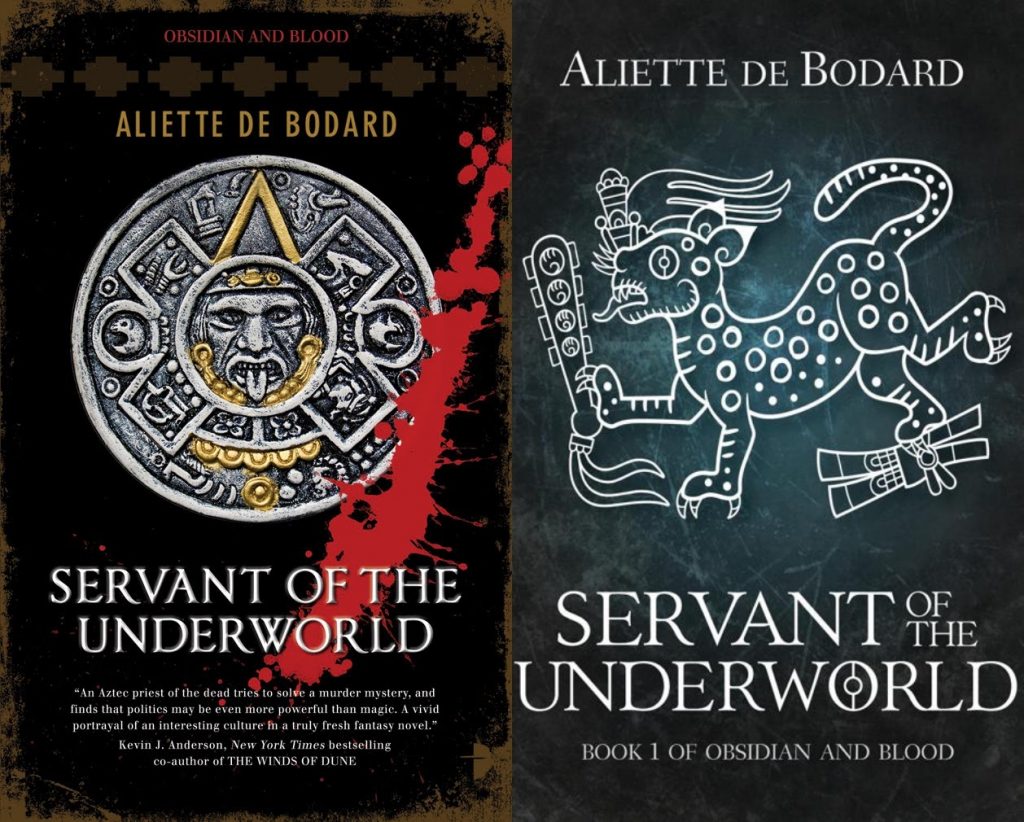 Here are just a few reviews the novel has received…
'Part murder mystery, part well-researched historical novel and part fantasy… The fantasy element blends neatly with the other parts. 4*' — SFX Magazine
'An Aztec priest of the dead tries to solve a murder mystery, and finds that politics may be even more powerful than magic. A vivid portrayal of an interesting culture in a truly fresh fantasy novel.' — Kevin J. Anderson (New York Times bestselling author)
'Amid the mud and maize of the Mexica empire, Aliette de Bodard has composed a riveting story of murder, magic  and sibling rivalry.' — Elizabeth Bear
'From page one I was drawn into Acatl's world… a remarkable historically-based fantasy, using the myths and legends of the Aztec people as a background to a twisting murder mystery.' — Speculative Book Review
'The world-building is exquisite and we *believe* we are transported to the 15th century Tenotichtlan and together with the superb voice they formed the main reason I enjoyed this book so much… Highly recommended… Ms. de Bodard is a writer to watch.' — Fantasy Book Critic
Since the release of this novel, Aliette has published an impressive number of award-winning and nominated short and long fiction, including the acclaimed Xuya Universe stories, many of which are published by Subterranean Press and JABberwocky; and the Dominion of the Fallen series, which is published by Gollancz in the UK; and Roc Books (#1-2) and JABberwocky (#3) in North America. The author's stand-alone novella, IN THE VANISHERS' PALACE is also available, published by JABberwocky.