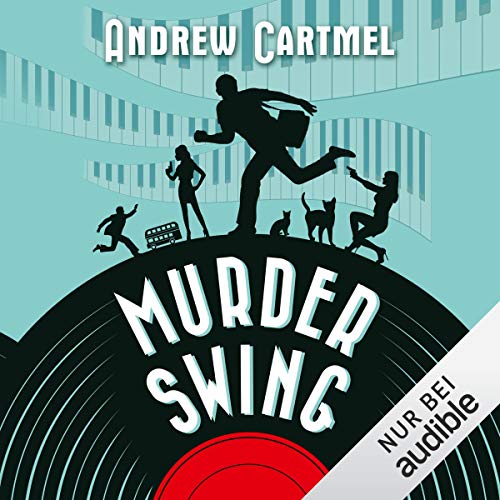 WRITTEN IN DEAD WAX, the first novel in Andrew Cartmel's acclaimed Vinyl Detective series is now available as an audiobook in Germany! Narrated by Oliver Siebeck, and published by Audible Germany as MURDER SWING, here's the synopsis…
London, heute: Er ist ein Plattensammler, ein Spezialist für äußerst seltene LPs, die er kauft und verkauft. Die Jobbeschreibung auf seiner Visitenkarte lautet: "Vinyl-Detektiv". Und manche Leute nehmen das ganz wörtlich – so wie die geheimnisvolle Nevada Warren, die ihn für eine Unsumme anheuert, um für einen anonymen Auftraggeber eine Platte zu finden, die zu der schmalen Produktion eines winzigen kalifornischen Jazz-Labels gehört, das in den 1950ern nur ein Jahr existierte.
Bald häufen sich seltsame Todesfällen, die allesamt mit dieser Platte zu tun haben könnten. Aber was könnte auf ihr zu hören sein, was sie so ungemein wertvoll macht? Und was hat einer der mächtigsten Konzerne der weltweiten Unterhaltungsindustrie damit zu tun? Zu allem Überfluss hat unser Detektiv bald auch noch die "Aryian Twins" Heinz und Heidi an der Hacke, zwei ziemlich extravagante Killer …
The first two novels in the series are published in Germany in print by Suhrkamp Verlag.
The series is published in the UK and North America by Titan Books, and the first four novels are out now. Here's the English-language synopsis for the first novel…
He is a record collector — a connoisseur of vinyl, hunting out rare and elusive LPs. His business card describes him as the "Vinyl Detective" and some people take this more literally than others.
Like the beautiful, mysterious woman who wants to pay him a large sum of money to find a priceless lost recording — on behalf of an extremely wealthy (and rather sinister) shadowy client.
Given that he's just about to run out of cat biscuits, this gets our hero's full attention. So begins a painful and dangerous odyssey in search of the rarest jazz record of them all…