The internet site Pajiba recently published an article about seven recent books they thought would make great TV mini-series. We were delighted to note that two recent releases by Zeno clients were featured! Both Lavie Tidhar's THE VIOLENT CENTURY and Ian Tregillis's SOMETHING MORE THAN NIGHT were selected, and we couldn't agree more!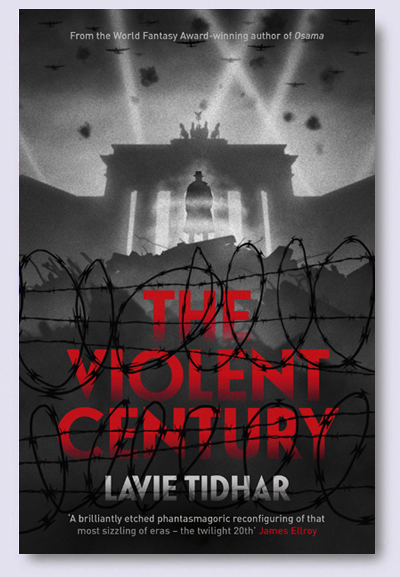 We've featured both of these novels a lot, recently (they're getting great responses from a broad swathe of readers and the SFF community at large), but just in case you've missed them, here are the synopses. First, THE VIOLENT CENTURY, which is published in the UK by Hodder…
They'd never meant to be heroes.
For seventy years they guarded the British Empire. Oblivion and Fogg, inseparable friends, bound together by a shared fate. Until one night in Berlin, in the aftermath of the Second World War, and a secret that tore them apart.
But there must always be an account… and the past has a habit of catching up to the present.
Now, recalled to the Retirement Bureau from which no one can retire, Fogg and Oblivion must face up to a past of terrible war and unacknowledged heroism, – a life of dusty corridors and secret rooms, of furtive meetings and blood-stained fields – to answer one last, impossible question:
What makes a hero?
And secondly, SOMETHING MORE THAN NIGHT, which is published in the US by Tor Books (translation and UK rights available)…
A Dashiell Hammett and Raymond Chandler inspired murder mystery set in Thomas Aquinas's vision of Heaven. It's a noir detective story starring fallen angels, the heavenly choir, nightclub stigmatics, a priest with a dirty secret, a femme fatale, and the Voice of God.
Somebody has murdered the angel Gabriel. Worse, the Jericho Trumpet has gone missing, putting Heaven on the brink of a truly cosmic crisis. But the twisty plot that unfolds from the murder investigation leads to something much bigger: a con job one billion years in the making.
Because this is no mere murder. A small band of angels has decided to break out of heaven, but they need a human patsy to make their plan work.
Much of the story is told from the point of view of Bayliss, a cynical fallen angel who has modeled himself on Philip Marlowe. The yarn he spins follows the progression of a Marlowe novel—the mysterious dame who needs his help, getting grilled by the bulls, finding a stiff, getting slipped a mickey.
Angels and gunsels, dames with eyes like fire, and a grand maguffin, Something More Than Night is a murder mystery for the cosmos.
Which other titles of ours do you think would make excellent TV mini-series and/or movies?
Zeno represents Ian Tregillis in the UK/Commonwealth and Translation, on behalf of Kay McCauley at Aurous, Inc.