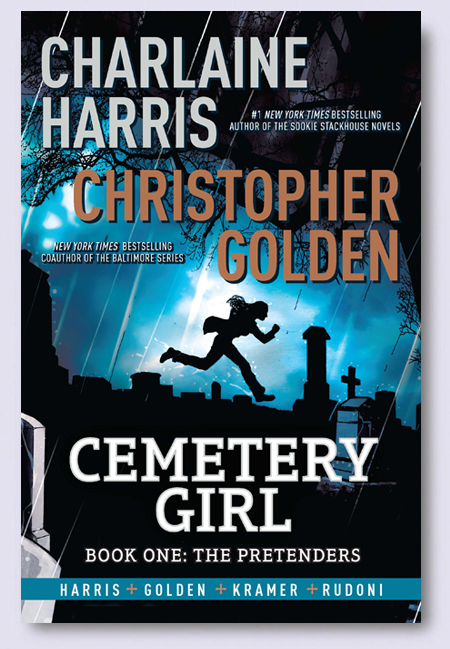 Charlaine Harris, author of the wildly popular Sookie Stackhouse/True Blood series of novels, has teamed up with horror and comics author Christopher Golden to bring us a new series of original graphic novels: Cemetery Girl. Don Kramer is handling art duties.
The first book of the planned trilogy, THE PRETENDERS, is due to be published in the UK by Jo Fletcher Books in January 2014. Here's the synopsis…
Calexa Rose Dunhill was just fourteen when she woke in a cemetery. Bruised, bloody and left for dead, with no memory of her previous life, she took a new name from the headstones that surrounded her.
Now, three years on, Calexa still lives in Dunhill Cemetery, struggling with the desire to know her true identity – and the all-consuming fear of what she might discover when she does.
Then, when she witnesses a gang of teenagers staging a stunt that goes horribly, fatally wrong, Calexa Rose Dunhill discovers she has a unique ability. One she cannot control…
The series combines fantasy and paranormal mystery to tell the story of a teenage girl with amnesia who has grown up living alone amid the gravestones. As the trilogy progresses, the truth of who the girl is, and how she came to be there will gradually be revealed. Cemetery Girl is Harris's first venture into the world of graphic novels.
Here is what Charlaine had to say on the project, when it was first announced: 'I'd had the bones of the plot for Cemetery Girl in my head for a year when Chris suggested I re-imagine it as a graphic novel. Suddenly, the project made a lot more sense. Since Chris has more experience in the graphic novel field that I do, we agreed to team up for my first-ever collaboration. This is an exciting venture for both of us.'
Zeno Agency represents Charlaine Harris in the UK/Commonwealth, on behalf of the JABberwocky Literary Agency in New York.