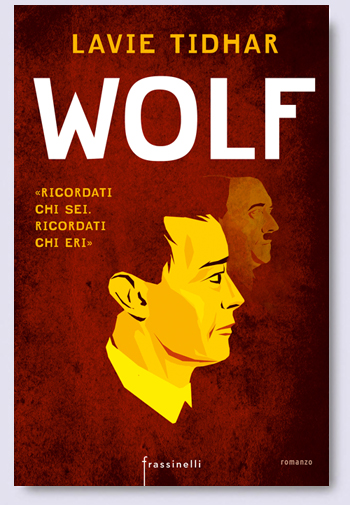 Lavie Tidhar's award-winning novel, A MAN LIES DREAMING, will be available in Italian this coming January! Due to be published by Frassinelli as WOLF, here's the English-language synopsis…
Deep in the heart of history's most infamous concentration camp, a man lies dreaming. His name is Shomer, and before the war he was a pulp fiction author. Now, to escape the brutal reality of life in Auschwitz, Shomer spends his nights imagining another world – a world where a disgraced former dictator now known only as Wolf ekes out a miserable existence as a low-rent PI in London's grimiest streets.
An extraordinary story of revenge and redemption, A Man Lies Dreamingis the unforgettable testament to the power of imagination.
'I love this cover,' Lavie's written, 'it catches the essence of the book for me in a very real way, though I have to say I've loved all the covers for the book so far.'
Here is just a small selection of the reviews the novel has received so far…
'Comes crashing through the door of literature like Sam Spade with a .38 in his hand. This is a shocking book as well as a rather brilliant one… Like Tarantino, Tidhar may find that some people don't take him seriously. But the joke's on them. Seriousness is the least of it: A MAN LIES DREAMING is a twisted masterpiece.' — Guardian
'Savagely funny… Those who enjoy laughter in the dark will relish Tidhar's parade of mordant ironies… This novel is weird, upsetting, unmissable.' 5* — Telegraph
'No one can accuse Lavie Tidhar of being risk-averse… such an interesting writer… the novel is not without a fair amount of humor, and that might well be the boldest risk Tidhar is taking here…' — Locus
'It's nasty, clever, waspish and witty. It finds room for guest appearances from Leni Riefenstahl, Ian Fleming and Evelyn Waugh and quotations from everyone from Chandler to Ukip… You turn the pages avidly. You read it for the pulp story. And you read it for the frame that surrounds it. And you can't stop reading.' — Herald Scotland
A MAN LIES DREAMING is published in the UK by Hodder, and as a Limited Edition by PS Publishing. The novel is due to be published in the US by Melville House in March 2016. The novel has won the Jerwood Fiction Uncovered Prize, and has been nominated for the Dublin Literary Award.