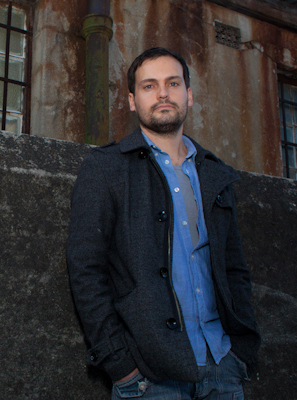 As reported by Variety, the film rights for Charlie Human's debut urban fantasy novel, APOCALYPSE NOW NOW, have been acquired by the Canadian production house Redlab Digital, in collaboration with Los Angeles-based XYZ Films, and South Africa-based Be Phat Motel productions. Terri Tatchell, the Oscar-nominated screenwriter of District 9 and Chappie has been brought on board to pen the screenplay.
About the project, Tatchell said: 'South Africa has always pushed through the usual limits of my imagination and APOCALYPSE NOW NOW is no exception. Charlie has actually upped the game and obliterated them all altogether. I am beyond excited!'
'District 9 has been incredibly influential for South African speculative fiction writers,' said Charlie Human, 'so having Terri Tatchell on board to adapt APOCALYPSE NOW NOW is mind-blowing.  XYZ, Redlab and Be Phat Motel make exactly the type of films that I'm into, and it's incredibly gratifying to have them working on a story that was born out of my love for South African urban mythology.'
APOCALYPSE NOW NOW is the first in a two-book series, followed by KILL BAXTER. Here's the synopsis…
I LOVE THE SMELL OF PARALLEL DIMENSIONS IN THE MORNING
Baxter Zevcenko's life is pretty sweet. As the 16-year-old kingpin of the Spider, his smut-peddling schoolyard syndicate, he's making a name for himself as an up-and-coming entrepreneur. Profits are on the rise, the other gangs are staying out of his business, and he's going out with Esme, the girl of his dreams.
But when Esme gets kidnapped, and all the clues point towards strange forces at work, things start to get seriously weird. The only man drunk enough to help is a bearded, booze-soaked, supernatural bounty hunter that goes by the name of Jackson 'Jackie' Ronin.
Plunged into the increasingly bizarre landscape of Cape Town's supernatural underworld, Baxter and Ronin team up to save Esme. On a journey that takes them through the realms of impossibility, they must face every conceivable nightmare to get her back, including the odd brush with the Apocalypse.
APOCALYPSE NOW NOW is published in the UK by Arrow, the US by Titan Books, and in South Africa by Umuzi/Random Struik (in both English and Afrikaans). It has also been published in translation in Turkey, Japan and Italy. Here are the covers (so far)…
KILL BAXTER is also published in the UK by Arrow, in South Africa by Umuzi/Random Struik, and is due to be published in the US in November 2015 by Titan Books.
The novel has been praised far and wide for its mad genius and gloriously twisted story, voice and world-building. Here's just a small selection of reviews it has received…
'It's mad, dark, irreverent and wonderfully twisted in all the right ways.' — Lauren Beukes, author of The Shining Girls
'Brilliantly entertaining.' — British Fantasy Society
'A riot – a firebomb of a novel, exploding with sick humour, violence and depravity… it's never less than very funny, and the ongoing question of Baxter's sanity adds a degree of mystery. There's warmth here, too – you'll likely feel sympathy for Bax by the end.' — SFX Magazine
'Think Lauren Beukes meets Neil Gaiman, with bounty hunters.' — Wired (UK)
'Wonderfully detailed scenarios, it's fantastic… APOCALYPSE NOW NOW is often hilarious and tremendous fun…' — SciFi Now
'Breakneck pace and mad imagination… such an addictive experience. As one of an associate of Ronin's remarks: "There's no pause button, you understand? … Once it starts you have to see it through." All too true!' — Tor.com