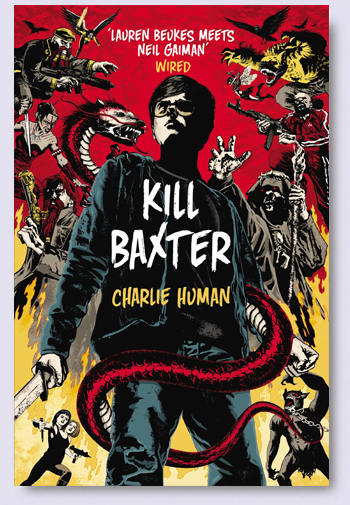 The wait is finally over! KILL BAXTER, the sequel to Charlie Human's critically-acclaimed debut novel APOCALYPSE NOW NOW, is out today in the UK! Published by Century, the novel offers everything we loved about APOCALYPSE NOW NOW and throws Baxter into an even deadlier environment: a school populated by back-stabbing and ambitious wannabe wizards! Here's the synopsis…
AND HE THOUGHT THE HARD PART WAS OVER…
The world has been massively unappreciative of sixteen-year-old Baxter Zevcenko. His bloodline may be a combination of ancient Boer mystic and giant shape-shifting crow, and he may have won an inter-dimensional battle and saved the world, but does anyone care? No.
Instead he's packed off to Hexpoort, a magical training school that's part reformatory, part military school, and just like Hogwarts (except with sex, drugs, and better internet access). The problem is that Baxter sucks at magic. He's also desperately attempting to control his new ability to dreamwalk, all the while being singled out by the school's resident bully, who just so happens to be the Chosen One.
But when the school comes under attack, Baxter needs to forget all that and step into action. The only way is joining forces with his favourite recovering alcoholic of a supernatural bounty hunter, Ronin, to try and save the world from the apocalypse. Again.
It's still a bit early for many reviews to have surfaced, but we'll be sure to share notable quotes on here, and also on Charlie's author page. The first review, from SciFi Now encapsulated things rather nicely: 'Like its predecessor, KILL BAXTER is laugh out loud funny and fiendishly creative. The anti-Hogwarts of Hexpoort gives Human the opportunity to riff more directly on pop culture, but so do the porn addict support groups, pretentious fashion shows and possessed nerds. The further we delve into the supernatural world and its politics, with its psychotic fairies and violent luckdragons, the more engrossing the book becomes. Baxter himself is as entertaining a companion as ever, struggling with heartbreak and desperately trying to go against his own nature and be a good person, even as he travels through his own psyche with his psychosexual development funk band guides to fulfil his potential… tighter and more focused, and just as gloriously insane. Dark, mad, imaginative, and hilarious; KILL BAXTER is a joy.'
The novel will be published in the US by Titan Books, and in South Africa by Umuzi/Random Struik. We'll be sure to keep you informed of publication dates. And finally, because we love this cover as well, here's the South African artwork, which we unveiled on Monday…