Tor.com recently published a handy primer for newcomers to Brandon Sanderson's rich bibliography…
Not many authors are quite as consistently prolific as Brandon Sanderson, and happily, he's not showing any signs of slowing down any time soon! For those of you who might be curious about what all the fuss is about, I've put together this general introduction to his work. It covers a bit about Brandon himself, addresses the awesome fact that all of his epic fantasies are connected, and suggests some titles for first-time readers to start on…
Brandon is best known for writing sweeping, epic fantasy series — including the bestselling Mistborn series and the Stormlight Archive — as well as a couple of stand-alone titles, and a smattering of novellas and other series. Most of Brandon's work is published in the UK by Gollancz. In addition to the Tor.com piece, here are some details for good novels to start with…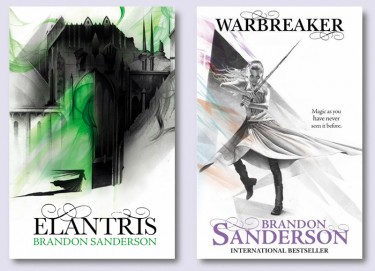 ELANTRIS
Elantris was built on magic and it thrived. But then the magic began to fade and Elantris began to rot. And now its shattered citizens face domination by a powerful Imperium motivated by dogged religious views. Can a young Princess unite the people of Elantris, rediscover the lost magic and lead a rebellion against the imperial zealots?
Brandon's debut novel, it took fandom by storm. His other stand alone novel is WARBREAKER.

THE FINAL EMPIRE — Mistborn #1
What if the Dark Lord won?
A thousand years ago evil came to the land and has ruled with an iron hand ever since. The sun shines fitfully under clouds of ash that float down endlessly from the constant eruption of volcanoes. A dark lord rules through the aristocratic families and ordinary folk are condemned to lives in servitude, sold as goods, labouring in the ash fields.
But now a troublemaker has arrived and there is rumour of revolt. A revolt that depends on criminal that no-one can trust and a young girl who must master Allomancy – the magic that lies in all metals.
The Mistborn series was a huge word-of-mouth success in the US, and has been hugely popular in the UK ever since this novel was published. Other novels available now in the series include THE WELL OF ASCENSION, THE HERO OF AGES and THE ALLOY OF LAW. Two more novels in the series — SHADOWS OF SELF and BANDS OF MOURNING — are due to be published in 2015-16, by Gollancz in the UK.
THE WAY OF KINGS — Stormlight Archive #1
According to mythology mankind used to live in The Tranquiline Halls. Heaven. But then the Voidbringers assaulted and captured heaven, casting out God and men. Men took root on Roshar, the world of storms. And the Voidbringers followed…
They came against man ten thousand times. To help them cope, the Almighty gave men powerful suits of armor and mystical weapons, known as Shardblades. Led by ten angelic Heralds and ten orders of knights known as Radiants, mankind finally won.
Or so the legends say. Today, the only remnants of those supposed battles are the Shardblades, the possession of which makes a man nearly invincible on the battlefield. The entire world is at war with itself – and has been for centuries since the Radiants turned against mankind. Kings strive to win more Shardblades, each secretly wishing to be the one who will finally unite all of mankind under a single throne.
On a world scoured down to the rock by terrifying hurricanes that blow through every few day a young spearman forced into the army of a Shardbearer, led to war against an enemy he doesn't understand and doesn't really want to fight.
What happened deep in mankind's past?
Why did the Radiants turn against mankind, and what happened to the magic they used to wield?
The first novel in Brandon's planned 10-book epic. The sequel, WORDS OF RADIANCE, is also out now.
STEELHEART — Reckoners #1
Ten years ago, Calamity came. It was a burst in the sky that gave ordinary men and women extraordinary powers. The awed public started calling them Epics. But Epics are no friend of man. With incredible gifts came the desire to rule. And to rule man you must crush his wills.
Nobody fights the Epics… nobody but the Reckoners. A shadowy group of ordinary humans, they spend their lives studying Epics, finding their weaknesses, and then assassinating them.
And David wants in. He wants Steelheart – the Epic who is said to be invincible. The Epic who killed David's father. For years, like the Reckoners, David's been studying, and planning – and he has something they need. Not an object, but an experience.
He's seen Steelheart bleed. And he wants revenge.
The first novel in a super-hero series, set in a dystopian future United States. MITOSIS and FIREFIGHT — a novella and sequel, respectively — are also out now.
THE RITHMATIST
This is a fast-paced adventure for readers of all ages by bestselling author Brandon Sanderson, master of fantasy fiction. Here, in a school for the magically gifted, your talent could cost you your life…
Joel is fascinated by the magic of Rithmatics, but few have the gift and he is not one of them. Undaunted, he persuades Professor Fitch to teach him magical theory. Joel can't infuse his protective lines and circles with power, or bring his chalk-drawn creatures to life, but he's quick to master the underlying geometric principles. His unique skills will soon face an extraordinary test when top Rithmatist students are kidnapped from his Academy.
Since he's not a magic user, Joel appears to be safe – but he's desperate to investigate and prove himself. Then people start dying. However, can Joel really stop a killer alone? As even more students disappear, he realizes he'll need the help of Rithmatist apprentice Melody. Together, they must race to find clues before the killer notices them – and takes them out too.
Published in the UK by Tor Books, this is the first in a planned YA fantasy, set in a post-apocalyptic world.
Zeno represents Brandon Sanderson in the UK and Commonwealth, on behalf of the JABberwocky Literary Agency in New York.