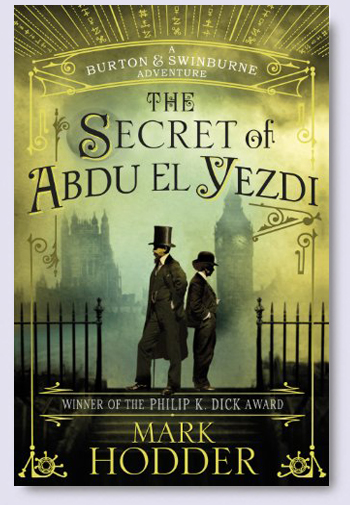 We are delighted to report that Mark Hodder's THE SECRET OF ABDU EL YEZDI has been nominated for a 2013 Sidewise Award!
The Awards, presented in recognition of excellence in alternate history, are named after Murray Leinster's 1934 short story 'Sidewise in Time'. Each year, there are two categories, Long- and Short-Form, and Mark's novel has been nominated in the long-form category. The winners in the two categories will be announced at Loncon 3, in London, on August 14th, 2014.
This is the second year in a row in which a Zeno client has been nominated for a Sidewise Award! Last year, Ian R. MacLeod's WAKE UP AND DREAM won in the long-form category, too. Ian also won twice for THE SUMMER ISLES – in 1999 for the original short story, and in 2006 for the full-length version. Let us hope that Mark takes home the prize this year!
THE SECRET OF ABDU EL YEZDI, the latest novel in the author's popular Burton & Swinburne Adventures series, was published in the UK by Del Rey, and in the US by Pyr Books. Here is the synopsis…
Having successfully discovered the source of the Nile, Captain Richard Francis Burton returns to London expecting to marry his fiancé, Isabel Arundell, and be awarded the consulship of Damascus. However, when he's unexpectedly knighted by King George V, his plans go awry. The monarch requires an agent to investigate a sequence of disappearances, and Burton, whether he likes it or not, is the man for the job.
Engineering and medical luminaries – such as Isambard Kingdom Brunel and Florence Nightingale – are among the missing, but the most significant absence is that of Abdu El Yezdi, an inhabitant of the Afterlife who, in the two decades since the assassination of Queen Victoria, has been Prime Minister Disraeli's most trusted advisor.
The search for the missing ghost soon becomes the least of the explorer's concerns, for it quickly becomes apparent that he himself is at the centre of increasingly bizarre and interconnected events, and that someone – or something – is intent not only on meddling with history, but also on harming the people Burton values the most.
Mark is currently working on the next novel in the series.
Zeno represents Mark Hodder in the UK and Commonwealth, on behalf of the JABberwocky Literary Agency in New York.