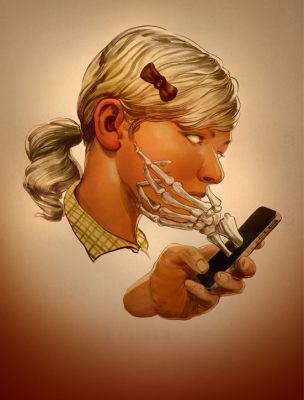 We're always happy to share new short fiction by our authors – they're a great way to give an author's work a try. Today, we wanted to draw your attention to Lavie Tidhar's latest piece, SELFIES. The story is published on Tor.com.
Here's the synopsis…
A creepy little horror tale about the fate of a young woman who makes the mistake of a lifetime when she buys a new phone in the local mall.
The artwork for the piece, to the right, was by Greg Ruth.
Lavie is the author of the World Fantasy Award winning OSAMA (Solaris), the critically-acclaimed THE VIOLENT CENTURY (Hodder/St. Martin's Press), and the upcoming A MAN LIES DREAMING due out on 23rd October, from Hodder.