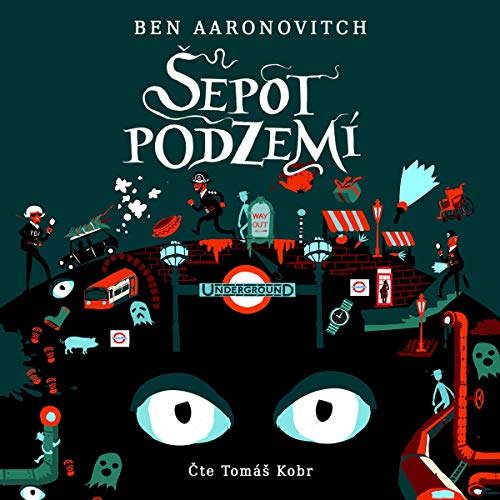 The Czech audiobook edition of Ben Aaronovitch's third Peter Grant novel, WHISPERS UNDERGROUND is available now through Audible! Published by Tympanum as ŠEPOT PODZENÍ, and read by Tomáš Kobr, here's the synopsis…
Další případ ze světa nejúspěšnější městské fantasy uplynulého desetiletí! Peter Grant na cestě do labyrintem londýnského metra. Jmenuji se Peter Grant. Není to tak dávno, co jsem byl obyčejný četnický zelenáč v řadách londýnské Metropolitní policie. Teď jsem policejní detektiv a čarodějnický učeň. Jenže inspektor Nightingale má plné ruce práce s pátráním po Muži bez tváře, takže stojím nad mrtvolou amerického studenta na stanici metra Baker Street sám. Vlastně ne sám, FBI mi poslala na pomoc nějakou mladou ambiciózní křesťanku. No, hezká je, ale veškerá kouzla jsou pro ni jasné dílo ďáblovo. Je na čase ponořit se strašidelné hlubiny nejstarší, největší a nyní i nejvražednější podzemní dráhy na světě.
The print edition of the novel is published in Czechia by Argo. The Peter Grant series is published in the UK by Gollancz, in North America by Del Rey (1-3) and DAW Books (4-), and widely in translation. Here's the English-language synopsis for WHISPERS UNDERGROUND…
Peter Grant is learning magic fast. And it's just as well – he's already had run-ins with the deadly supernatural children of the Thames and a terrifying killer in Soho. Progression in the Police Force is less easy. Especially when you work in a department of two. A department that doesn't even officially exist. A department that if you did describe it to most people would get you laughed at. And then there's his love life. The last person he fell for ended up seriously dead. It wasn't his fault, but still.
Now something horrible is happening in the labyrinth of tunnels that make up the tube system that honeycombs the ancient foundations of London. And delays on the Northern line is the very least of it. Time to call in the Met's Economic and Specialist Crime Unit 9, aka 'The Folly'. Time to call in PC Peter Grant, Britain's Last Wizard.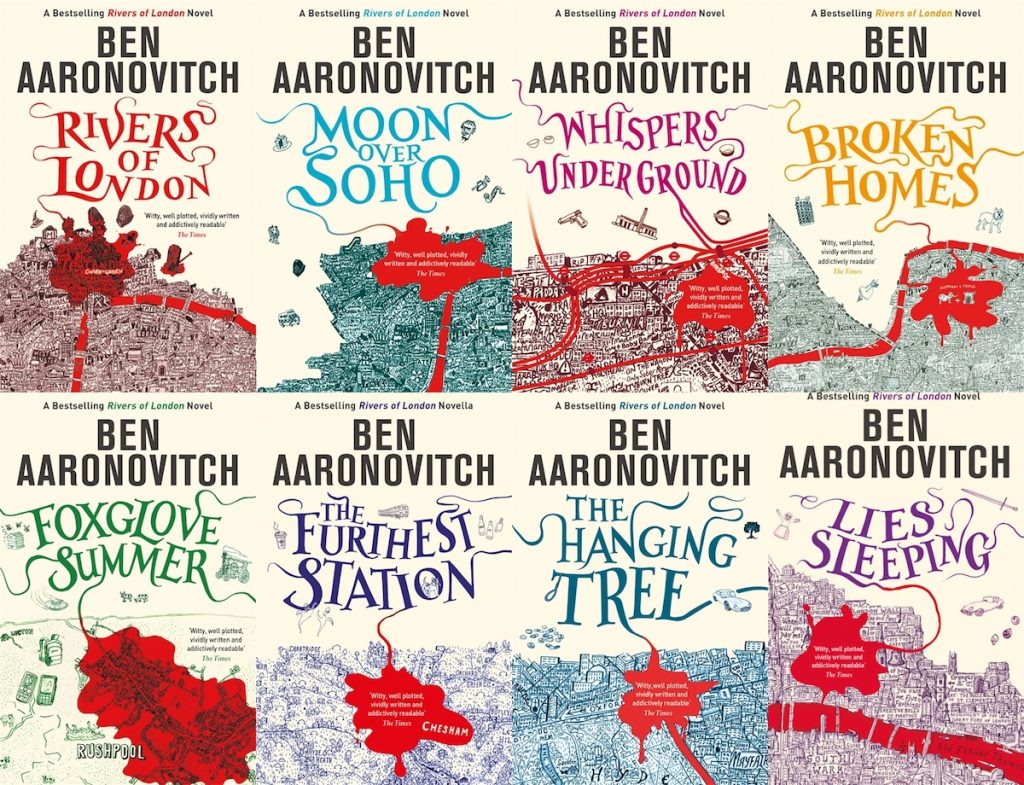 Here are just a handful of the reviews the novel has received…
'One of the most refreshing things about former Doctor Who writer Aaronvitch's Rivers of London series of magical procedurals is that they are blessedly free of manufactured rivalries. Instead, Police Constable (and freshly minted wizard) Peter Grant works for a supernatural branch of the London police department that is more interested in solving crimes than creating drama. In Grant's third outing (after Moon over Soho), he gets called in to help with a magic-linked murder at an Underground station. The victim turns out to be the son of a U.S. senator, with a sketchy, not-quite-human roommate. To solve the murder, Grant and his associates, including disfigured fellow magician Lesley May and trigger-happy FBI agent Kimberley Reynolds, plumb the city's depths as well as its secret history. This fast, engrossing novel is enjoyable, cheerful, and accessible to new readers.' — Publishers Weekly
'… the Peter Grant novels by Ben Aaronovitch are a great way to feel like you're actually visiting the city by the Thames… Ben Aaronovitch writes some of the funniest prose in current fantasy. These books are extremely entertaining, mainly because narrator Peter Grant has a hilarious voice and a sly sense of humor… quirkily effective prose and dry humor, making it a pure pleasure to read… I'm usually not a big fan of urban fantasy, but this series is so much fun that I always look forward to the next installment. If you're looking for a fast-moving, entertaining urban fantasy that'll make you feel like you're visiting London vicariously this summer, pick up series opener MIDNIGHT RIOT / RIVERS OF LONDON. And if you've already read the first two books, you'll probably be glad to hear that the newest installment WHISPERS UNDER GROUND is just as good.' — Tor.com
'The quality of the writing is superb with an instantly engaging style and subtle humour that makes reading the novel a real joy and almost impossible to resist… The ending is pretty dramatic and very much a seat-of-your-pants cliff hanger that really does leave you wanting more, I can't wait to read more in the life of Peter Grant.' 5/5 — SF Book Reviews
'The voice is persuasive and funny as all get-out, and the reader is engaged with the narrative from the very first page. Aaronovitch has written a diverse cast of characters who all feel like real people with their own specific motivations. This book is simply wonderful.' — RT Book Reviews
The next novel in the series, FALSE VALUE, is due to be published in February 2020.