As reported in Deadline, television rights to Ian McDonald's forthcoming Science Fiction series LUNA have been acquired by Shane Brennan Productions/CBS. A major deal was agreed following a fiercely contested auction involving multiple big name bidders on both sides of the Atlantic and comes weeks before the novel hits bookstores.
Brennan and CBS Television Studios will develop the property as a television series with Brennan — best known as the creator and showrunner of the hit CBS series NCIS: Los Angeles — set to write the pilot and executive produce. Grant Anderson, who runs Shane Brennan Productions will also executive produce along with author, McDonald. The series is planned as a major event, coming from the same studio as Steven King's Under the Dome and James Patterson's Zoo.
The deal was negotiated by Dana Spector at Paradigm on behalf of John Berlyne at the Zeno Agency.
Ian McDonald is a multiple-award-winning writer from Northern Ireland. Working mostly in science-fiction, he's had 18 novels and 3 story collections published in 23 languages. He also worked for sixteen years in television in program development in everything from documentary to children's television to animation. LUNA: NEW MOON will be published in September by Gollancz (UK and British Commonwealth) and by Tor Books (US). Translation rights are with Gollancz.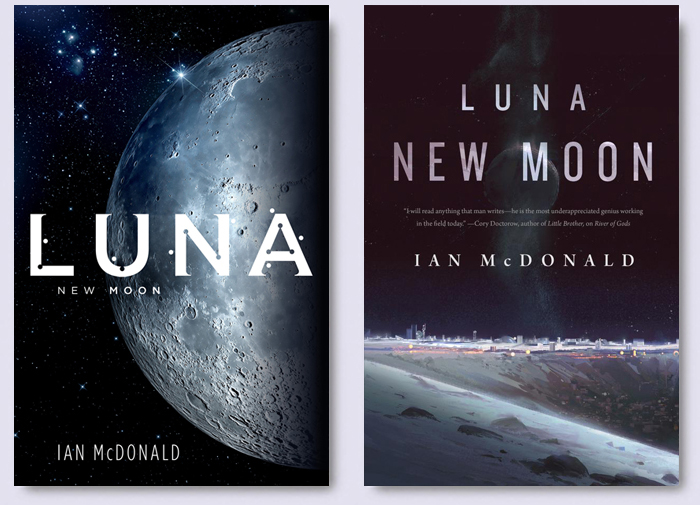 The Moon wants to kill you. Whether it's being unable to pay your per diem for your allotted food, water, and air, or you just get caught up in a fight between the Moon's ruling corporate families, the Five Dragons, you must fight for every inch you want to gain in the Moon's near feudal society. And that is just what Adriana Corta did.
Forty years ago Adriana wrested control of the Moon's lucrative Helium-3 industry from the powerful Mackenzie Metal corporation. Now, in the twilight of her life, Adriana finds her corporation, Corta Helio, surrounded by the many enemies she made during her meteoric rise.
If the Corta family is to survive, Adriana's five children must defend their mother's empire from her many enemies… and each other.
'McDonald gives sci-fi its sense of wonder back, and creates a landscape in which nothing can be taken for granted' — Independent
'A staggering achievement, brilliantly imagined and endlessly surprising…a brave, brilliant and wonderful novel' — Christopher Priest on RIVER OF GODS