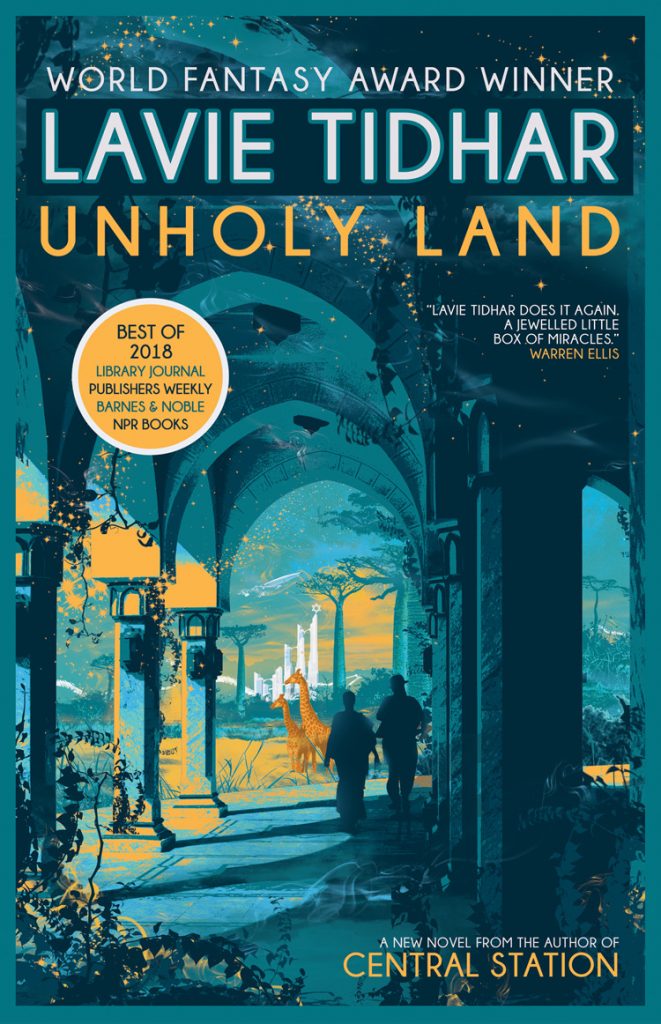 We're very happy to report that a couple of Lavie Tidhar's novels have been nominated for awards! First up, UNHOLY LAND has been nominated for the Sidewise Award for best Alternate History! Published by Tachyon Publications, the novel has been met with an incredible amount of praise, appearing on a number of Best Of and must read lists. Here's the synopsis…
Lior Tirosh is a semi-successful author of pulp fiction, an inadvertent time traveler, and an ongoing source of disappointment to his father.
Tirosh has returned to his homeland in East Africa. But Palestina — a Jewish state founded in the early 20th century — has grown dangerous. The government is building a vast border wall to keep out African refugees. Unrest in Ararat City is growing. And Tirosh's childhood friend, trying to deliver a warning, has turned up dead in his hotel room. A state security officer has identified Tirosh as a suspect in a string of murders, and a rogue agent is stalking Tirosh through transdimensional rifts — possible futures that can only be prevented by avoiding the mistakes of the past.
From the bestselling author of Central Station comes an extraordinary new novel recalling China Miéville and Michael Chabon, entertaining and subversive in equal measures.
Here are just a few of the reviews the novel has received so far…
'… will leave readers' heads spinning with this disorienting and gripping alternate history… Readers of all kinds, and particularly fans of detective stories and puzzles, will enjoy grappling with the numerous questions raised by this stellar work.' — Publishers Weekly (PW Picks: Books of the Week, October 15, 2018)
'Lavie Tidhar is a genius at conjuring realities that are just two steps to the left of our own — places that look and smell and feel real, if just a bit hauntingly alien. UNHOLY LAND develops slowly. It begins with banal strangeness (this Palestinia, so like and unlike modern-day Israel) and leans gently into it… This is a story that gets weirder the deeper you get into it; that cultivates strangeness like something precious. It has three narrators: Investigator Bloom, Tirosh and a woman, Nur, who works as a field agent for the Border Agency. There are echoes of Chabon's The Yiddish Policeman's Union in it, wild strains of P.K. Dick and Roger Zelazny's Chronicles of Amber. But UNHOLY LAND is its own thing. Something that no one but Tidhar could've written. Gorgeous in its alienness, comfortingly gray in its banality, and disquieting throughout.' — NPR
'[O]ne of those lovely books that starts out presenting itself as one thing, and mutates into another almost without you seeing it… a game-player of a writer who uses the spectrum of science fiction canon for his pieces… a grand game of alternate worlds cast like jewels on the sand. The long second act is all dust and blood and madness and glory, and the fast third act comes down on you like a sharpened spade… Lavie Tidhar is a clever bastard, and this book is a box of little miracles.' — Warren Ellis
'By extending Tidhar's exploration of multiple and metafictional realities in even more sophis­ticated and assured ways than his earlier novels, UNHOLY LAND is quite an irritated oyster.' — Locus (Gary K. Wolfe)
'… provocative and brash… UNHOLY LAND is a wildly inventive and entertaining novel that moves at a breathless gallop… [Tidhar has] staked a claim as the genre's most interesting, most bold, and most accomplished writer.' — Locus (Ian Mond)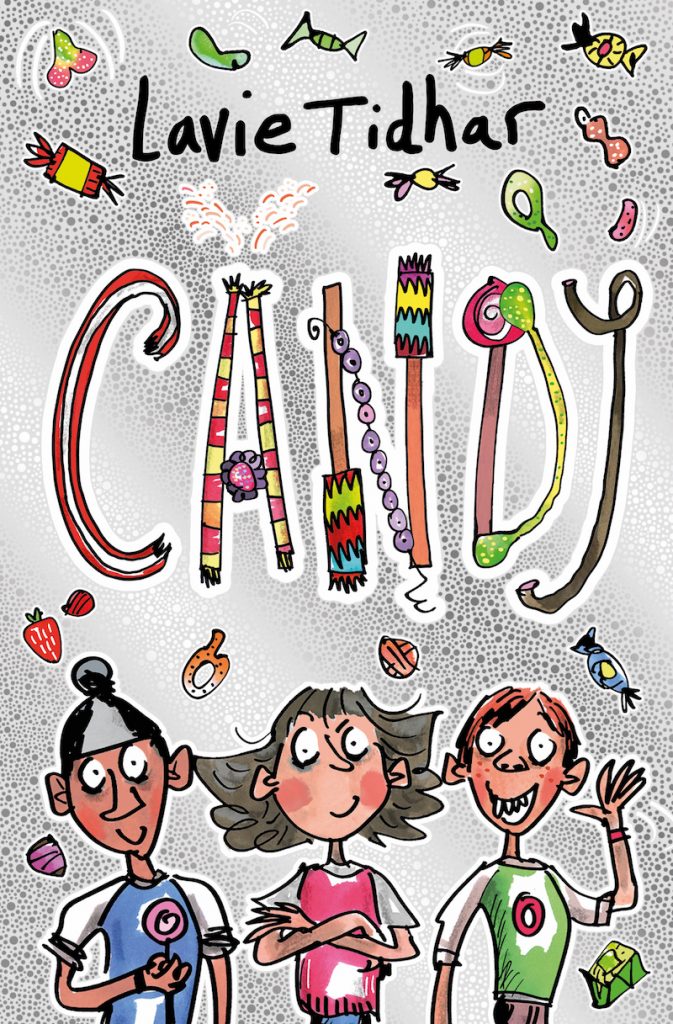 Next up, Lavie's first novel for young readers, CANDY has been nominated for a Lancashire Fantastic Book Award! Published by Scholastic in the UK, here's the synopsis…
Guard your chocolate! Imagine living in a place where Mars bars are banned and sweeties are totally outlawed. Ugh – how depressing! In this miserable place, is it any wonder that gangsters trade in illegal sweeties? We can't even blame them. Nelle Faulkner is a twelve-year-old private detective looking for her next client. So when notorious candy gangster Eddie de Menthe walks in and asks her to find a missing teddy bear, Nelle takes the case. But as soon as the teddy turns up, Eddie himself goes missing. Can Nelle track him down before all of them come to a sticky end?
Here's what others have said about CANDY…
'In his first book for younger readers, he creates perhaps his most chilling vision yet: a city where sweets are forbidden under a prohibition act… The tone is as hard-boiled as a cough drop. The jokes sizzle like Space Dust. CANDY is a treat, the kind of confection Roald Dahl and Raymond Chandler might have come up with after an all-night bonbon bender.' — Financial Times
'A perfectly pitched noir take on Charlie and the Chocolate Factory… delightful premise… as with Tidhar's earlier work, his playful approach to genre is in service to the story's hidden depths. He uses the trappings of noir detective tales to tell a subversive children's story about corruption, the exploitation of vulnerable communities, and the limits of justice. The end result is a novel that for all its joyous sense of fun still packs a surprising emotional and philosophical punch… The whole thing is tied together by Tidhar's wonderful character work and his excellent prose… engages in some beautiful, chocolate and candy themed descriptions which perfectly capture the playground noir aesthetic. Tidhar's characters are drawn with surprising depth and sympathy, with only a few key scenes and interactions he is able to penetrate to the core of loneliness and desperation for belonging that inspires so many of his candy thugs and bullies, giving them believable humanising moments. Most importantly, we never lose sight of the characters as children, which is necessary for the novel to carry off its conceit.' — Fantasy Faction
'Candy is one of those books that do not take children and teenagers for fools. The story is able to change shifts, thanks to lot of humour, to more serious subjects. Of course, we can enjoy it at any age. If possible, the book should be served in place of dessert.' — Geektest (France)
'Due to the wonderfully fluent writing style, the pleasantly short chapters and the rousing plot, I devoured the book in record time. For girls and boys from the age of 10, who like to read exciting, funny, imaginative detective stories, "Secret Agent Candy" is just perfect. I really hope that this is a start of a series and we will soon be able to solve their second, tricky case together with Nelle… Exciting, funny, bizarre and just awesome!' — Die Bücherwelt von CorniHolmes (Germany)
'CANDY is the case when a children's book can actually be interesting at any age. Children will appreciate the plot and humour, adults – a lot of references scattered throughout the text and how unexpectedly and funny elements of the classic "cool" and noir detective story are refracted, if you put them in the context of a children's literature. Fun, playful and exciting.' — Fantalab (Russia)