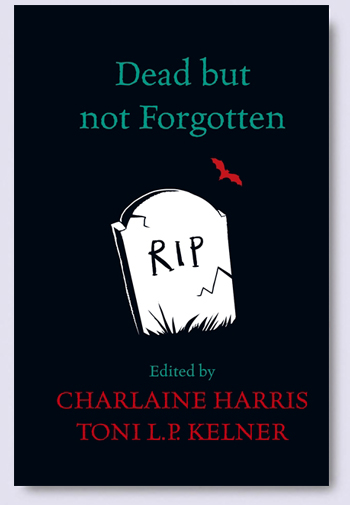 We're very happy to share information about the next anthology edited by Charlaine Harris and Toni L.P. Kelner, DEAD BUT NOT FORGOTTEN. The anthology features stories set in the same reality as Charlaine's Sookie Stackhouse/True Blood series, and will be published by Gollancz in the UK on November 27th, 2014. The audiobook edition has already been released. Here's the synopsis…
Charlaine Harris' smash-hit Sookie Stackhouse series may have reached its conclusion, but the world of Bon Temps, Louisiana, lives on in this all-new collection of 15 stories.
Written by a killer line-up of authors, including: Seanan McGuire, Rachel Caine, Jonathan Maberry, MaryJanice Davidson, and with an introduction by Charlaine Harris herself.
DEAD BUT NOT FORGOTTEN puts your favourite characters, written by some of your favourite authors, centre stage.
Charlaine and Toni's other anthologies include: WOLFSBANE AND MISTLETOE, MANY BLOODY RETURNS, CRIMES BY MOONLIGHT, and DEATH'S EXCELLENT VACATION. All of these books are published in the UK by Gollancz.
Zeno represents Charlaine Harris in the UK and Commonwealth, on behalf of the JABberwocky Literary Agency in New York.